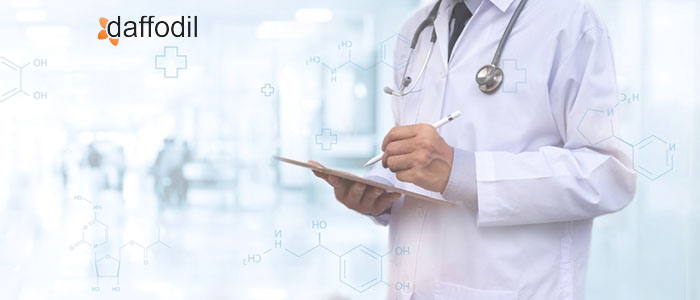 Innovative medical interventions that are new to the healthcare industry need to be evaluated through clinical trials before they are rolled out for real-time implementation. The field of clinical trials is going through a paradigm shift with digitalization. And electronic Trial Master File (eTMF) systems are a clinical trial documentation necessity for digitalization.
The efficacy and impact of clinical trials rely heavily on a seamless document collection methodology. Additionally, the documentation system and processes must comply with several quality control workflows, standards, as well as reference models.
In this article, we will learn how eTMF helps clinical research organizations to leverage server technologies for archiving trial workflows. Additionally, we will look at its features, benefits, and compliance strategies.
What is an eTMF?
The electronic Trial Master File (eTMF) is an application that integrates with cloud technologies to digitally set up, collect, manage, track and collaborate around essential clinical research documents.
Enterprises that function along the healthcare verticals of pharmaceuticals and biotech need to conduct clinical trials to gain various insights. These insights include identifying potential patient bases, discovering new treatments, and getting actual human feedback on clinical efforts.
As clinical trials give Clinical Research Associates (CRA) deeper insights than any laboratory experiment, the trials are treated with precision and high importance. An equal amount of care goes into managing the digital documentation workflows for the same.
The ideal eTMF fits right into the Clinical Trial Management System (CTMS) software of any organization, providing an option for customizability. The eTMF primarily stores data on how the trial was conducted, and whether it followed regulatory requirements while maintaining an acceptable level of detail and quality.
Customer Success Story: How Daffodil's HIS solution helped Maharaja Agrasen Medical College reduce manual administration time by 50%.
Features And Related Benefits Of eTMF
The implementation of eTMF in a healthcare clinical research firm gives CRAs a series of associated features, helping them reap certain benefits:
1)Models and Templates
The eTMF software generally offers the utility of folder-based organizing as well as easy search-based navigation across the system. Additionally, built-in reference models such as the DIA Reference Model v3.2 further ease the documentation process. Clinical trials can also be recorded easily through templates and packet definitions based on the specific study site or country.
2)Automation
The document preparation and collection pipeline within an eTMF software system have embedded AI for optimized document processing. This helps automate real-time content reviews so that only good data is processed and there is data cleansing if needed. Other AI capabilities such as Optical Character Recognition (OCR), digital feedback loops, and standardized free-text improve documentation automation.
3)Collaboration
Several eTMF systems in the market include electronic document exchange mechanisms and also a collection tool known as the electronic Investigator Site File (eISF). The eISF is a portal that accumulates all the separate, configurable folders and some folders of the Protected Health Information (PHI) with features for auto-classification, de-identification, and redaction of confidential information. Collaborative authoring on clinical research documents with attention to compliance is also a feature of eTMF.
4)Data Visualization
Real-time dashboards, reporting, and analytics tools enable the CRAs to get actionable insights on the progress, performance, status, and support metrics. This helps them to gain better visibility of the health of the trial master file itself. Additionally, organizations are enabled to make better clinical decisions bypassing bottlenecks in the trial documentation workflow.
5)Security And Compliance
Popular eTMF solutions come with a suite of compliance tools such as an audit trail, archiving regulations, e-signatures, access control, and authentication mechanisms. Whilst accurately and completely collecting documents and storing them in a common repository for collaboration, strict quality control is ensured. There are also several standards and conventions for ensuring multiple firewalls for PHI and other confidential documentation.
How To Choose The Right eTMF
There are several considerations that need to be focused on while reviewing digital clinical records and accordingly setting up or choosing the right eTMF for it. The following are some preliminary factors that can be considered before moving on to deep set analysis for finally zeroing in on the intended outcome:
1)Featured Toolkit
The ideal eTMF toolkit must include tools for not just locating, managing, and collaborating on essential documents but also for workflow management, dynamic reporting, scalability, and more. If it can provide CRAs with reference models and templates it further increases the value of the eTMF solution. Moreover, user roles must be customizable, notifications must be flexible, and access controls, metadata, and archiving must be comprehensive.
2)Customizability
Every tool in the particular eTMF software's offering must have options to customize so that it fits a particular clinical research organization's vision and targeted outcome. In terms of customizing the TMF structure and tracking fields, you ought to be able to adapt them to your practices and standards.
3)Intuitiveness
How easily the organization can adopt a particular eTMF and how easily a new user can log in to the system and start using it can be the difference between a good and bad documentation solution. There should never come a need to hire a dedicated administrator for the same or plan a lengthy build-out.
4)Validation
Most organizations function while complying with industry standards and technology codes as well as health codes, which requires strict validation of the system. An example where validation comes into play is when the Code of Federal Regulations (CFR) part 21 is applied to electronic records of medical documentation.
5)Support
Providers of eTMF solutions must have a helpdesk assigned to various regions for CRAs to be able to get their grievances resolved with little to no turnaround time as clinical research documentation is a highly time-sensitive process.
6)Cost-effectiveness
There should be the option to choose from a wide range of payment plans that include retainer-based as well as ones that scale up based on project expansion. Basically, all pricing options should be broken down and available to see transparently.
Customer Success Story: Setting up an ODC for Asia's largest chain of hospitals to enable 2x time-to-market for their mobile and web applications.
The Need To Integrate CTMS With eTMF
The seamless organizing and storing of sensitive clinical research documents require the complete integration of the CTMS with the eTMF. This is why:
Without integration, there is the need to have separate systems for tracking, studying, and storing site-essential documents in distinct repositories.
Overlapping processes would lead to inconsistencies in recorded clinical trial data.
Documents stored in the database would not be standardized in terms of format and templates.
There would be duplicate data entries and other discrepancies leading to bad data practices.
Each document created would have to be separately flagged and manually sent to a repository.
Human error when it comes to the selection of documents would be introduced to the system.
The user experience of a CRA would be hindered and highly disruptive.
The need to look at multiple systems for different details is time-consuming.
ALSO READ: Top 5 Keys To A Successful SaaS Solution For Healthcare
Clinical Trial Documentation Requires Seamless Digitization
The right eTMF is indispensable to the precise record-keeping and retrieval that follows a clinical research undertaking or case study in the pharmaceutical and biotech industries. The compliance and standardization capabilities provided by eTMF software can help CRAs and inspectors in independently recreating the end-to-end workflow of a clinical trial.
For integrating an efficient eTMF for your clinical trial workflow, you need a technology partner with an extensive suite of tools focused on healthcare. Daffodil's Healthcare Software Development services are the right fit for the digitalization of your clinical research documentation.