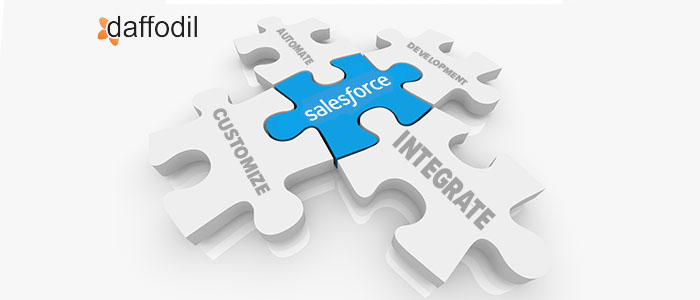 With a diverse portfolio of 15,00,000 companies, Salesforce has been holding strong in the cloud CRM market. The platform's uniqueness in reporting, visual data presentation, enhanced efficiency with automation, proactive service, etc. is some of the reasons why the CRM holds 20% of the overall market share in the domain.
To add to these reasons, there is Salesforce customization!
Businesses these days are interested in tools and services that are more than just a cookie-cutter platform, designed for the masses. In order to have a solution that resonates with the unique business processes and requirements, customization has become a necessity. Salesforce achieves this business requirement by offering a CRM platform that's configurable and customizable.
Salesforce Customization Services
Salesforce allows customizing standard programs to meet specific business requirements. It also offers the option to develop, run, and optimize custom apps that simplify a variety of tasks.
Salesforce customization services include consultation and implementation for building a business-specific CRM solution. It provides an open ecosystem to its customers for extending the CRM solution and performing any task. For example, Salesforce App Cloud is a set of technologies- tools, and frameworks that enable developers to build platform-supported applications to perform a certain task. These applications can be integrated with the CRM platform to cater to the distinct need of the customers.
What to Customize in a Salesforce CRM?


There is a lot that an organization can achieve with Salesforce. Here is a list of what can be achieved by customizing Salesforce:
1. Creating Custom Salesforce Objects
Salesforce objects are database tables for storing organizational data. There are two types of Salesforce objects: Standard objects and Custom objects.
Standard objects are available by default with the CRM platform. Example- users, contacts, dashboard, reports, etc.
Custom objects are created by the users. They are meant to store information that's unique and provide a structure for sharing data.
Under Salesforce customization services, custom objects are created and linked to each other for improved performance and efficient workflow.
2. Creating Custom Lightning Pages
A lightning page is a custom layout for designing pages in Salesforce mobile app (to offer a lightning experience). The lightening pages allow adding custom items to a page. Salesforce customization services with lightning pages help in creating a look & feel for pages or help in executing routine tasks more efficiently.
3. Create Custom Reports and Dashboards
Visual representation of reports on dashboards is one of the USPs of the Salesforce CRM. The reports generated from a database are accessed by different teams in different scenarios and for varying requirements.
Salesforce customization services incudes creating custom reports and dashboards that help different departments in the organization access different reports. This helps them to visualize competition, examine growth, track employees' productivity, sales efficiency/revenue, etc. for better decision making.
4. Automating Tasks in Salesforce
Customizations help the Salesforce teams to automate routine tasks. By cutting down on the number of processes that require manual input, businesses can significantly reduce the turnaround time for processes. Automation helps to continuously review the processes, and locate and fix bottlenecks. It is always a great idea to automate and streamline complex processes in different departments and roles to improve employee productivity.
Along with improving business processes, automation offers a cost advantage. While the initial investment cost in automating business processes is high, it tends to pay for its efficiency. By customizing Salesforce through automation, there is an option to create a solution that generates a substantial ROI.
5. Create Customized Email Templates
Email is one of the most common and secure modes of communication between a business and its customers. Salesforce customization services help to add a bit of business to the emails. By creating custom email templates, the teams in different departments are able to create engaging and persuasive messages for the customers.
6. Customization enables Third-Party Integrations
Salesforce integration is the practice of setting up a connection between the CRM and other business-critical applications. The CRM can be integrated with third-party solutions in different domains such as marketing automation, HR, supply chain, ERP, etc. Integration is a sub-division of customization that allows cross-communication between multiple applications.
7. Salesforce Application Development
Salesforce has a proprietary app store that has a collection of thousands of CRM-compatible apps. The app store is known as "Salesforce Exchange".
These apps can be downloaded to extend the functionality of the Salesforce platform. Organizations can either utilize the existing app store solution or develop a custom Salesforce app that is more aligned with business processes and goals. These custom Salesforce apps are then integrated into the platform to have desired functionality for a department or a team.
ALSO READ: Salesforce Application Development: Why It Is Optimal For Custom CRM?
8. Managing Roles & Permissions
Salesforce customization services enable businesses to modify their roles and permissions. It allows creating tailored profiles and permission so that every department can have Salesforce developed to their precise requirements. It reduces the hassle of providing permissions to team members manually, saving up time and effort to a significant extent.
How to Customize Salesforce CRM?

The Salesforce customization possibilities mentioned above are just the tip of the iceberg. There are several ways to bring the best of Salesforce to any business. And in doing that, our Salesforce managed services could be a great help to you.
To understand how the CRM can be customized according to your business needs, schedule a free Salesforce consultation session with our experts.
Our certified Salesforce experts will analyze your business- goals, departments, teams, and their specific requirements. This is followed by recommendations for how and what needs to be customized in the platform.
Customization is not the only service that we specialize in. Our seasoned Salesforce services include development, migration, consultation, implementation, integration, and more. Discovering the right way to customize the CRM and executing it professionally is the key to optimizing the Salesforce platform in the most beneficial way.