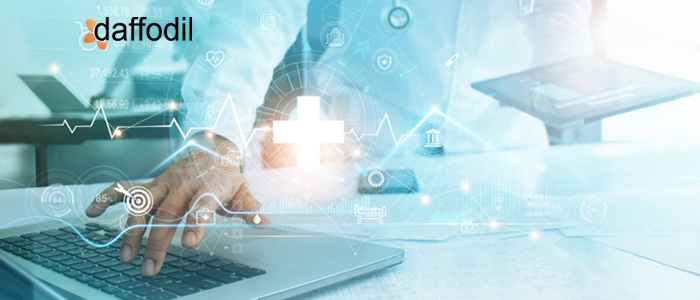 Every new technological innovation in any industry is dependent on the availability of infrastructure to support said innovation. For instance, Electronic Medical Records (EMR) could not have been a reality without the requisite facilitation of storage and performance-enhancing tools. Solutions implementing Software-as-a-Service (SaaS) is one such requirement for innovations in healthcare.
The migration of on-premises healthcare software to the cloud is transforming how the industry functions. It streamlines care delivery and increases patient-specificity, document transparency, and accessibility to timely medical intervention. SaaS solutions allow healthcare organizations to adopt advanced technologies fast without incurring extreme overheads in the process.
But what are the drivers of the SaaS market and what are the essentials for its successful implementation in healthcare? We will attempt to decipher the factors surrounding this fast-emerging, yet highly competitive domain.
Why Does Healthcare Need SaaS Solutions?
A healthcare organization's road to successful technological innovation must be a holistic process. Often companies lack the business visualization to perceive the commercial possibilities of their innovation. In other cases, they get so immersed in the process of innovation that the complementary support infrastructure gets overlooked.
The COVID-19 pandemic prompted an unusually rapid adoption of virtual environments for development and the healthcare sector was no exception in this regard. Remote Patient Monitoring (RPM), EMR/EHR, video consultations, etc. were some of the innovations that gained steam at an almost unsustainable pace. As per a RockHealth report for Q3 2021, digital health funding surpassed the $ 20 billion mark three months before the year came to a close.
SaaS models help healthcare organizations negate the need to host data on physical servers, thereby helping bring down the associated overhead. Additionally, the enablement of remote access to information so that patient care is more agile in response has been a dire need finally fulfilled, especially with COVID-19 restrictions in place. SaaS solutions and added benefits such as pay-per-use models, improved data security, telehealth, increased collaboration have been integral to the technological advancement of the healthcare industry.
Keys To Successful SaaS Implementation
We know the benefits that SaaS solutions can bring to organizations, but do we know how best to implement them? These solutions must be implemented in a way that is sustainable in the long run, while at the same time delivering short-term incremental success. Some requirements for the successful implementation of SaaS solutions are as follows:
1)Recognize Suitability Based On Business Requirement
The flexibility of healthcare SaaS solutions is such that they provide a suite of technological advancements that are customized for different business requirements. For instance, when it comes to a healthcare provider launching a new software product it is essential to focus on the underlying architecture of the SaaS environment.
At the same time, it might not be farfetched to think of competitive subscription benefits that can go along with the product. Free trials, discounts, and upgrades that are relevant to the customer and the product are the way to go in this scenario. Whereas, another provider of on-premise healthcare software making a partial move to SaaS might want to test the demand for healthcare SaaS applications.
In either of the above cases, splitting the functionality and designing subscription plans to continuously gain new users is key. This approach can also support full migration to the SaaS model as long as the software goes through sufficient redesigns and the product is promoted well enough.
2)Prioritize Problem Solving Systematically
When SaaS solutions gained popularity, there was a spontaneous spurt in the number of companies pitching migration to the cloud. A healthcare SaaS solutions provider needs to come up with innovative ideas because most services pitched today are redundant and overpriced. They tend to leave customers feeling inundated and fatigued by the similarity in the services offered by the thousands of providers.
Healthcare providers need to offer a varied catalog of solutions that are a custom fit for an organization's existing workflow. They must also provide services that solve the most urgent challenges and offer a substantial return on investment in the long run. Cutting-edge tech support that integrates innovations in machine learning and cloud management tools is what most customers gravitate towards in today's highly competitive marketplace.
3)Maintain Ease Of Deployment And Infrastructure Management
The operators involved in the deployment of the SaaS solution must be able to complete the process without much hassle. This can be ensured by investing in UI technologies for the SaaS software that can meet the skill set of the operators. In addition, the software should have the capability to integrate with any other application by supporting all relevant standards.
The highest-selling kinds of cloud solutions are often sold on their ease of use and business owners should not discount this fact when planning their marketing strategy. Cloud providers should provide a set of tools that are easy to use for even novice deployment specialists that also deliver cost savings for their clients in healthcare. The burden of integrating an application's infrastructure with SaaS platforms must also be minimized for holistic results.
4)Use Clean Protocols For Data
The most essential commodity for the successful implementation of SaaS protocols is clean data. If the cloud provider receives data that has redundancies and duplicates, they must clean the raw data and validate it using clean protocols. Healthcare organizations are particularly notorious for having to come to terms with immense volumes of unclean data.
During migration to a SaaS platform, these organizations can hope to resolve some of the issues that they had to face with disparate systems and non-interoperable platforms. However, in spite of the fool-proofing provided by these platforms, the data ends up not being clean. It is crucial that the data collection is proper at the level of entry and the requirement of data must be concisely spelled out.
5)Ensuring Maximum Compliance
When using the services of a cloud provider, healthcare organizations must take into account the necessity to adhere to Health Insurance Portability and Accountability Act (HIPAA) regulations. Technology leaders dealing in the complexities of SaaS platforms must understand the strict requirements laid down by these regulations.
The cloud provider must take responsibility for ensuring adherence to key certifications and standards. The use, storage, and sharing of data must meet these requirements to the tee if you want to have good adherence to compliances. The more recent the standards that the SaaS products comply with, the better the chances for future technological advancement in this area.
ALSO READ: How Cloud Services Enhance Patient Apps
Appetite For Innovation In Healthcare Drives Adoption Of SaaS
Healthcare organizations must realize that, more than ever before, there is a constant intersection between cloud computing, customer service, business associate agreements, and regulations. As a result, SaaS providers are rolling out a diverse range of solutions repeatedly to stay ahead of the competition and the ever-changing customer demand.
From virtual care delivery, self-monitoring data analytics, and disease management tools, SaaS solutions are all-encompassing in their implementation. To discover such digital-first business strategy implementation for healthcare, you can learn about our Custom Healthcare Software Development services.