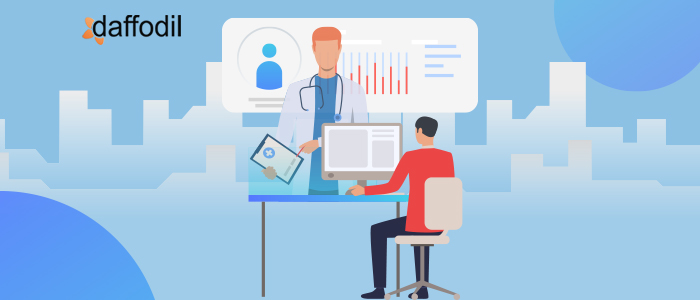 "96% of acute care hospitals in the United States use a certified EHR platform by HHS." Electronic Health Records (EHR) promote continuity of care, simplify patient data collection, and decrease overhead costs. In addition to this, EHR platforms have helped care providers to reduce mortality rates for chronically ill patients.
During the pandemic times, when patients switched to telehealth services to access care, it became difficult for providers to manage patient's data to the EHR system. This is when healthcare providers needed interoperability and that's how they need to integrate EHR with telehealth solutions became predominant.
As the pandemic subsides and hybrid telehealth becomes the new care model, care providers would need to integrate telehealth solutions into the EHR system to improve clinical workflows. In fact, modern telehealth providers are creating solutions in such a way that they can be integrated with common EHR solutions, thereby improving interoperability. When these platforms are intertwined they help to streamline patient's data in a single window. This, ultimately, helps providers to offer a better care delivery system.
Understanding the Benefits EHR Telehealth Integration


EHR telehealth integration benefits both patients and providers. Some of the advantages that can be availed with this collaborative integration include:
1. Automated Entry of Patient Health Information (PHI)
EHR telehealth integration helps providers to maintain patient information received through an in-person consultation and through remote consultation.
After a remote-patient consultation, providers create a summary of the patient's visit and update it to the EHR system. If these systems are integrated, the PHI from the telehealth solution would get automatically updated to the EHR, saving time and effort at the provider's end.
This automation of PHI updation helps to keep the data in one place, reduces chances of PHI errors, and ensures that the providers have access to patient data, whenever needed (No matter if the patient goes for in-person or remote consultation).
2. Synchronize Insurance Information
Considering the advantages, insurance companies are covering telehealth services. To keep a track of insurance coverage for patients, it is important that both telehealth and EHR info is in sync.
EHR telehealth integration ensures that providers have information about patient's insurance coverage (benefits and eligibility). This, eventually, helps the provider to get reimbursement on time.
3. Maintains Clinical Workflow
As the pandemic subsides, healthcare providers will follow the hybrid telehealth model, where patients would be able to avail benefits of both in-person and virtual consultations. In such an environment, maintaining clinical workflow such as administrative tasks (appointment booking & reminders, answering queries, etc.) becomes easy with EHR telehealth integration. For example, patients can book appointments with doctors, can consult online (through video, audio call), have prescriptions, get reminders and all this can get updated into the EHR.
EHR Telehealth Integration: Challenges Involved


One of the biggest challenges that healthcare providers face is to have an integrated approach to engage their patients. It is necessary that providers have a custom, unified platform that is an extension of their internal processes. Such platforms enable them to aggregate data and create actionable insights to engage patients. A custom EHR is one such platform.
While there are numerous off-the-shelf EHR solutions out there, having a custom EHR platform has its own set of benefits. For example, integration with external platforms is possible. Custom templates and workflows help in keeping the organization's data in sync. Moreover, extension is possible, whenever required.
A custom EHR solution can have as many modules as a provider wants, depending upon the services it wishes to cover. Meanwhile, an EHR can have key modules such as appointment scheduler (patient registration, appointment scheduling through front desk), OPD queue management (patient check-in, wait time recording, etc.), patient examination history, finance management (self-payment, insurance claims), task management (task alignment & fulfillment), and system configuration (reports, insurance contract management, etc.).
Along with this, customization gives the advantage of integrating the EHR with third-party solutions to extend the services or to make them better. For example, a custom EHR can be integrated with an appointment booking software, such as ZocDoc. Similarly, providers can create custom reports, integrate with payment gateways/insurance providers, setting up standards & compliances is possible when there is a custom EHR solution.
EHR Telehealth Integration: Getting Started with it


As healthcare providers understand the benefit of interoperability in care delivery systems, they are shifting their interest towards EHR integration.
For seamless integration, providers can get started either with an off-the-shelf or a custom EHR solution. However, custom EHR development should always be the first option as it supports integration with multiple third-party solutions.
For EHR integration, there are numerous options out there that enable developers to seamlessly intertwine with third-party platforms. REDOX, ELIGIBLE, Luma Health, ScriptSure, Pverify are some of the platforms for EHR integration.
If EHR telehealth integration is on your mind, then connect with our health tech experts to know how to get started. Our team will guide you through the best practices and platforms that could help in EHR telehealth integration. To connect with our experts, schedule a 30-minute free consultation session with them.
Also, you can also check out this quick guide to get started with EMR/EHR integration. Click on the link below.