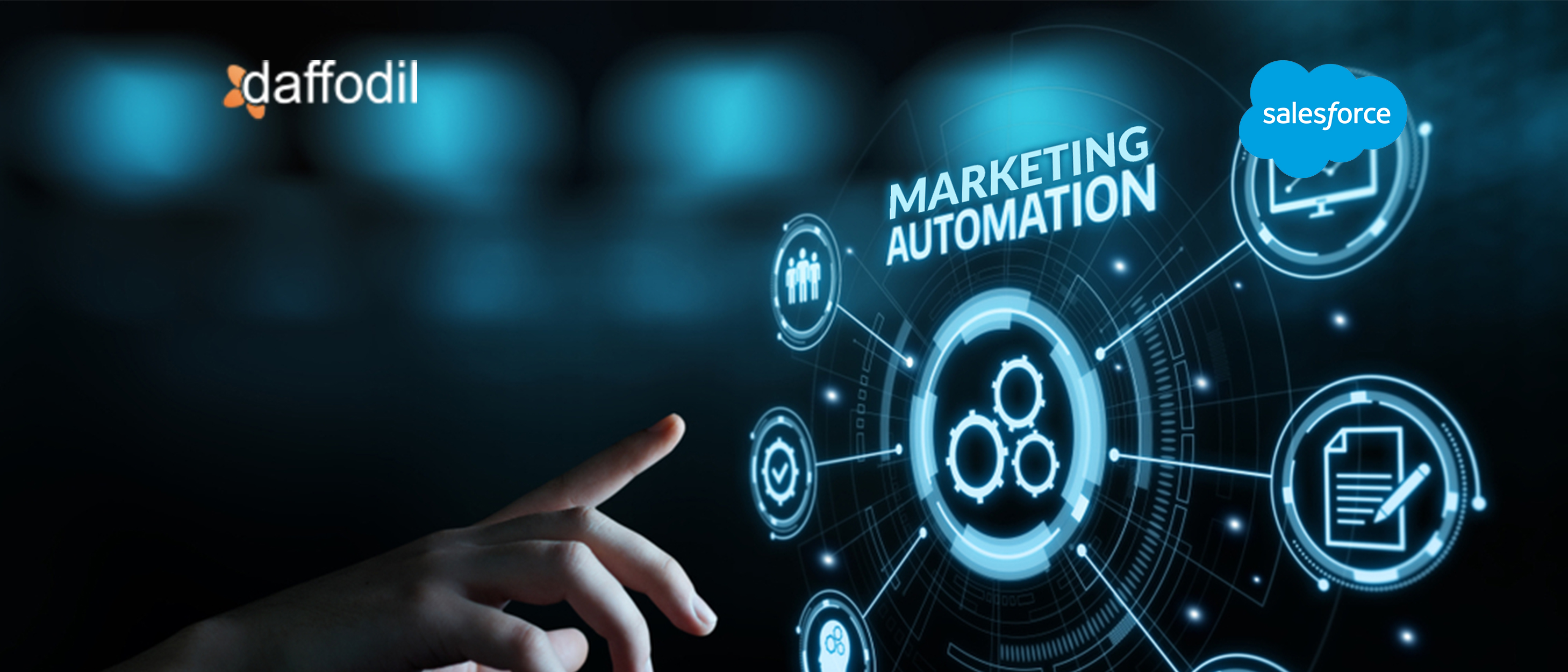 The automation of time-consuming tasks involved in marketing campaigns using Customer Relationship Management (CRM) software is an emerging trend. In particular, there has been an increase in the adoption of Salesforce for marketing automation because the resultant benefits far outweigh the associated costs and efforts involved in its integration.
Marketing automation platforms are more accessible than ever owing to the rise of third-party vendors and technological advancements in recent years. They help streamline the sequential phases of the marketing process by automating repetitive tasks.
In this article, we will delve into how CRM-based marketing automation capabilities handle various stages of the overall buyer's journey. Further ahead, we will learn why Salesforce's suite of automation tools is valued by marketing teams around the world.
What is Marketing Automation Software Used for?
Marketing automation software is programmed to automate and streamline repetitive marketing tasks such as multichannel messaging, lead nurturing, personalizing the customer journey, data aggregation, and others. Overburdened marketing teams can leverage automation tools to simplify the tracking of customer engagement and the pursuit of unqualified leads.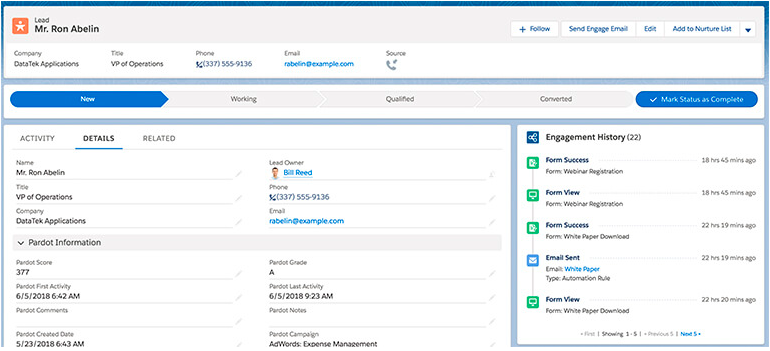 Image: Salesforce Marketing Automation In Action
Following are some of the areas where the marketing automation and personalization software comes in to ease the load on marketing teams:
1)Smooth Scaling: During the expansion of organizations, marketers are often pressured to achieve large-scale outcomes in less time. With process automation, marketers can focus on more strategic work, while the software handles lead nurturing.
2)Optimize User Engagement: Automation tools help marketers capture, track, and manage leads along the sales and marketing funnels. With retargeting and recirculation capabilities, the buyer is aligned with the most suitable content for maximizing engagement and thus, ROI.
3)Create Robust Sales Funnels: Every marketer's primary responsibility is to ensure that there are no leakages in the sales funnel that may hinder the customer journey experience. These leakages can lead to difficulties in converting leads and nurturing them, but with marketing automation software this is no longer a hindrance.
4)Ensure Lead Personalization: Each individual's buyer journey must be personalized. At the initial stages of coming across a lead and setting them up at the top of the sales funnel, awareness-building strategies are essential but later on, you need to drill down to specifics that suit the particular lead you are targeting. These lead-specific workflows can be pre configured using marketing automation software.
How Salesforce Enables Marketing Automation
Salesforce provides a range of tools that have been meticulously designed specifically to automate different phases of marketing workflows. Salesforce automation tools help marketing teams in identifying brand-adjacent audiences, design suitable content, and automate triggers related to customer behavior for driving marketing process actions.
For the 16th consecutive year, Salesforce has been recognized as a Leader in the 2022 Gartner Magic Quadrant for Sales Force Automation (SFA) Platforms. This is awarded to a software provider whose software solutions can automate and capture sales activities, and record client interactions while automating other critical but mundane tasks.
The ability to provide a self-sufficient connected customer experience while ensuring the necessary automation is something that Salesforce makes look easy. No matter where a customer is in their buying journey, Salesforce automation tools dynamically align themselves to personalize their experience with the product or brand.
Salesforce Automation Tools
The extensive and carefully formulated suite of marketing automation software and cloud-based tools provided by Salesforce make several components of marketing processes smoother and more streamlined. These tools facilitate and also automate a variety of tasks such as team collaborations, process visualization, database segmentation, strategizing content, planning rollouts, and buyer data analytics. Here is a list of the most powerful marketing automation tools developed by Salesforce:
1)Flow Builder:
This Salesforce interfacing tool helps marketers manipulate records in Salesforce, send emails, create data visualizations, and combine the capabilities of the former Process Builder and Workflow.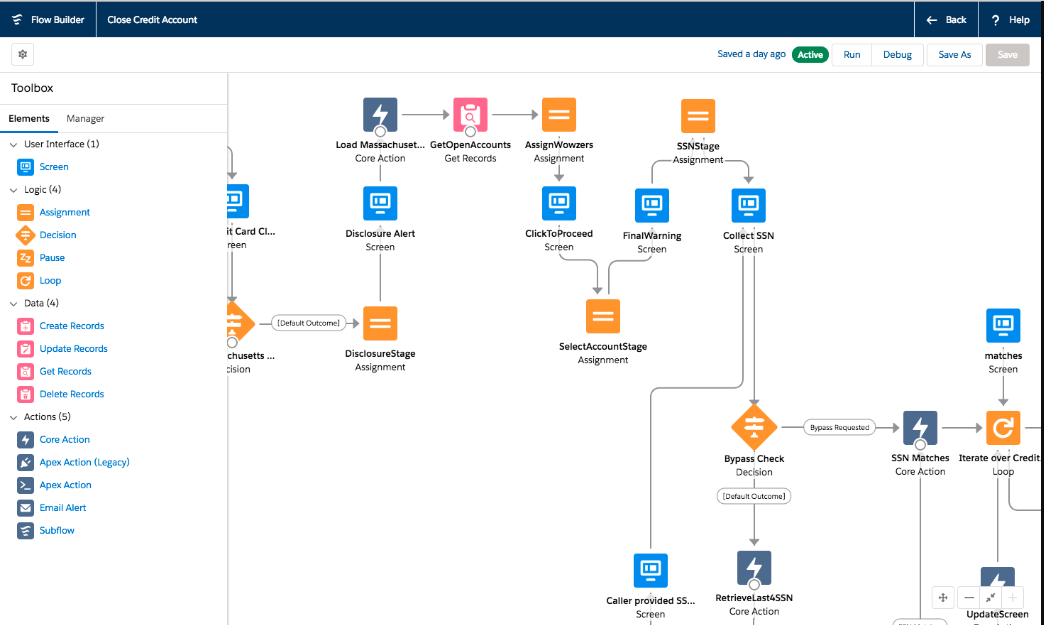 Image: Flow Builder
Due to numerous technological developments and rising employee and customer demands, Flow Builder is gaining in popularity. Previous flow construction methods may occasionally use guided action list components but could not provide debug information inside the tool.
The Flow Builder is used to create business logic that collects data and manipulates it automatically while streamlining the sequence of complex business processes. There are five types of flows that can be set up:
Screen Flows consist of an embedded UI element and can receive particular inputs from the users
Schedule-Triggered Flows run in the background and are launched automatically based on the time and frequency of records in a batch
Auto-Launched Flows are triggered by invoking them from other flows or subflows or from set schedules, record changes, etc.
Record-Triggered Flows are run either before or after a record is saved during creation, updating, or deletion
Platform Event-Triggered Flows are set up to run in the background when platform event messages or notifications are received
2) Einstein Next Best Action:
This tool is a component of the Einstein Platform which facilitates the creation of robust Artificial Intelligence (AI)-powered assistants for a gamut of use cases. With Einstein Next Best Action (ENBA), a marketer can capture large volumes of customer data to provide greater personalization in customer experiences.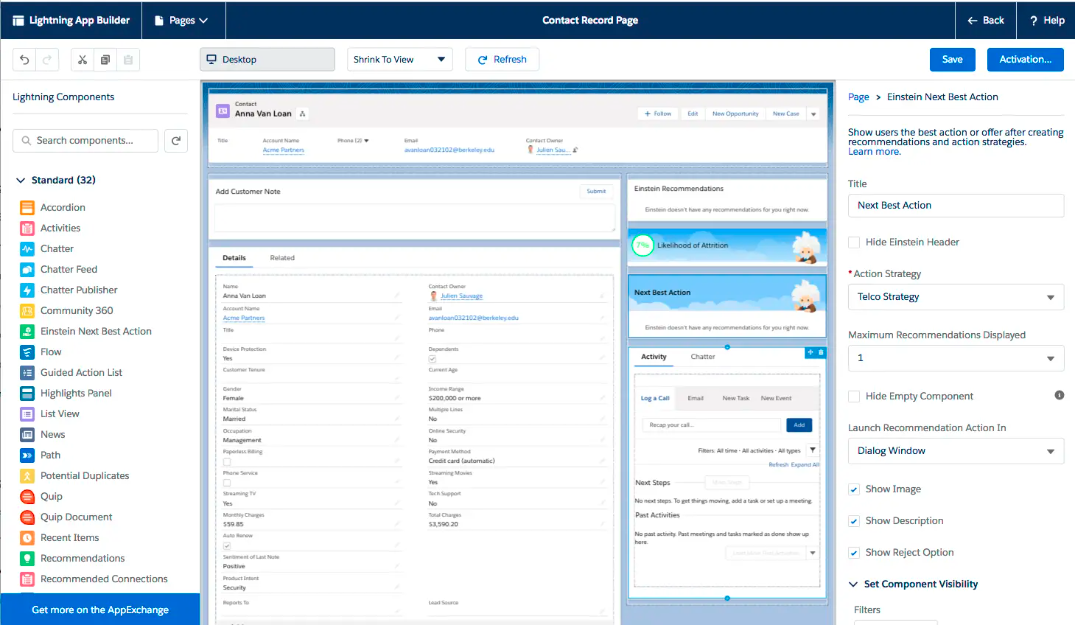 Image: ENBA
After a customer sees a certain product, the ENBA generates AI-enabled recommendations that pop up on the customer's dashboard. This usually works for customers who have added a product to their cart but have not checked out. Recommendations could be one of the following:
Customers can receive custom bundle offers that combine the product in the cart matched with a recommended product that fits well with the first one.
If there has been no further action towards the service that they showed interest in, they can be sent reminders and notifications.
You can automate communications to the customer regarding the benefits and support they would enjoy if they were to go for that service.
3)OmniStudio:
For marketers looking for omnichannel sales strategizing and service offerings, OmniStudio is their best bet. OmniStudio is part of the Einstein Automate list of tools developed by Salesforce and has drag-and-drop functionalities so that non-technical marketers can pick up the requisite skills quickly.
The following are some capabilities enabled by OmniStudio:
Set up organizational and industry-specific process deployments fast and automate the interactions of the customer with the brand or product.
Utilize drag-and-drop configurations to set up workflows around various marketing campaigns.
With its WYSIWYG, or "what you see is what you get" type of interface, customizing marketing workflows and automating customer experience enhancements becomes much more intuitive with its interface.
You can integrate OmniStudio with enterprise data and systems to visualize data related to business performance. You can then use these data insights to make improvements in ongoing marketing campaigns.
Leverage dashboards to gain an end-to-end view of the overall customer journey so that you can derive insights to resolve any gaps in the journey effectively.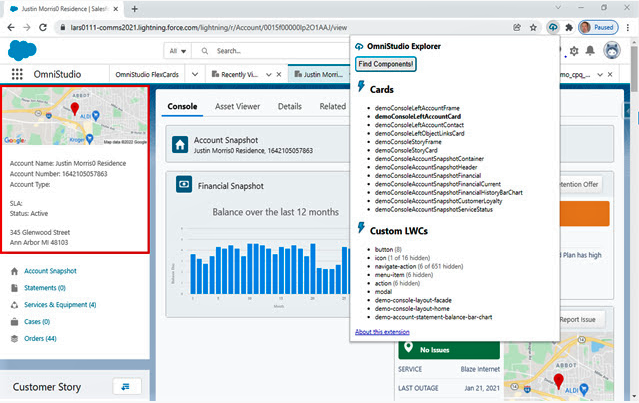 Image: OmniStudio
There are two types of enablements powered by OmniStudio that can help with engagement and provide a boost to customer journeys. They are:
i)Flexcards: Simple card-like structures called flexcards display contextual data. Basically, only one data source is needed. They place a focus on what consumers may see, whether it be on community pages or lightning pages, as they are a component of the digital experience. Flex cards are typical lightning web components that may be added to Salesforce pages once they have been activated and published.
ii)Omniscripts: On the other hand, omniscripts allow us to add numerous stages inside of workflows in addition to taking inputs. An Omniscript can be used to build a complete form. Using Omniscript, you can create login pages, registration pages, and full wizards. As a result, flex-card is utilized at the front end to display outputs while Omniscript is used for inputs.
4)Marketing Cloud Account Engagement or Salesforce Pardot
Salesforce Marketing Cloud Account Engagement (MCAE), which was formerly known as Pardot and still is in some circles, is a B2B marketing automation tool. It can be availed of as a Software-as-a-Service (SaaS) offering and can be picked up quickly by new users without having to go through a steep learning curve.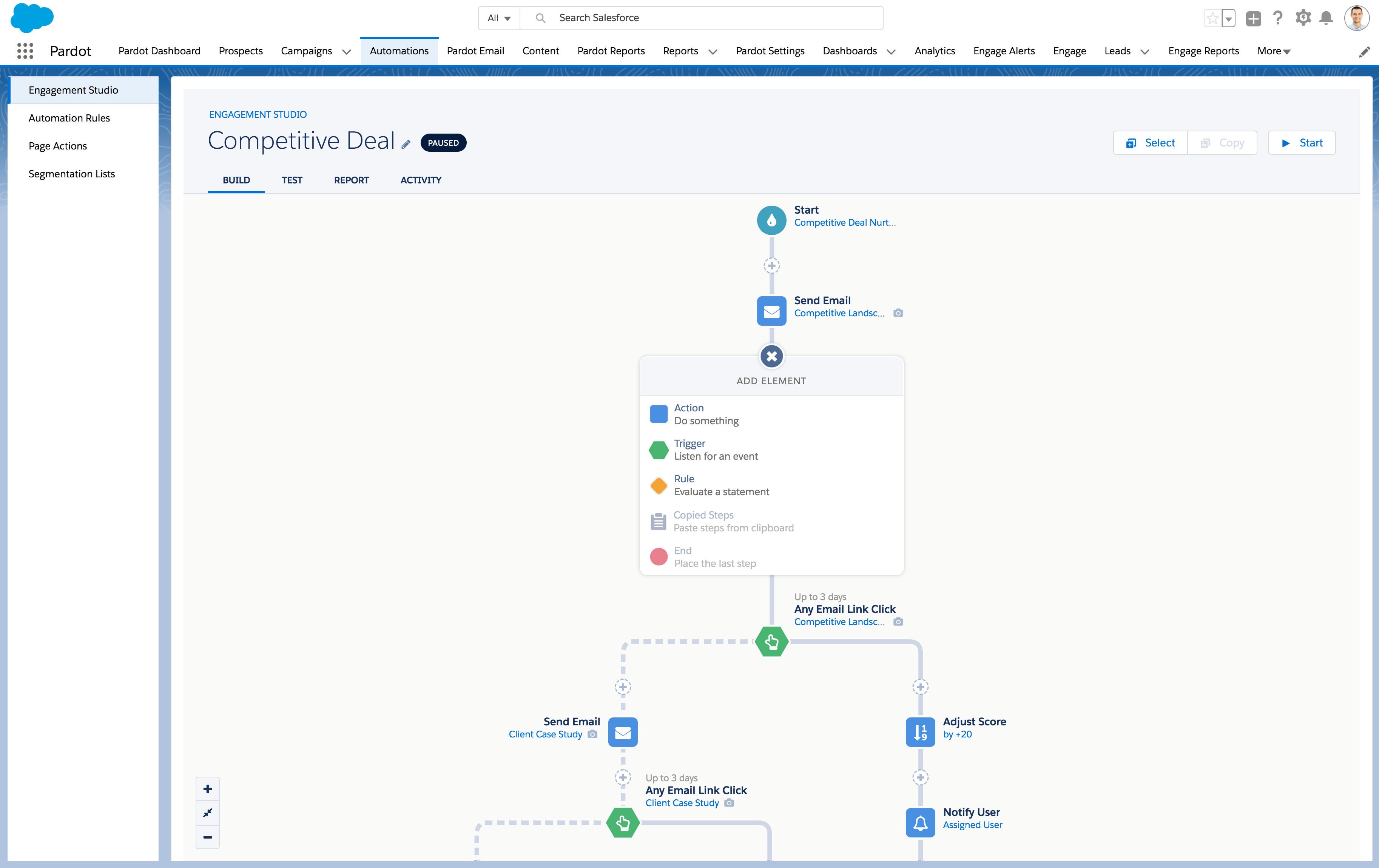 Image: Salesforce MCAE/Pardot
Pardot can be leveraged for the following marketing activities, based on the business vertical it is utilized in:
Customer Engagement Tracking: This feature allows for the compilation of all activity logs of the prospects based on their actions across your website, forums, blogs, and landing pages.
Flexible Forms: You can create highly intuitive forms for fresh prospects or strengthen existing records of their previous interactions with online forms. Additionally, you can also request specific details that the prospect may have missed entering earlier.
Automated Email Marketing: Mailing lists of prospects are generated and the entire email journey is automated. Based on highly customer-specific triggers, idle times, and other actions, email automation is done in line with

lead nurturing efforts

.
Prospect Scoring: Based on how a prospect is taking action, they are scored in Pardot. The scores are based on the degree to which these actions are expressed as implicit interest in the product or service presented to them.
Audience Segmentation: With this feature, prospects are grouped together based on demographic characteristics such as age, job title, website behavior, and so on. Using segmented lists, you can choose to send emails to specific groups or not send emails to specific ones. It is also necessary to verify email addresses to which the mailing is carried out. This will help improve your email list.
Grading: Prospects are graded from A+ to F based on how closely they match with criteria decided by you in your marketing strategy.
Lead Qualification: Based on the general rules of Pardot, if a prospect scores at least 100 and has achieved a grade of B+ they are in line to become a qualified lead. You can also set up an automation rule based on your organizational marketing strategy's criteria.
Social Media Marketing: You can track the entire journey of a post you create on Twitter, Facebook, Instagram, etc. and if a prospect interacts with the post in any way, this activity will be recorded and show up in their engagement history.
Performance Analytics: You can segment and visualize your marketing campaign performance and prospects' data with the B2B marketing analytics feature. The marketing team members, after gaining the requisite authorization and using the Pardot connector, can create comprehensive B2B metrics dashboards in the CRM analytics studio.
Multi-channel and Search Marketing: You can link Pardot with third-party marketing tools such as Google Ads, Google Analytics, and so on, creating multi-channel marketing strategies. Additionally, you can add keywords to track, and view SEO analytics and competitor performance through search marketing capabilities.
ALSO READ: How To Implement Customer Personalization With Salesforce Experience Cloud
Choose The Right Marketing Automation Tool For Your Requirements
You must make sure the marketing automation technology you select is the best fit for your company, just like you would with any other investment. There are several well-liked marketing automation options available, but it's crucial that the platform you choose for marketing automation provides the capabilities you need. Salesforce is a leader when it comes to marketing automation software that generates the best leads, ensures continuous engagement, and helps expedite the closing of the buyer journey. If you are looking for a technology partner to drive highly effective, timely Salesforce integration, you can book a free consultation with Daffodil Software today.