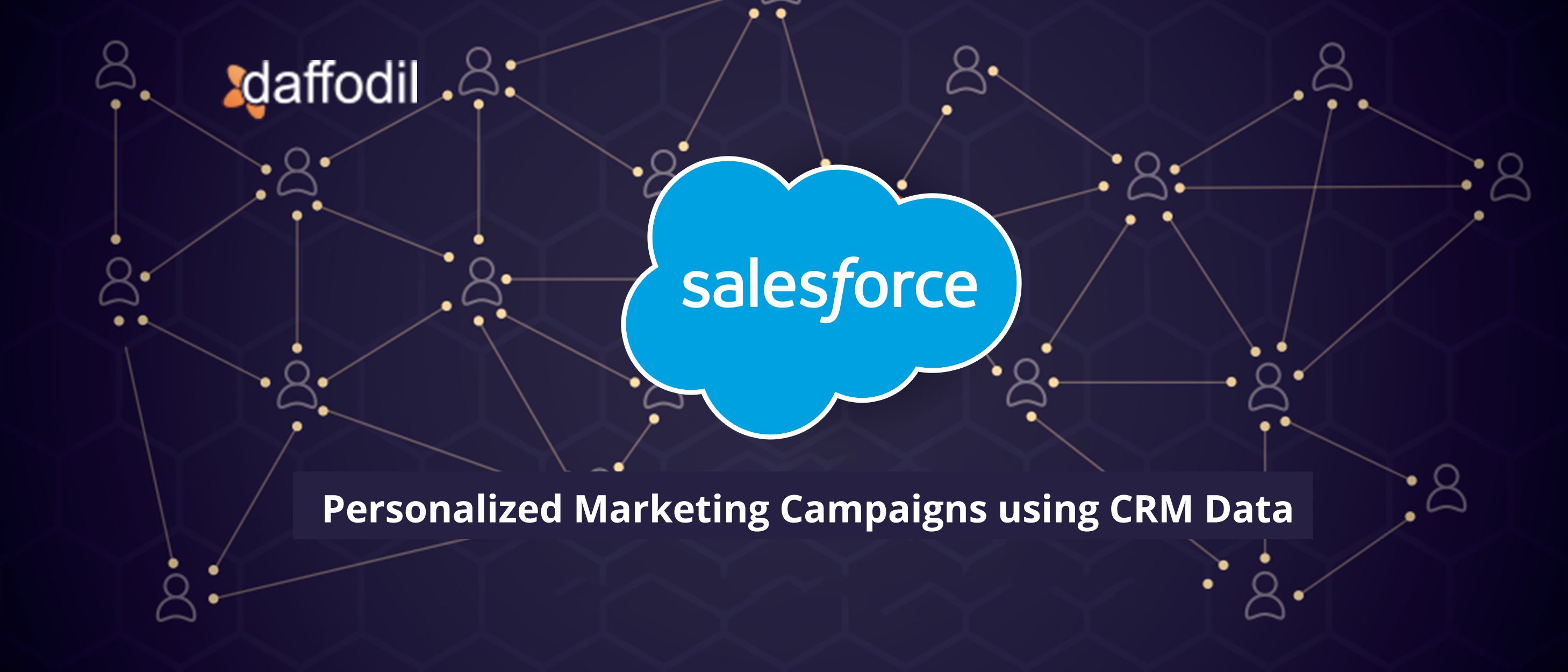 Personalized marketing campaigns are proven to drive performance and better customer outcomes. A Mckinsey report says that customers expect businesses they buy from to recognize them as individuals and their interests.
The irony is that 63% of digital marketing leaders struggle with delivering personalized experiences to their customers, according to Gartner. According to survey results, 'Delivering personalized experiences' and 'mapping digital messages to audience channel preferences' are two major pain points in executing a digital marketing strategy.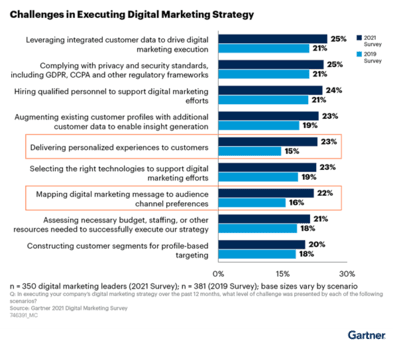 Marketers have realized that personalized experiences are the key to creating a customer-first marketing strategy. That is why they pay attention to business and technology-centric approaches to cater to the unique needs of the targeted audience.
CRM software (like Salesforce) is one of the most efficient ways to know the customers, engage with them with personalized advertising and ultimately, improve the ROI of digital marketing campaigns.
The Role of CRM in Customer Understanding

A customer Relationship Manager (CRM) is a business solution to collect, store, organize, and analyze customer data. Besides this, it acts as a central source of information for sales, marketing, IT, commerce, and analytics teams.
With detailed customer info, a CRM helps to manage marketing campaigns, and differentiate prospects & customers, and identify sales opportunities in one place. The information could include customer touchpoints, and their interaction throughout the journey, and is accessible to different teams (depending upon their roles).
This granular customer information can be leveraged by the marketing teams to plan personalized advertising campaigns. If we talk about the benefits of CRM in building marketing campaigns, they would be as follows:
CRM helps to segment the audience: One of the most crucial aspects of marketing campaigns is audience segmentation. With a CRM like Salesforce, the marketing teams have the opportunity to segment audience/ customers based on their metrics such as demographics, website browning patterns, purchasing behavior, past transactions, etc. With this granular information about the audience or the customers, the marketing campaigns can be designed to connect with the target and engage them.
CRM ensures cross-team alignment: CRM helps the sales and marketing teams to align their goals. The CRM data enables the teams to work cohesively, communicate on crucial factors, and streamline processes at different phases of the buyer's journey.
CRM helps to discover trends and opportunities: CRM data helps to uncover the trends and preferences of the existing customer. By learning about customers' likes and preferences, marketers have the following advantages:
Know the purchase patterns of the customers so that they are targeted with a similar range of products.


Learn about the latest trends in the industry and then create marketing campaigns to target prospects with similar interests.
CRM enables automation of routine tasks: CRMs automate routine tasks such as creating and managing workflows, sending follow-up messages, generating reports, creating invoices, lead assignment (based on geography, region, product/service, or any other criteria). This helps to accelerate the execution of primary marketing tasks.
Salesforce CRM for Personalized Marketing Campaigns

There is N number of CRM applications out there that can be adopted based on pricing, industry, features, etc. These customer relationship management tools are enabling digital transformation at SMB and enterprise levels.
However, the one name in the CRM industry that's uncompetitive is Salesforce. The reasons are many and if we point particularly to the CRM's use cases for the marketing team, Salesforce would certainly come out as the winner.
The Salesforce CRM can be customized for any business, any industry, and any type of feature. That is why Salesforce CRM for marketing is the first choice of marketers across the globe. Here are some of the reasons to opt for Salesforce for personalized marketing:
Smart campaign planning: Salesforce allows the creation of a 360-degree view of the customer. This involves customers' browsing habits on the website, social media engagement, purchase history, etc. With all these metrics handy, marketers can dive deep into their behaviors, pain points, goals, expectations, and more, thereby creating a niche targeted audience.
Content personalization on different channels: The Salesforce CRM is a great source for marketing teams to have customized, customer-centric data across channels. This data can be utilized for marketing campaigns that happen through different channels:
For example, for an email marketing campaign, the CRM data can be utilized to create personalized messaging, CTAs according to segmented audiences, drip marketing campaigns, etc.
Similarly, for paid advertising campaigns, the CRM data can help to promote relevant ads to the targeted group, aids in creating retargeting activities based on a prospect's engagement, etc.
This way, the Salesforce CRM for marketing can go a long way in enabling marketers to create campaigns for different channels of lead generation, nurturing, and conversion.
ALSO READ: How To Implement Customer Personalization With Salesforce Experience Cloud
Measure performance of marketing campaigns: Analyzing a campaign's progress is as important as creating a relevant campaign plan. It gives real-time insights into a prospect's or a customer's reaction to the campaign. By measuring the performance, it would be possible to:
Evaluate the effectiveness of the advertisement
Enable marketers to optimize campaigns in real-time
Calculate the potential revenue that can be generated
Along with analytics, the Salesforce for marketing CRMs provide dashboards for quick, real-time overview of the campaigns and other marketing strategies.
How to Enable Salesforce for Personalized Marketing

Now that the benefits of personalization and the role of CRM in successful marketing campaigns are clear, it's time to think about the execution.
Salesforce as a CRM connects marketing, IT, sales, and services teams. To ensure that the system, workflows, and people are aligned with the business processes, it is important to customize the CRM accordingly.
The Salesforce platform itself has a suite of solutions that enables businesses to develop, integrate, and build a comprehensive solution that caters to the need of a business. However, if you wish to customize Salesforce for marketing campaigns, then a professional Salesforce consulting partner is all you need to get started.

To understand how Salesforce CRM can help your business design personalized marketing campaigns, setup a free consultation with our experts.