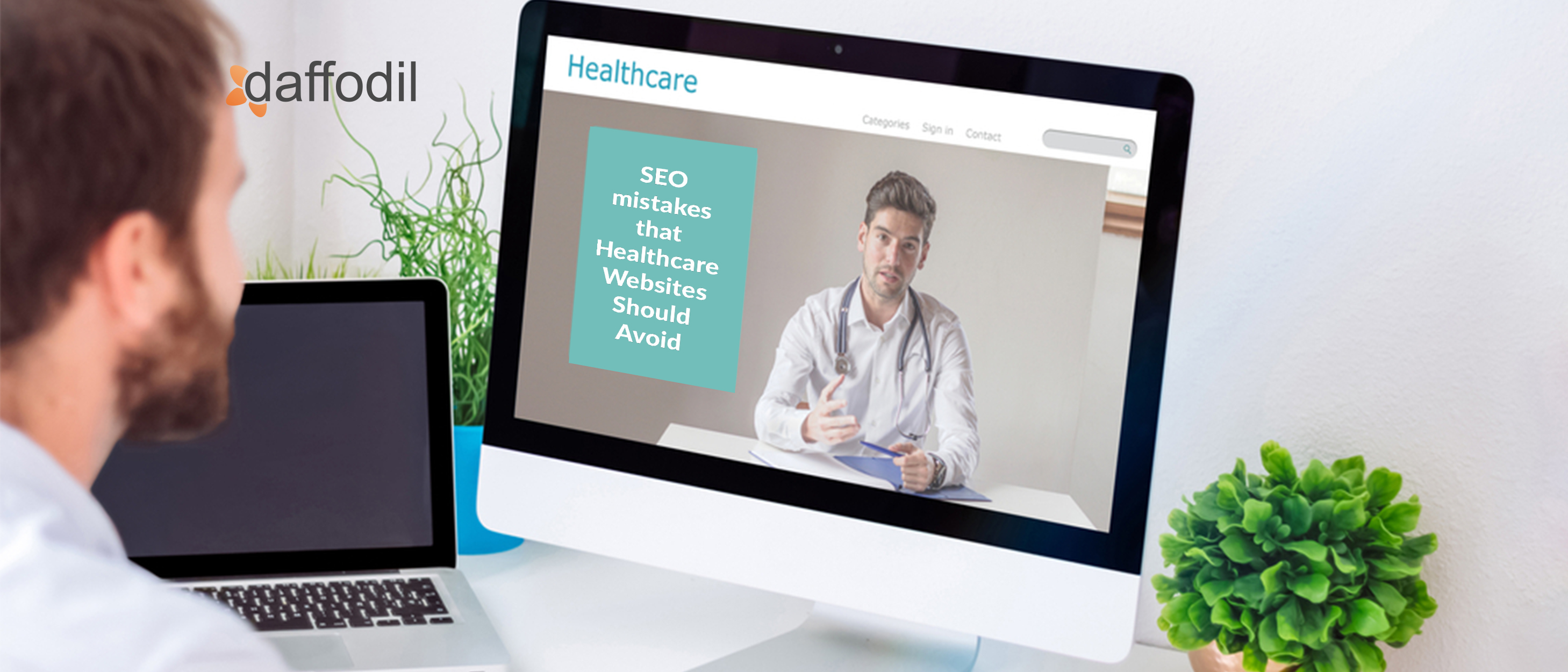 Increasing a website's visibility in search engine results is the goal of search engine optimization (SEO) for SERPs. Increasing your medical website's authority and credibility is a key part of medical SEO.
Maintaining your search engine rankings and expanding your patient base is possible with the help of the right website optimization strategy. Some marketers continue to make inexcusable blunders in their use of SEO, despite its widespread use and the numerous great benefits it provides. Mistakes like these can be detrimental to a successful medical practice because of the time, energy, and resources they waste.
Top 10 Healthcare SEO Mistakes
It may include:
1. Taking content from other sources
Your medical website must provide original, uncopied content. If your site duplicates the work of another, search engines will punish you. Website content should be written specifically for the target platform. Rewriting content provided by a treatment, technology, or pharmaceutical industry vendor is recommended if you plan to use it on your website. Don't plagiarize the work of another business like so many other sites do. Site-wide rankings will suffer as a result. If you must add content, please use "no-follow" tags appropriately.
2. The website is not safe to use
Google said in July 2018 that Chrome will label as "not secure" any website that hasn't implemented Hyper Text Transfer Protocol Secure (HTTPS) encryption. Patients may be hesitant to provide personal information via your website if it carries this label.
Google recommends that all website owners, regardless of subject matter, switch from HTTP to HTTPS to protect their users' connections. With Transport Layer Security (TLS), encryption, data integrity, and authentication are all guaranteed for any information delivered over HTTPS.
It is recommended for any healthcare website to buy SSL certificate, which activates HTTPS, and a secure padlock before the domain name. SSL cert ensures data security means all healthcare records will have strong encryption during the transition.
3. Ignoring Local Search Engine Optimization
Who exactly are you aiming for? Do you intend to broaden your scope outside your current location? Or are you more interested in specializing in the immediate vicinity?
In order to attract more patients, both online and off, a local medical clinic needs to stand out. You'll do better if you focus on expanding your company from the inside out to serve the needs of your neighborhood.
Applying local search engine optimization tactics might help you become an industry leader and attract more patients to your practice. If you don't invest in local SEO, your competitors will, and they'll take your customers with them.
As a result, you need to use strategies such as search engine optimization (SEO).
4. Targeting the wrong people
Your article, like the last one, should be aimed at the appropriate audience. While there is some room for interpretation here, you should have a clear audience in mind based on your marketing objectives. This is critical in determining not only what stuff to write, but also how to express it. As an example, many medical websites provide lengthy lists of the best doctors publications and extremely technical explanations of symptoms and therapies that, while impressive, are unlikely to be comprehended by a potential patient.
5. Misusing Keywords
Overusing keywords is a major SEO blunder made by medical practice operators. This occurs when you use an excessive number of keywords in your material, which can make it read like spam and lower your site's score. Instead, you should aim to use keyword variants naturally and consistently across the text. Never forget to do some keyword analysis to find the terms that will resonate with your audience.
6. Bad Internal Linking
Some of your best-performing pages should link to other pieces of your content. But, just as with keyword stuffing, don't go crazy with it. Links should flow naturally, relate to the subject matter, and be dispersed evenly throughout the text.
7. Images are too large
While high-resolution, large-size photos add visual appeal to doctor websites, they can increase load times. According to research conducted by Google, over half of mobile site visitors will leave if it takes more than three seconds for the page to appear.
To avoid this problem, use image editing software that can automatically reduce the size of your photo to a suitable level for online use. See how quickly the website loads by using a tool like Google's PageSpeed Insights.
8. Your site doesn't have a mobile version
There are massive efforts being made by companies like Google and Facebook to provide internet access to previously unserved populations, making mobile devices the future of the web. As a result, the primary shift in SEO ranking variables over the past year or two has been associated with catering to mobile users' needs. Put plainly, in 2017 if your site isn't optimized for mobile use, you're losing out on half of your potential audience.
9. Failure to Update Your Health-Related SEO Methods
It would be fantastic if we could just come up with a solid marketing plan for medical practices, get on the first page of Google, and call it a day. Unfortunately, the internet is constantly changing, and if we wait even one day, your website may have dropped from the top page to the third.
In order to produce content that ranks well in Google's organic search results, it is crucial that you monitor any changes Google may make to its algorithm. Tracking your website's performance over time is the greatest approach to adjust your content marketing and search engine optimization to boost your ranking criteria. To save patients time, many healthcare providers offer online consultation services.
10. There aren't any clear calls to action on the page (CTAs)
Patients who find their way to your site are likely in search of a specialist in a particular medical area. They might go to another service provider if they can't find a way to contact you.
In order to stay ahead of the competition, it's important to have prominent calls to action (CTAs) on your website, such as a "Make an appointment" button on every page.
Conclusion
You're not alone if any of these SEO concerns currently plague your site; however, you should work to rectify the situation. You should make whatever repairs you can, no matter how small. Search engine optimization is not a toggle switch but rather the sum of several "signals" or elements; the more optimized your site is, the better it will perform.