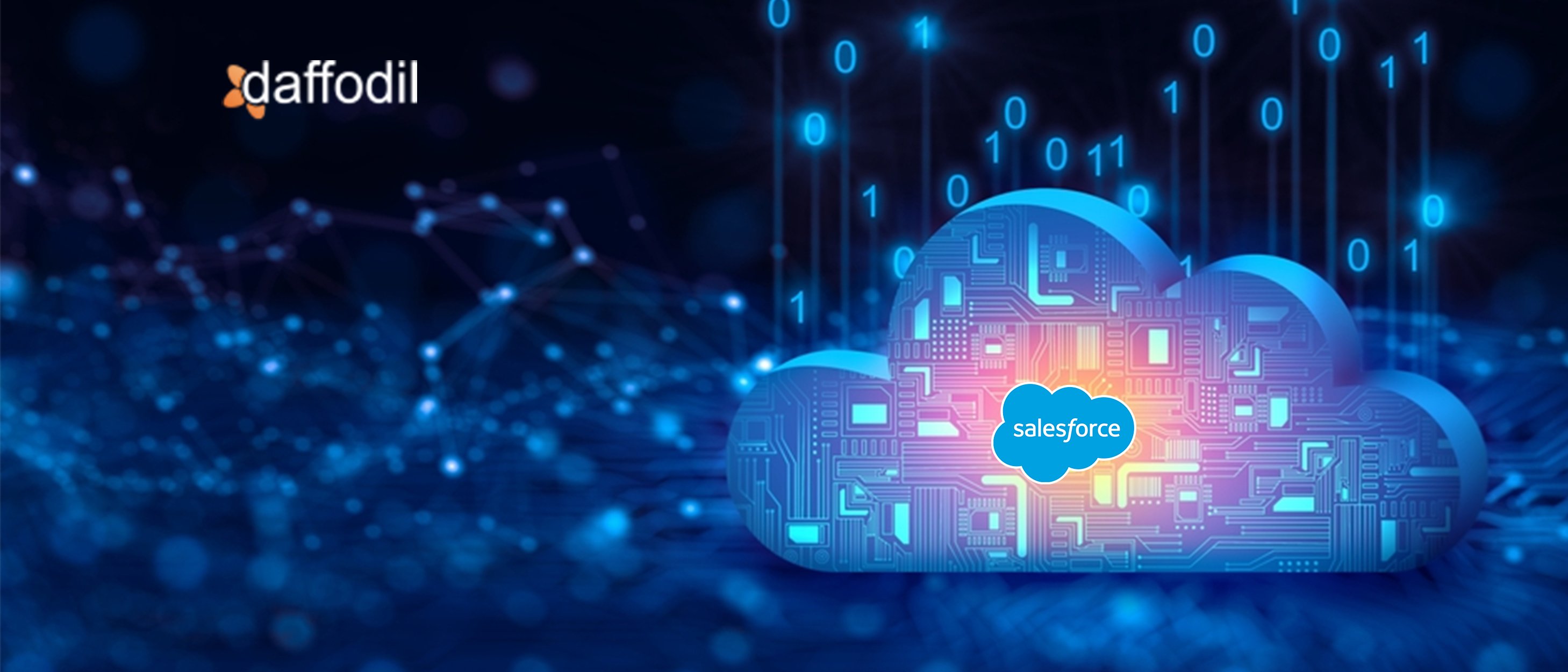 Personalized customer experiences are increasingly in demand. Brands must develop relationships with consumers and deliver experiences that go above and beyond and that is where Salesforce can help. To manage the whole customer journey, Salesforce Experience Cloud supports the development of interconnected and personalized digital experiences.
Salesforce built the platform called Salesforce Experience Cloud as part of the Salesforce Digital Experience Platform (DXP). It enables you to create online communities and create points of contact with clients, business partners, and organizational units.
This article will dive into the personalization capabilities supported by the Salesforce Experience Cloud platform. We will begin by describing what Experience Cloud is and how it fits into the DXP.
What Is The Salesforce Experience Cloud?
Experience Cloud is a comprehensive software platform with a toolkit of integrated technologies, digital marketing goods, services, and solutions that aids in the digitization of business operations, customer personalization, and successful partner connection and cooperation.
Your business can create a customized corporate virtual world with Experience Cloud that reflects your brand. It is a flexible platform that offers all you require to plan, organize, create, and oversee feature-rich digital experiences so that you may accomplish all of your online goals.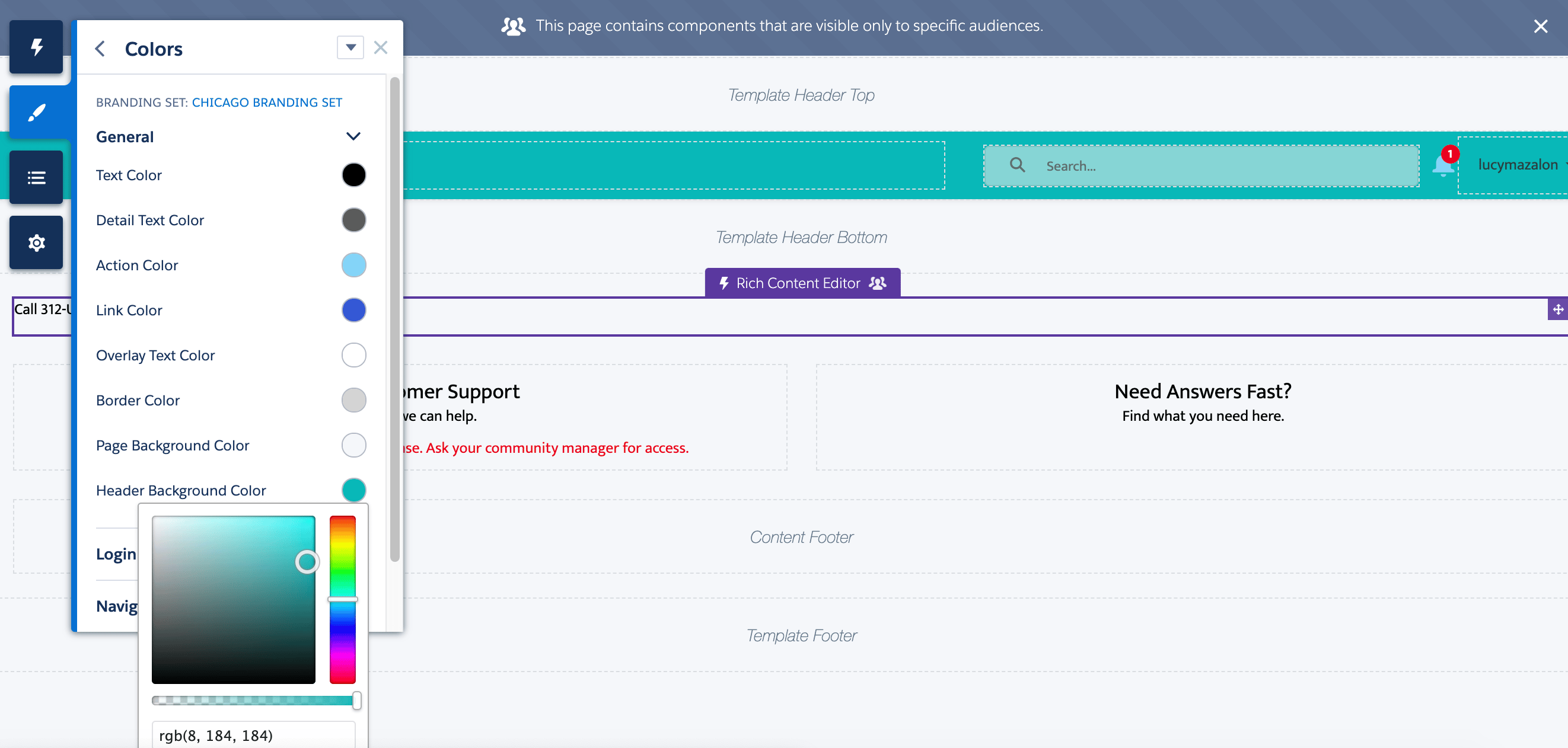 Image: Experience Cloud Branding Set Page
The Experience Cloud is a component of the overall Digital Experience Platform (DXP). So, what is a DXP and how is the Salesforce DXP unique?
An integrated set of fundamental technologies known as a DXP supports the creation, administration, transmission, and optimization of contextualized digital experiences. DXP from Salesforce is based on Customer 360. You can quickly deliver connected digital experiences with the aid of Experience Cloud. Through the use of data-driven websites, portals, and mobile applications, any sector can reinvent the consumer experience, personalize experiences for more customers, and accelerate growth.
Why Choose The Salesforce Experience Cloud?
The Salesforce Experience Cloud used to be known as the Community Cloud but was re-released with improvements such as the addition of a self-service community, lead generation via the landing page, and the ability to create partner portals and marketing sites. These are just some of the reasons why the Experience Cloud is the best bet for customer personalization when applied by the right Salesforce Admin. Other advantages include the following:
Due to connectivity with the Salesforce CRM system, the Experience Cloud is completely linked with the required dependencies. It eases your support team's daily workload. It involves you with your clients and business associates.


It is simple to set up, use, and administer. Generating leads, hosting online events, receiving payments, and other methods enable you to increase your profit.


It enhances the marketing process and makes it possible to develop sites that are mobile-friendly, ensuring a better user experience and boosting consumer retention.


You can manage your knowledge management system in Salesforce more efficiently with AC Knowledge Management Enterprise, a potent Knowledgebase Component for your Salesforce Community Cloud, or use a sophisticated Salesforce events app to elevate your online and offline events.


It offers a wide range of Experience Cloud solutions for creating digital experiences and is integrated with Google Analytics so you can monitor site usage, including the number of visits, the number of page views, the average time spent on the site, etc. It is native to Salesforce, meaning it has high security and restricted access.
Customer Success Story: Daffodil helps one of the leading retail technology companies re-engineer their flagship CRM platform
Key Components Of Salesforce Experience Cloud
The components that make Salesforce Experience Cloud so effective at managing businesses, interacting with customers online, and enabling your team to expand your company are as follows:
1)Third-Party Connections and Assistance: Utilizing customizable AppExchange solutions allows you to improve community functionality, improve customer experience, and boost your business.
2)Salesforce Experience Builder: As a useful tool, Experience Builder assists you in creating, customizing, and publishing branded no-code or low-code websites. Salesforce's Experience Builder takes website creation versatility to a new level. You may easily and quickly construct and style your site using its pre-built templates and themes, drag-and-drop Lightning components, and other out-of-the-box functionality.
3)Customer 360: Based on the Customer 360 idea (a single customer perspective), Salesforce Experience Cloud helps offer improved customer experiences, create effective engagement strategies, and generate forecasts and predictions. You may gain more customer insight and plan out your business decisions aimed at more customer personalization with the help of Customer 360.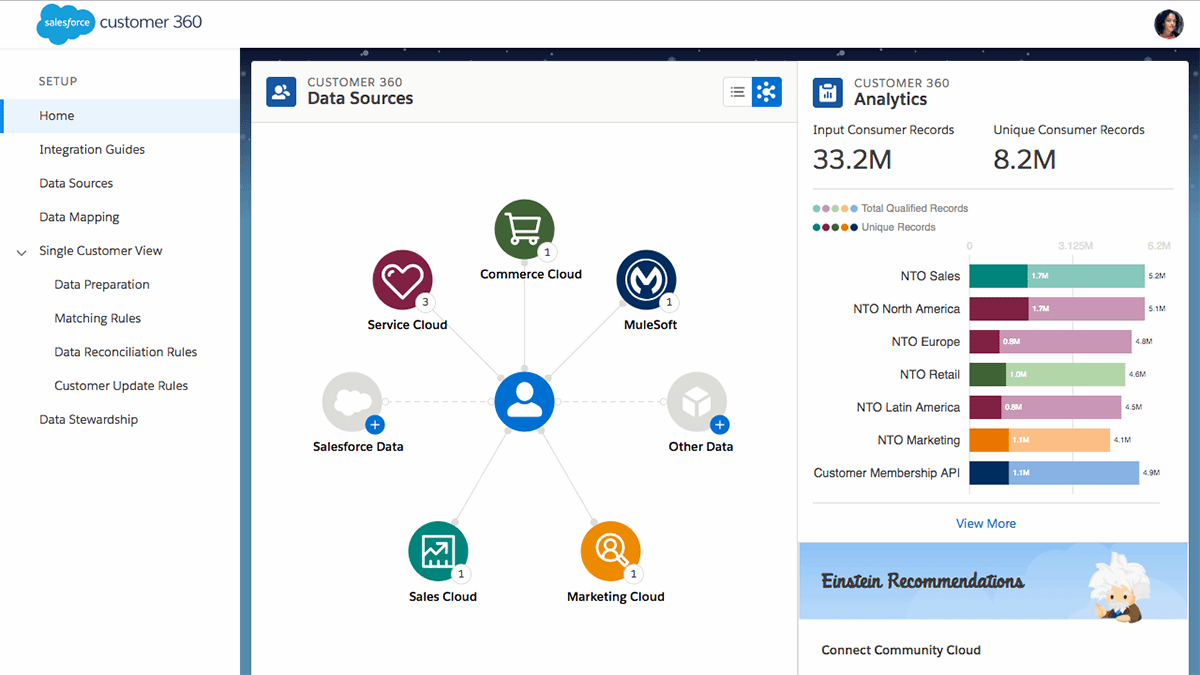 Image: Customer 360 Interface
4)Personalization: You can manage how customers engage with your website using Experience Cloud, and you can only send clients information that is pertinent to their interests and requirements. Making tailored experiences for your customers keeps them interested in both your content and your business.
5)Security and Analytics: Using Salesforce, you can extract all the requisite data for preparing reports and dashboards and precisely sort the data for analytics. As the sites created with Experience Cloud are Salesforce native, the data is stored within the Salesforce paradigm and is therefore protected from unintentional leaks and unauthorized access.
Types Of Experience Cloud Licenses
When an organization carries out the initial plan to set up its website with the Experience Cloud, it must choose a license as a prerequisite. Every license provides a different level of access to the various resources and also data configuration differs among them. The license types are as follows:
1)Customer Community: You may give your users access to all of the aforementioned features as well as additional access to advanced sharing, reports, and dashboards with the Customer Community Plus license.
2)Partner Community: This type of license works well with personalization for B2B communities and with Partner Relationship Management (PRM). All types of portals including reseller, B2B, vendor, and dealer portals are serviced. In addition to giving access to sharing, roles, reports, and dashboards, it incorporates all of the Customer Communities license's features.
3)Channel Account: When you are unsure about the number of users that need access to your site for partners that need to build B2B portals and sites, the channel account license is the appropriate one to opt for.
4)External App: This license is ideal for experiences that include any external stakeholders and facilitates extra API calls, data storage, and file storage.
ALSO READ: How Salesforce Customization Services Boost Business Efficiency and Performance
Experienced Cloud Enables Optimal Customer Personalization
With millions of internet brands vying for customers' attention and the blurring differentiation among brands and products, it is essential to provide a unique customer experience every time. Salesforce Experience Cloud equips sales and marketing teams with the right tools to build long-lasting customer relationships. However, only with a skilled Salesforce technology partner can you ensure that these tools are utilized in the most productive and cost-efficient manner. Daffodil's Salesforce consulting and solutions is the best bet for you in this regard.