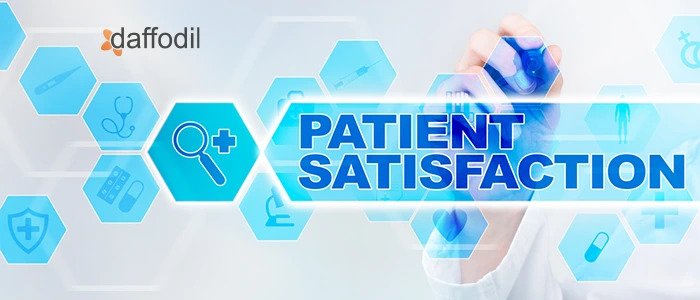 With healthcare organizations (HCOs) shifting toward patient-centered care, it is important to consider and measure the factors that impact or influence the quality of care. That is why, HCOs value patient satisfaction, as much as they value patient safety and clinical workflow improvements.
What is Patient Satisfaction?
Patient satisfaction is a subjective measure of what a patient expects from the care system vs what is met. It estimates the extent to which a patient is satisfied with the care services, inside and outside of the hospital.
This measure of care quality considers several aspects including the level of empathy, financial reimbursement, the responsiveness of the hospital staff, communication about medicines, pain management, etc.
Patient satisfaction offers advantages beyond medical treatment. This involves
Improved patient retention
A positive reputation
Prevent of malpractices
Better clinical outcomes
Higher staff productivity
Patient Experience vs Patient Satisfaction
The term patient satisfaction is interchangeably used with patient experience. However, both of them are different. Patient experience is a passive perception of an individual (about a healthcare organization). This could include communication and care by clinicians, nurses, or the staff, health plans, or some non-clinical elements such as wait time, parking space, food, etc.
A patient's satisfaction, on the other hand, is associated with his expectations from the care that he encounters. The two patients might receive a similar kind of care and treatment but their feedback on the services may vary depending upon perception and expectation.
What Factors Affect Patient Satisfaction?
For an organization to ensure patient satisfaction, it is important to analyze the factors that influence it. This practice is tough because satisfaction means different to different people. While millennials want to be more informed about their health condition, medication, and future considerations during their hospital stay; geriatric patients prefer to be directed by physicians. In these cases, the satisfaction would mean different for the patients.
But the question is- what affects patient satisfaction in general? Let's understand it with an example of a patient's visit to the physician.
Expectations: When a patient visits a physician, they seek assurance or information on a specific problem (along with the medication). A patient may be unsatisfied if he is unheard or his interrogations about the problem and treatment are unanswered.
Communication: It's important to have positive communication between the patient and the physician. The likelihood of a patient feeling positive about the visit depends upon a clear interaction with the physician. This involves discussing the history of a disease, symptoms in detail, explaining the condition, and offering medical advice with assurance.
Control: Physicians or other healthcare authorities should allow patients to express their ideas, concerns, and expectations. Moreover giving patients the control over choosing a visit time and a physician of their interest adds to their satisfaction and they are more likely to follow their physician's advice.
Time Spent: More a patient interacts with the physician, the higher the chances of trust building amongst both ends. While it's not practically possible to give much time to a patient, the conversation can be extended or initiated later on through patient-engagement apps. For example, if a patient has doubts regarding his diet or medication, he/she should be able to interact with the physician through a medium other than in-person visits.
How to Measure Patient Satisfaction?
For measuring patient satisfaction, the Centers for Medical and Medicaid Services (CMS) and the Agency for Healthcare Research and Quality (AHRQ) created a survey that could help to research, develop and test a healthcare organization's services. This standardized survey is known as the Hospital Consumer Assessment of Healthcare Providers and Systems (HCAHPS).
The HCAHPS survey is administered to a random sample of patients between 48 hours to 6 weeks after discharge. The survey has 27 patient satisfaction questions related to patients' hospital experience (18), population-specific sub-questions (4), questions to compensate for varying demographics (3), and assessments of Congress-mandated quality measures (2). Some aspects that are covered in HCAHPS include:
1) Communication with doctors
2) Communication with nurses
3) Responsiveness of hospital staff
4) Pain management
5) Communication about medicines
6) Discharge information
7)Cleanliness of the hospital environment
8)The quietness of the hospital environment
9)Transitions of care
An HCAHPS survey fulfills two purposes: One, informing the Centers for Medical and Medicaid Services (CMS) of patient satisfaction and experience with various services. Two, enabling providers to review their survey scores and make improvements in their services.
The Role of Technology in Boosting Patient Satisfaction
The digital healthcare system is driving almost all care initiatives. When it comes to improving patient satisfaction, technology has a prime role to play. Let's understand them.
Patient Engagement is a practice that's centered on patients and providers working together to improve health. This involves embracing steps that can contribute to improving the patient experience and health. Some of the common examples of patient engagement initiatives are online appointment scheduling, patient wellness programs, remote patient monitoring, etc. These patient engagement initiatives keep the healthcare stakeholders connected, helping providers to keep the patients satisfied with care services.
Chronic Disease Management is an integrated approach to managing long-term illness. This comprises regularly reminding patients to record health vitals, medicine adherence, educating patients, participating in fitness challenges, monitoring the impact of a given treatment, etc.
ALSO READ: How mHealth Apps Aid in Chronic Disease Management
Electronic Health Record platforms are a great way to keep patient-physician interactions recorded. It's a 360-degree view of every event that takes place Depending upon clinical workflow and the healthcare practice, providers can go for custom EHR development solutions.
Apart from this, there are several ideas that can be executed digitally to improve patient satisfaction. To discuss those ideas with our HealthIT experts, schedule a free consultation now!
Our team, who has already helped healthcare organizations to improve their patient satisfaction score will analyze the strengths of your HCO, evaluate the scope of improvement, and suggest technological advancements.