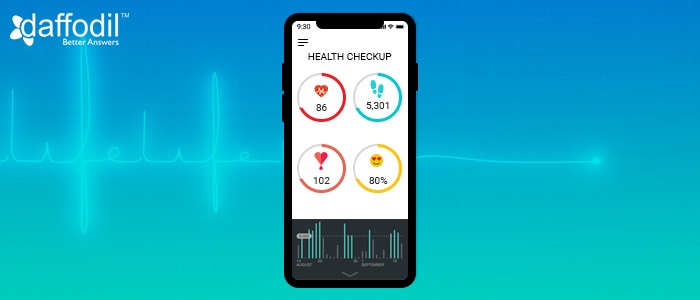 Digital healthcare system is orienting towards delivery of accessible and affordable care. With healthIT ecosystem maturing at full tilt, it is embroiled in the endeavours to manage chronic disease at personal and public level.
Statistics present chronic disease as one of the stumbling block in a streamlined and productive healthcare system, affecting almost half of the wealth and resources. According to Center for Chronic Disease Control (CDC), 75 percent of nation's aggregate healthcare spending is done for chronic diseases, which is estimated to be 5,300 USD/person in the U.S.
This poses a great threat to the healthcare system of various developing countries as well where nation's economy and infrastructure is feeble to for chronic disease management.
Responding to the call for a healthcare system that reaches the patients fast, is affordable, and effective, digitalIT solutions have been in forefront. And for the digital health systems to thrive, smartphones have been offering the most reliable platform. Here, we discuss some of the creative ways for how mHealth apps can cater to the chronic disease management need.
How mHealth Apps are Simplifying Chronic Disease Management
mHealth Apps for Medical Consultation
Chronic disease like diabetes, cancer, heart and stroke disease, asthma, alzheimer's disease calls for time-to-time consultation from doctors or physicians to take relevant actions against unusual health behaviours.
This problems has been addressed through virtual healthcare systems like doctor-patient portals. With introduction of some active and secure mobile platforms like Lybrate, iSikcure, Medidoc etc., patients are being able to access care by consulting doctors via eVisits, by easily sharing health vitals for medical recommendation, for on-time F2F consultation booking etc.
ALSO READ: How Patient Portals are Improving the Virtual Healthcare System
mHealth Apps for Fitness Tracking
Amongst the various reasons for which users prefer mHealth applications, transparency or better overview of fitness/ improvement in fitness level get maximum number of votes. Mobile apps that continuously keep a track of diet, health vitals (like blood pressure, heart rate, temperature etc.) allow patients with chronic disease to manage health and avoid risks.
With healthcare wearables capable of detecting heart strokes, tracking calories, record workout sessions, track sleep cycles etc., their compatibility with mobile apps are offering affordable and creative ways to stay fit, healthy, and manage chronic disease.
mHealth Apps for Medical Research
Mobile applications are backing medical research programs to improve treatment for chronic disease. For example: A gaming app, named 'Sea Hero Quest' is a part of research that's helping scientists to fight dementia (Alzheimer's disease).
"Sea Hero Quest is a simple sailing app that enable researchers to gather information that could help doctors to identify early signs of dementia. The game tracks how players navigate its mazes to build a picture of how people of certain ages, genders, and origins perform."
ALSO READ: Healthcare Application Development: Trends and Predictions for 2018
mHealth App Development on Mind? We can Help!
The above examples elaborates how mobile apps can be a great support in managing chronic health, for both patients and providers. With healthcare application development being our forte, we have helped startups and healthcare institutions to develop disruptive healthcare platforms.
To discuss your idea, connect to us through our 30 minutes free consultation program with our healthcare experts.