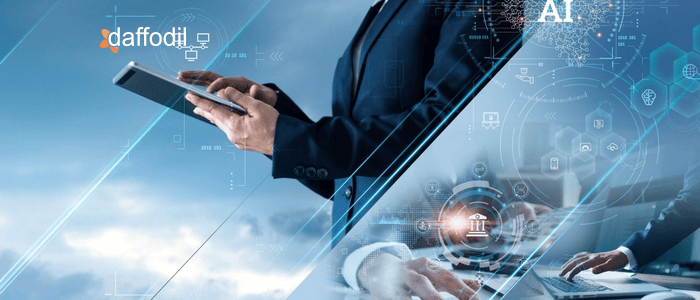 Dated or legacy tools, systems, and operational methods are not enough to deliver the quality of optimized and innovative financial services that today's digitally savvy customers expect. So, multitudes of financial organizations are leveraging Artificial Intelligence to raise the growth rate and dynamism of IT operations through AIOps.
FinTech industry watchdogs wager that the future of financial operations relies heavily on a robust workflow that leverages the various sub-domains of AI for data analytics. A good AIOps methodology can help ingest large volumes of data systems and provide insights that are actionable and make sense for FinTech.
Up ahead, we will dive into the basis of the need for AIOps in the financial sector and how it elevates the quality of the data manipulation workflow. We will also discuss the associated benefits of giving AIOps the necessary priority.
How Is AI Changing Finance?
AI has slowly become a core requirement for IT operations in the finance sector as it helps stakeholders automate various areas of work such as monitoring, security, and efficient data analytics. As has been the case for several other industries and fields of innovation, AI, and especially AIOps, has burgeoned into a key driver for the FinTech sector as well.
As per Gartner's report titled Gartner Market Guide For AIOps Platforms 2022, throughout 2021, about 40% of all the technology inquiries faced by them had some mention about AIOps.
The growth metrics provided by AIOps for finance platforms involve a few driving factors. The order and efficiency of the transformation of a digital business is a massive driving factor across all industries. Additionally, instead of taking action after an event, a more proactive AI implementation is required while keeping it all transparent.
Customer Success Story: A data management solutions provider improves efficiency by 80% with the help of the Daffodil AI Development team.
The Benefits Of AIOps For FinTech
AIOps has cross-domain data intake capabilities that signify ample leverage to apply ML and analytics to massive volumes of varied data sources. The data from many point tools are now isolated and not accessible to complementary tools that can assist in problem-solving. AIOps eliminates this limitation to deliver some of the following benefits for banking, finance, and FinTech organizations:
1)Operational Efficiency
Various present IT operations processes can be improved upon or even completely replaced by AIOps. By fusing big data with AI and machine learning, AIOps build on Robotic Process Automation (RPA) and Automation of IT procedures (ITPA). The pressure on data teams to identify the root causes of all their difficulties is lessened now that AI is capable of not only independently identifying a number of root cause issues but also understanding those problems holistically.
2)Managing Efforts
There is also a significant decrease in the requirement to laboriously sort through data records. AIOPs automation can send alerts for specific system failures and offer solutions to technical issues in a way that is both backward- and forward-looking and self-healing. With automation, repetitive and effort-intensive tasks of the data analytics paradigm can be managed.
3)Customer Experience
The main objective of financing organizations is to meet consumer expectations. According to a recent survey of banking executives, "consumer expectations" were identified as the most important factor and were what was causing disruption in the finance sector. Customers of banks require immediate access to their balances and accounts.
4)Fraud Alleviation
Fraud departments require both proactive solutions that can identify outliers that might just be the signal of fraudulent activity and real-time access to transaction data so they can create sophisticated prediction models. Because it offers complete visibility of a company's applications and infrastructure, AIOps is helpful in both of these situations. It reduces noise in the data, breaks down data silos, and simplifies root cause analysis throughout the operation.
5)Governance And Regulation
Data may be automatically profiled and cataloged using AIOps tools. The six dimensions of data quality, namely accuracy, wholeness, viscosity, punctuality, originality, and validity — can be used by AIOps to evaluate a company's data sources. It is possible to build a trust index, and data that deviates from a predetermined set of indicators would result in alerts notifying applicable parties of problems or potential problems. AIOps also provides a suite of tools that help ensure that all measures for compliance have been put in place where required.
Finance ITSM And ServiceOps With AIOps
Any financial organization must combine a reliable AIOps strategy with a varied suite of IT Service Management (ITSM) tools. At the highest level of the complexity hierarchy, IT operations of any industry vertical involve three major tenets; supervision, implementation, and automation. Of these, automation is at the core across all disciplines and sectors.
The application of AIOps for the service management sphere opens a whole array of possibilities for implementing faster MTTR, rapid innovation in problem-solving, and massive upgrades for both the employee as well as the customer's experience.
ML and analytics can be crucial enablers of the convergence between the IT disciplines of ITSM and ServiceOps as they merge more and more. Effectively integrated use cases for automated event remediation, incident and change management, and intelligent ticketing and routing may be deployed across ITOM, interchangeably used for ServiceOps, and ITSM with the help of a comprehensive AIOps strategy that watches, engages, and acts.
ServiceOps, ITSM as well as AIOps is essential for real proactive service resolution: the capacity to find, monitor, attend to, and correct events as they happen. It is important to integrate service and operations teams and offer insight even across third-party solutions, in a unified, open platform that enables a number of features, including proactive service resolution.
ALSO READ: Why Data Engineering And AI Are Mutually Beneficial
AIOps Ensures Cross-Domain Data Ingestion And Analytics
All businesses must be able to establish a uniform topology, gather data, events, and metrics from numerous sources, and operate in extremely complex situations. These methods are employed for anomaly detection, root cause isolation, pattern discovery and prediction, and event correlation. The way ML and analytics support the necessary use cases is the most crucial part of this. To learn how singularly efficient AIOps solutions can be applied across industries, you can opt for a free consultation with our AI development company today.