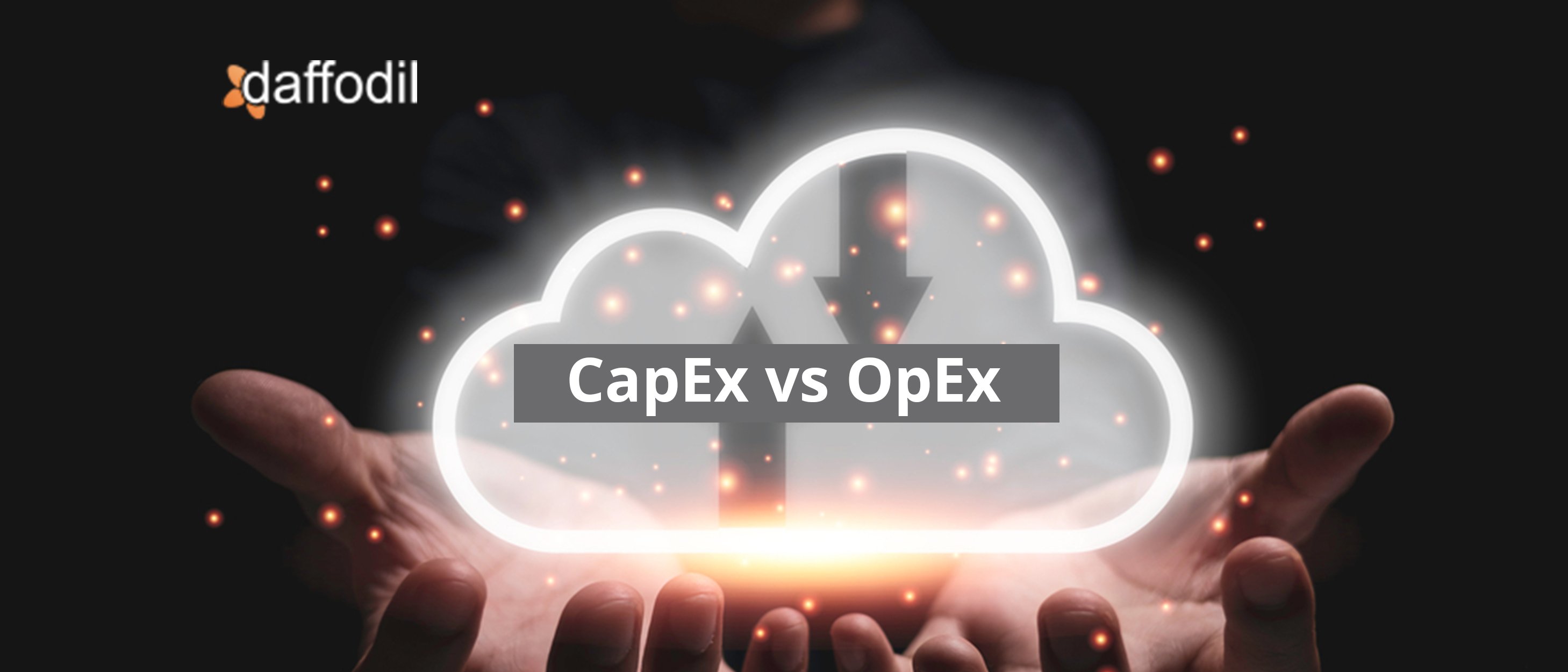 Businesses around the world spend billions of dollars every year on cloud infrastructure services, storage, and computing resources. They can gain an edge over each other with effective cloud infrastructure without any wasteful cloud spending. There are two rising approaches towards cloud cost optimization today that they can choose from; Capital Expenditure (CapEx) and Operational Expenditure (OpEx).
Globally, IT organizations spent over $21 billion on cloud infrastructure installation, maintenance, storage, and computational costs in 2021, as per a report by the tech research provider, IDC. Traditionally companies would leverage in-house models for data centers that would translate to high CapEx expenditure. But with cloud-based infrastructure having become a mainstay of the industry, OpEx is predicted to grow substantially in the years to come.
In this article, we will discuss how CapEx expenditures are incurred in comparison to OpEx in cloud computing and try to highlight the major differences in the associated financial ramifications.
CapEx And OpEx
While implementing changes in your IT organization's technological strategies and infrastructure, you have the option to choose between two financial models; CapEx and OpEx. While we are discussing these models from a cloud-based operations perspective, they are not exclusive to the IT domain. CapEx vs OpEx is a consideration that all industry verticals examine when looking at ways to optimize revenue streams.
There are hundreds of innovative approaches when it comes to the handling of a technology provider's IT infrastructure and operations needs. When assessing the impact of various solutions on the organization's overall impact and Return on Investment (ROI), it is important to evaluate the types of expenses.
CapEx can be defined as the business expenditure amassed towards developing long-term consistent ROI which consists mostly of purchasing fixed assets. CapEx spending would include the purchase of entire enterprise systems, servers, printers, projectors, and scanners. A large chunk of these expenditures are one-time investments and help in prolonging the lifetime and usefulness of workflows.
OpEx refers to the run-of-the-mill activities which consist of the services and consumables that the organization uses on a daily basis. The ink cartridges of printers, the electricity to run data centers, and subscription services such as website hosting and domain registrations come under OpEx. While CapEx components are based on more long-term business success, OpEx is aimed at immediate results.
Here are a few things to consider when deciding between CapEx vs OpEx:
| | |
| --- | --- |
| CapEx | OpEx |
| 1. Long lead time for new infrastructure acquirement | 1. On-demand services ready for plug and play |
| 2. Expensive equipment failures | 2. Automated and timely maintenance |
| 3. Need to plan significant upskilling | 3. Upskilling is performed with infra expansion |
| 4. Capacity wastage | 4. Buying only for immediate needs |
| 5. Configuration errors involve costly repairs and downtime | 5. Duplicable reconfiguration efforts involved |
| 6. There is limited to no automation in monitoring | 6. Monitoring and alerting provisions are automated |
Customer Success Story: Developing a B2B Marketplace for Saudi-based eCommerce company
Accounting For Cloud Expenditure: CapEx vs OpEx
There are a variety of IT goods that can be accounted for as both CapEx and OpEx which opens up several different avenues for organizations. Purchasing enterprise software is one such instance wherein there is the option to either buy it indefinitely as a capital item or there is the option to pay for it under a monthly subscription.
Based on the enterprise's financial goals, capital expenditures and operational expenditures are taxed and accounted for differently. Considering these factors as per the long-term structure of business strategy decides the overall value of a business purchase.
Buying a long-term investment instrument, which is considered a CapEx cost, is expected to pay for itself by benefiting the company over a length of time. The wise way of taxing this investment would be to not do so in just one tax year but to amortize or depreciate it over several years of its existence within the enterprise infrastructure. This is a consideration that IT accounting should observe while deciding between CapEx vs OpEx.
Accounting for CapEx is often extremely complicated as the task of zeroing in on the actual contribution that an IT infrastructure purchase has towards the business is not so cut-and-dry. On the opposite end, we have OpEx items which are usually completely tax deductible with a ready formula to subtract their costs from the business revenue during profit and loss calculation.
As the benefits and value derived from OpEx are more immediately recognizable they are used to pinpoint the actual cost of doing business. The only drawback that arises from OpEx is that these purchases don't always produce any tangible returns on investment and lead to business debt in many cases. But OpEx, if too high, reflects in the accounting statement almost immediately so that you can cut down on it pretty quickly. This also gives you enough room to think about investing in other, more effective technological operational expenditures.
Stability With CapEx
There is immense stability when it comes to CapEx because you are highly aware of the annual costs involved as well as costs spread over a longer timeline. So cost optimization is a more straightforward initiative. However, there may be some associated results that are often disproportionate and unexpected. Some factors that contribute to CapEx stability are as follows:
CapEx shows your purchasing capacity you don't need now to handle uncertainty in the future. A drive to create your own cloud up front could appear like an investment in the IT industry, but there is no guarantee about the workforce's equipment and expertise.


You lose money on squandered materials and labor if you take longer than necessary to set up a private cloud service and your need for private cloud services doesn't increase quickly enough. This is connected to the capacity you might not always require.


CapEx can assist you in considering long-term solutions for your IT requirements. These days, technology advances quickly, so you don't want to fall behind just because you invested a lot of money in a system that is already outdated.
Flexibility With OpEx
OpEx addresses various needs, from what is driving your IT infrastructure, the time taken to set it up, and the limitations related to technology adoption. Additionally, it brings a sense of flexibility in the implementation of these factors. It does that in the following ways:
Each purchase becomes less permanent and significantly lowers risk when made as OpEx costs for IT resources and services. You aren't tied to one IT infrastructure that you invested a lot of money on if a vendor doesn't live up to your expectations.


No matter what, with OpEx, the underlying technology advances, your organization finds new markets, and your IT budget constantly grows and changes.


Turnaround times for deploying new and better software products shrink to days and hours from years and months since these services are instantly available and on-demand, further boosting earnings.


You can quickly and easily modify a service if it turns out to be incorrectly set up. You don't have to carry infrastructure dead weight if a project or software turns out to be a failure; simply eliminate it and there is minimal financial leakage.
Choose The Apt Cloud Pricing Plan
Because of their simplicity, affordability, and wide range of services, cloud solutions are gaining popularity everywhere. Businesses are increasingly acquiring value through intangible assets and the pay-as-you-go OpEx model for services. CapEx vs OpEx should still be weighed in detail before making your decision. However, if you require an assessment of your software and cloud infrastructure needs to decide the best pricing model for you, you can book a free consultation with us today.