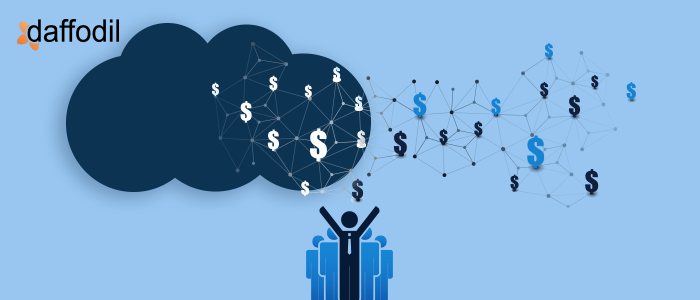 Cloud infrastructure is one of the sought after approaches for managing CapEx and OpEx costs for businesses at the initial stage. But, as the business expands, the cloud services inflate in number as well. More the services, the more would be the cost to the provider. Amidst this, how can companies ensure that their cloud infrastructure proves cost-effective along with performance-oriented? The answer is by optimizing the cloud infrastructure for cost.
Infrastructure optimization involves the right usage of tools, skills, and processes to track, manage, and optimize expenditures. In this post, we will check out some standard practices to manage the cost of a cloud infrastructure, which can work when you are dealing with a cloud or multi-cloud provider. Let's discuss them.
Cloud Infrastructure Optimization Plans: Introduction
Depending upon the size of the business and how often the resources scale-up or scale-down, any of the below-mentioned plans can be adopted:
Optimizing Daily Operations: This scheme for cost optimization works for businesses that use a limited number of services and want to keep the cost-controlled. In this case, a team defines a set of tasks or services that needs to be checked out for the cost and then deploy tools and skills to keep the cost-optimal. This process is executed on a daily basis


Optimizing Cycle-based Operations: This approach works when long-term planning for resource optimization has to be done. This involves keeping a check on under-utilized or over-utilized resources and then opt-for reserved instances rather than on-demand pricing. In short, its the automation of the cloud optimization cycle.


Optimizing Infrastructure Cost: How to do it?
When you're planning to manage the cost of cloud in the longer term, there is a 4-step procedure that should be followed to recognize the areas to work out.
Identify: To manage resources, it is important to know what are the resources in place. You can have different types of cloud services- single cloud, hybrid cloud, or multi-cloud. Collect insights of resources being utilized- which include information of under and over-utilized resources. This will help to understand the importance of resources being used. You can check the resources and their signature on the basis of the following three factors:
If they are Idle: Find out when your resources are optimally utilized and when they are idle.
Imagine a website having 80% usage during peak hours and only 5% in the meanwhile. In such scenarios, the resources (say 4CPUs, 16GB RAM, ...and so on) at peak hours can be scheduled to drop down to 1 CPU, 2GB RAM, ...and so on. Such scheduling of resources can reduce the overall cost by 50%.
If they are Aging: There can be times when a resource has been a part of the system for a long time but is of no use in the modern solution. Find out if the resource is aging and is utilized for the cost being paid for it.
If they are Inactive: Look for resources if they have been inactive for a long time. If that's the case, analyze if any of the functions in an application or the system are dependent on those resources.
Analyze: In this phase, prioritize resources on the basis of their function. Check if the services opted are deployed on production or non-production environment etc.
Optimize: Now when you know the services deployed, it is the time to compare the quality of services and their cost across multiple platforms. For example, You can opt for Amazon EC2 Reserved Instances (R1) that provide a significant discount (up to 75%) as compared to on-demand pricing models. More is the time for which the instances are reserved, more would be the discount. For example: Reserving instances for a website can help to save up to 30% (for 1-year time span), 50% (for 2-year time span), 0r 70% (for 5-year time span), approximately.
Evaluate: The last phase is comparing the metrics against the previously established baseline and calculate the improvement in profitability.

While following this four-step process to cloud cost optimization can help you out in management, the main challenge is encountered when hybrid or multi-cloud services are to be compared. In that case, it is important and cloud experts evaluate your services and optimize them for cost.

At Daffodil, our cloud strategists ensure that the best cloud services are recommended for businesses, depending upon their cost and performance. If you want our cloud strategists to optimize your cloud infrastructure, then connect to them with a 30-minute free consultation.