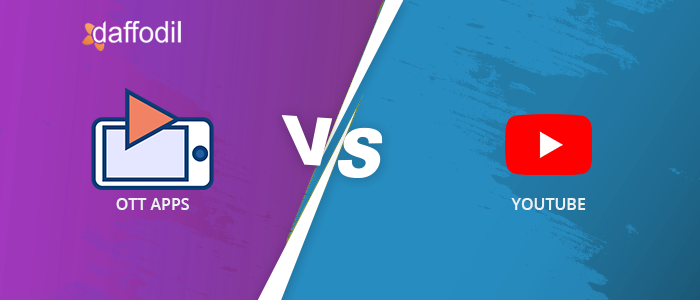 Whether a six-second bumper ad or a multi-minute compilation, videos have an amazing power to engage online audiences. Video marketers say that video content helps them with lead generation, gives them a good ROI, helps in increasing website traffic, and improve sales.
Apart from being a successful content marketing strategy, videos are turning out to be a sought-after source of entertainment. People are switching from appointment viewing to binge-watching on OTT platforms. These over-the-top (OTT) platforms host a huge library of content that could be accessed on-demand.
Considering the popularity, accessibility, and benefits of videos, a number of video streaming platforms are being launched into the market and are utilized for various purposes. YouTube, Netflix, Hulu are some of the examples of video streaming platforms.
YouTube has 2 billion users worldwide. People watch one billion hours of Youtube every day, which is 8.4 minutes per day per user.


Netflix has 180+ million subscribers. People in the U.S. watch 165 million hours of Netflix every day, which is 3.2 hours per day per user.


Hulu has a userbase of 32 million. The American VoD platform users spend an average of 2.9 hours per session.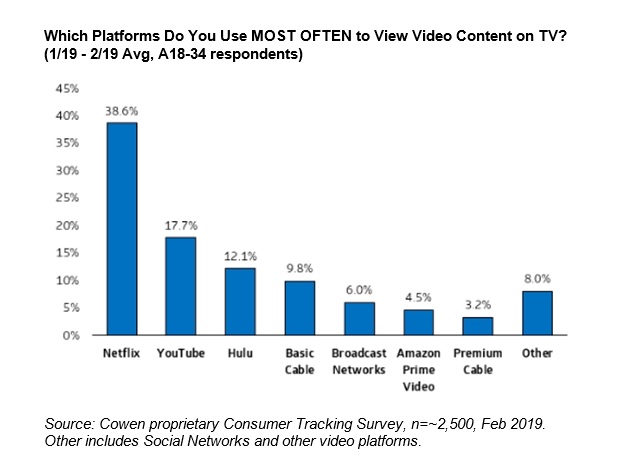 Youtube and OTT platforms are the biggest sources for delivering video content. Whether to create a YouTube channel for hosting videos or build an OTT platform is the question that puts businesses into a dilemma. In the latter segment of this article, we will do a comparison between OTT apps and YouTube, ensuring that after reading this, businesses are able to make an informed decision.
OTT Apps vs YouTube: Comparing the Video Hosting Platforms
Halts during Video Streaming: Youtube is a free video hosting platform. It has advertisements as a major source of revenue. Hence, it is obvious that the viewers will encounter ads while the videos stream. However, YouTube displays an ad on the basis of users' previous experience and it is likely that they encounter an ad from a business competitor. There is no control over what a user can view. It is completely controlled by YouTube's algorithms.
On the contrary, with OTT apps, the businesses have full control over what they want to show to the viewers. Although video OTT apps also have advertisements as a revenue stream but its completely optional or, on the basis of subscription/plan, the viewers have the option to eliminate ads completely.
Scope of Revenue Generation: With YouTube as a video hosting platform for business, the revenue streams are limited to advertisements. However, with an OTT platform, there is an opportunity to generate revenue in different ways.
For example, a fitness OTT app can create earning resources by developing a built-in eCommerce and sell fitness accessories, clothing, devices, etc. Also, users can subscribe to fitness articles or hire fitness experts or dieticians who can guide them to maintain their health. Likewise, businesses in different genres can think of ideas to generate revenue, without having to be dependent on ads to support the business financially.
Mediums for Business Branding: More the branding, more is the probability of gaining viewership on the videos. With an OTT platform, businesses can have different ways to do their branding. There are different locations in an app that can be wisely utilized to promote a brand. Meanwhile, it can be ensured that the user experience is not compromised.
With the YouTube channel, there are limited ways to do branding of a business. The video hosting platform provides fewer options to customize the brand channel, as compared to the OTT platform. It gives the option to add a brand logo, a cover image, an about us section to promote the channel, and a customized channel link which is not enough for large businesses to do their branding.
Analytics and Reporting: Analytics plays a significant role in the continuous improvement of a business. Analyzing how users are responding to an application helps in new customer acquisition & retention, reduce churn rate, improves customer experience, etc. OTT apps can be integrated with in-app analytics tools that give a bird-eye view of how an app and its users interact with each other. Depending upon how deep analysis of users has to be done, a relevant analytics tool can be chosen that helps to analyze the gaps in user interface and experience so that appropriate action is taken on time.
ALSO READ: Mobile App Analytics: A Guide to Increase App Engagement and Performance
When a YouTube channel is created for video streaming, it allows businesses to have updates, such as watch time, audience retention, live streaming details, demographics, revenue reports, etc. While for small businesses, these reports might be enough, mid-sized and large enterprises need more statistics to keep up with brand reputation and customer satisfaction.
OTT Apps VS YouTube for Video Streaming: Making a Choice Between the Two
Choosing the right streaming platform is equally important as creating an engaging video. From the discussion above, OTT apps seem to have sure benefits above a YouTube channel for streaming videos.
OTT apps offer better branding, give better channels for revenue generation, ensures a seamless experience for users, and give better branding options than a YouTube business channel.
To get started with OTT app development for your business, share your business requirements with our tech-experts who will further help you to create a roadmap for creating a successful video streaming platform for your business.
Recommended Reads:
Why is OTT the Next Logical Step for Movie Theaters?
OTT TV Apps: Know Which Platform Works Best for your Business
Top 5 Industries that can benefit from OTT Apps (With Examples)