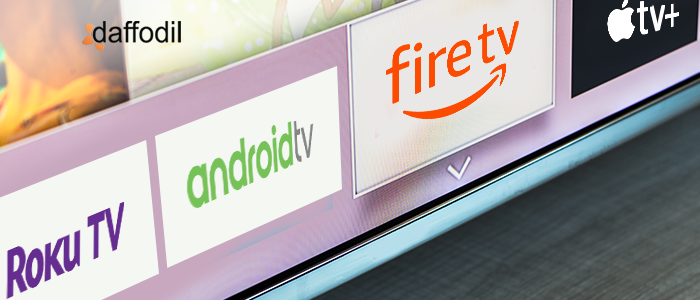 The tremendous rise in the demand for audio and video content streaming, has made Over-the-Top (OTT) apps an unavoidable part of entertainment businesses. It's not just the entertainment industry that's making the most of OTT apps, other industries, such as education, gaming, health & fitness, etc. are realizing the benefits of streaming audio/video content over the internet, rather than the traditional broadcasting mediums (like satellite).
According to a report by Business Wire, the total number of OTT users will reach 915 million by 2023, most of whom will be subscribing to at least one SVoD (subscription-based video-on-demand) service. In fact, there is a surge in the demand for OTT apps during the COVID-19 outbreak in 2020.
OTT apps are gaining ground over other content delivery platforms because of the following reasons:
They give access to unlimited audio, video content which can be accessed live or on-demand


The content on OTT apps is available with flexible pricing models: freemium, pay-as-you-go, or subscription-based


OTT apps make the content available on a vast spectrum of devices, such as smartphones, tablets, smartTV, set-top boxes, etc.
The ability of OTT apps to make the content omnichannel is what makes them a preferred choice of businesses to reach out to their targeted audience/viewers. Businesses can launch their apps on different platforms, but the question is which platform will give maximum return on investment?
There are different devices available for OTT app development and these devices further have varying Operating Systems. For example, SmartTVs can be based on Roku, tvOS, Android, FireOs, etc. It is important to know where your audience is so that an investment in the right platform can be made.
Which OTT Platform does your Business Need?
The global streaming media devices market is projected to reach a value of $271.8 billion by 2024. Smartphones and tablets, like today, will drive the majority of consumers' online activity. However, there will be growth in other devices that will allow users to stream content online. These devices are called OTT devices (Fire TV, Apple TV, Xbox, Playstation, Amazon Fire Stick, Chromecast, etc.) and work with SmartTVs to stream the content.
"Smart TV technology is one of the latest trends in the television industry, with the global market expected to reach to 250 million units by 2024."
If we specifically talk about OTT TV apps, it is definitely a tough job for businesses to choose the right platform for building OTT apps. Depending upon the geography, popularity, flexibility & features, an appropriate platform for OTT application development can be selected. If you're in the dilemma as to which platform works best for your business, then we would recommend you to refer to the latter segment of this blog. It discusses the market share that these streaming devices for TVs have, the dominant reason for their usage, etc. which can help you to make an informed decision. Let's get started.
1. Roku
Roku is one of the leading TV streaming platforms in the U.S. At the end of 2019, it had 36.9 million active accounts, wherein, an average user streams for around 2.5 hours/day, representing nearly half of average U.S. per household daily viewing.
Despite facing a rigid competition from Amazon, Apple, Google, and other streaming device providers, Roku continues to dominate the OTT streaming market in the US with a 36% share.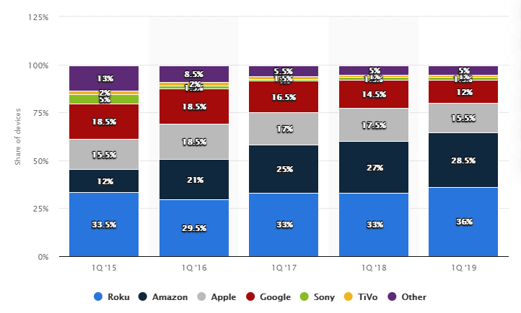 Share of streaming media players installed base in the United States by brand/manufacturer from 2015 to 2019 | Source: Statista
One of the reasons for Roku's immense popularity is its wide range of affordable devices, which includes HDMI sticks (which plugs directly into the TV) and Block Boxes (which connects to the WiFi). In fact, most of the smart TVs come pre-installed with Roku software, which means no Roku device is required to have OTT TV apps built for the platform. Also, Roku partnered with Hisense to launch its first-ever Roku TV in the UK. With over 5000+ channels on Roku, it is one of the preferred platforms for OTT app development.
2. Fire TV
Fire TV is a media player by Amazon that streams videos, music, and games on TV. It plugs into the HDMI port of the TV and turns it into a smart TV. The device comes into two forms: a Fire TV cube (which is a set-top box with embedded Amazon Echo Smart Speaker) and the Fire TV Stick (which is an HDMI plug-in stick).
Fire TV customers can have the advantage of the Amazon app store, which is a house to 488,674 apps, as of the first quarter of 2020.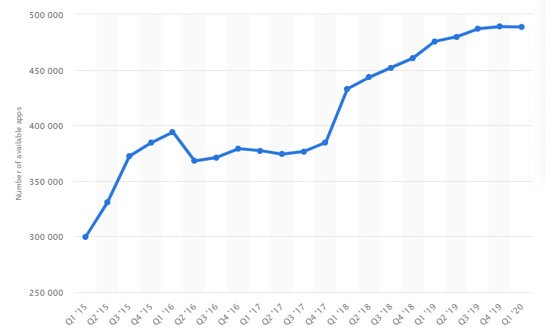 Number of available apps in the Amazon Appstore | Source: Statista
FireTV is one of the biggest rivals of Roku. It has 40 million active users around the world at the end of 2019. Together, Roku and FireTV cover 70% of the streaming media market in the United States.
3. Android TV
Android TV is the version of Google's Android operating system, specially configured for TVs. It's a set-top box and smart TV solution which is used by tens of millions of users, according to Google. In contrast to Google's Chromecast streaming device which allows users to cast media from smartphones to TV, Android TV is a complete operating system that allows the users to download apps and other Google-powered services on TV.
The popularity of this OS for SmartTVs can be estimated from the fact that 40% of the Smart TV operating system worldwide is built on Android TV OS. If you're thinking of building a SmartTV channel for the global market, then Android TV app development is certainly a commendable idea.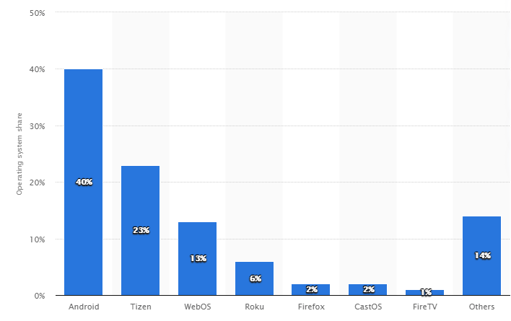 Smart TV operating system share worldwide | Source: Statista
ALSO READ: Top 5 Industries that can benefit from OTT Apps (With Examples)
4. Apple TV
Apple TV is a streaming device, similar to Fire TV and Roku that connects with an enhanced- definition or high-definition TV via an HDMI cable. It has 13.2% of the TV set-top market, with over 25.1 million Americans using Apple TV devices. Nonetheless, Apple TV is still behind Roku, Amazon Fire TV, and Android TV, if we talk about the market share of streaming devices in the U.S. or at the global level.
Apple TV devices enable users to stream music, movies, watch podcasts, play games, etc. However, one of the most used digital services on Apple TV is gaming. In a survey conducted by Statista, 51% of respondents said that they use Apple TV for playing games.
ALSO READ: Why is OTT the Next Logical Step for Movie Theaters?
OTT TV App Development: How to Get Started?
In the section above, we had an overview of streaming devices for TV and for the diverse/unique reasons they are used for. If you have decided as to which platform works best for your business, then it's the time to get started with OTT TV app development.