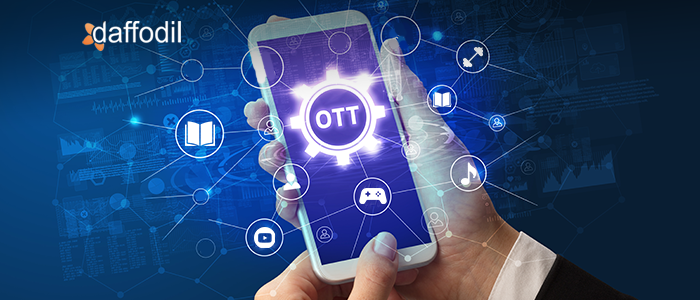 The Over-the-Top (OTT) market is thriving. Globally, online streaming service subscriptions have grown from 150 million in 2014 to over 600 million in 2019. Subscribers are expected to grow to 1.1 billion by 2021.
The phenomenal growth of OTT apps can be accounted for increased accessibility of content due to high-speed internet, the qualitative streaming capacity of devices, and advances in technology. For example, OTT apps could offer personalized content to millions of users by utilizing Artificial Intelligence (AI) at the backend.
Several businesses, from different industries, are making the most of the benefits that OTT apps bring along. In the latter segment, we are going to discuss the top 5 industries that utilize the internet to broadcast content to millions of users and monetize from it.
1. Media & Entertainment
The media and entertainment industry consists of film, print, radio, and television, where the content may range anywhere from movies, radio shows, music, sports, news, talk shows, etc. The media and entertainment industry highly relies on audio and video streaming OTT apps. Let's understand how.
Television: The television industry broadcasts a variety of content. Let's consider the sports domain only. The sports content, which is broadcasted through satellite on TV reaches out to millions of internet users through OTT mobile apps (Android and iOS) and TV apps (for smart TVs, Android TV, Apple Tv, etc.). The content (matches/games/events) on these OTT apps is streamed live or is available on-demand so that users can access the content at their own time, as per their convenience.
One of the best examples of sports streaming apps is ESPN+. The app streams live sports and offer game replays, video highlights, news, expert analysis, and other shows from the ESPN network.
Now consider the NEWS media on television. The content on NEWS channels is broadcasted through cables/satellite, which the viewers can access on scheduled time only. NEWS recaps, special coverages, discussions on social/political topics, all of it can be viewed at a scheduled time. Also, for the live content, such as breaking news, announcements, etc., the viewers have to turn up to their television sets.
Working around these limitations, the NEWS media is coming up with their OTT apps that enable their viewers to watch the TV content, anytime, anywhere. Over-the-Top (OTT) apps for mobile (Android and iOS) gives the flexibility to watch the content anywhere while internet streaming makes the content available on-demand, i.e. the content can be watched at any point of time.
One of the best examples of NEWS streaming apps is Sky News, which is a British free-to-air television news channel. Sky NEWS has streaming apps for mobile (Android & iOS), Apple TV, ROKU, XBOX, and web.
Audio Streaming: Audio streaming is a popular source of entertainment. These services have made it easy for people to discover new music and lesser-known artists. The platforms make music of different genres and languages available under one roof. It may include radio stations, podcasts, the latest songs by artists/movies/albums, etc.
iHeartRadio is an example of OTT audio streaming apps. The app lets its users listen to live radio stations, podcasts in various genres, latest/evergreen songs, etc. The app can be downloaded on Android & iOS mobile, Android TV, Apple TV, Smart TVs, etc.
Video Streaming: Video-on-Demand and Live streaming services are gaining ground in the entertainment industry. Netflix, Hulu, Amazon Prime have become a household name for movies and TV shows. These popular video streaming platforms are available as mobile apps, TV apps, XBOX, Playstation, Chromecast, Blu-ray players, and more.
During the COVID-19 lockdown in India, OTT platforms such as Hotstar, Amazon Prime, Netflix have seen an 82.63% increase in time spent. These video streaming platforms have become a go-to source for entertainment and the spike in time spent manifests the same.
ALSO READ: Video-On-Demand (VoD) or Live Streaming: What does your Business Need?
2. Education
One industry that's benefitting the most from OTT apps (excluding entertainment) is education. While online courses and teaching marketplaces have been in existence for long, utilizing the Video-on-Demand concept wisely; schools, colleges, and universities have started adopting OTT platforms for eLearning.
In effect to the COVID-19 outbreak, UNESCO recommended distance learning programs to cope with the far-reaching impact of the pandemic on the education system.
As of 27 April 2020, approximately 1.725 learners have got affected due to school closures in response to the pandemic. According to UNICEF monitoring, 186 countries are currently implementing nationwide closures and 8 are implementing local closures, impacting about 98.5% of the world's student population. [Source: Wikipedia]
Schools, colleges, universities, and other educational institutions are adopting eLearning programs to ensure that the pandemic does not create a gap in new session learnings.
Several eLearning platforms have been doing rounds for providing exceptional services. These eLearning programs use live streaming and VoD in the background so that the students can attend live classes and can access the content later for revisions and clearing their doubts.
BYJU's, an India-based educational technology and online tutoring firm that are offering free live classes to students on its Think and Learn app. The edtech platform has seen a 200% increase in the number of new students.
3. Gaming
Live game streaming is gaining a lot of traction these days. These platforms enable gamers to capture live gaming experiences and post videos on the channels. Professional streamers often combine high-level play with entertaining commentary and earn from sponsors, donations, and subscriptions. The gamers on these platforms can either view the videos live or can access them on-demand.
The concept of live game streaming became popular in the mid-2010s with websites like Twitch. Today, Twitch is a leading live game streaming platform with over 15 million daily active users. Twitch videos can be accessed on mobile, Android TV, Apple TV so that anytime, anywhere access to the videos is provided to the gamers.
Following the trend and proven success associated with the concept, YouTube launched YouTube Gaming. A similar platform was launched by Facebook in 2020 with the name, Facebook Gaming. There are other live game streaming platforms that are popular among gamers. Some of them are HitBox, InstaGib TV, Mixer, etc.
4. Health and Fitness
At-home workouts are the most-followed trend during the COVID-19 lockdown. People are accessing online fitness tutorials to work out on their own schedules while the fitness studios are shut down. According to a report issued by Statista, online exercise videos have gained traction in the US during the COVID-19 pandemic.
To stay fit, people are accessing Instagram fitness challenges, connecting with their personal trainers through online classes, and more. All these have been possible because of live streaming and VoD platforms.
Considering the opportunities tagged with such models, a number of startups and established businesses are investing in it. Classpass is an example of fitness OTT apps wherein the people can connect with their fitness trainers live or watch the videos on-demand. Corepower Yoga, Dancebody, OBE Fitness are some other examples in this category
When creating health and fitness apps, it is important to ensure that these apps are built for bigger screens for better content clarity. For example, creating TV apps (Android TV, Smart TV, Apple TV) and other platforms can give the users a better exposure and understanding of the content.
5. Productivity
Every business has a team of people working together to make it a success. During the COVD-19 outbreak, almost every business is operating through a remote working model, wherein a collaboration software has a major role to play.
Collaboration software is an application that helps a group of people to communicate and work on a common task to achieve a common goal. These days, when virtual meetings are an indispensable part of every business, collaboration software without video/audio conferencing and real-time chat cannot be imagined. Zoom, Skype, Slack are some of the perfect examples of productivity examples that are gaining ground.
ALSO READ: The Rise of Over-the-Top (OTT) Apps during COVID-19 Outbreak
Over-the-Top (OTT) App Development for your Business
Do you think OTT apps can benefit your business, just like its benefiting the businesses from the above 5 industries? If yes, then connect with our OTT application development team who will help you in implementing your business idea from scratch. Our team offers a comprehensive suite of services that help businesses manage, deliver, and monetize their OTT content by providing omnichannel experience to your customers.