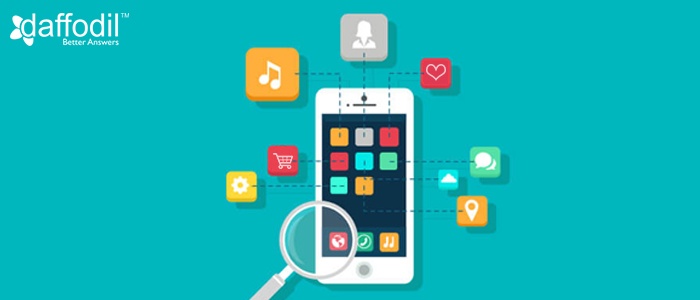 When an app is launched, it reaches the mass at different geo-locations, on variety of devices, and for diverse purposes. Therefore, it's quite obvious to receive a fluctuating response. Some users will like the design, some will love the experience, while some would expect improvements. It's surely a hard task to understand the variety of users, their interests, and app's behaviour on different devices. Now you might wonder how to understand the behaviour of your users while they are using your mobile app.
Well, there are a number of mobile app analytics tools that are smartly designed to monitor user and app behaviour. They can help you roll out regular updates and features to enhance retention and engagement rate. Basis the parameters to track, analytics tools can be broadly categorized into 3 major categories.
Marketing Analytics: This gives an estimate of how users are reaching your app, i.e. if they come across the app while browsing through the app store or through any website. You can also do a comparison between the downloads and in-app purchases. With these insights, you can understand the right way to monetize the app, increase ROI, and develop ways reach targeted audience.
In-App Analytics: This informs the app stakeholders about how users are responding to the app. If the users find app onboard helpful, how much time do they spend on a particular screen, how do they navigate within the app, and other behaviour metrics. This helps in regularly updating app features and design that can help in user retention.
App Performance: This gives an idea of how the app is functioning. They monitor information like app crashes, battery usage, network usage etc that can help to improve app productivity and operability.
Tools for Mobile App Analytics:
1. Apsalar: Launched in the year 2010, the tool help to track mobile app marketing campaigns. Available for Android and iOS platforms, it analyses the app value with factors like Lifetime Value (LTV), Average Revenue Per User (ARPU), Revenue on Ad pend (ROAS) etc. For monitoring the progress of marketing campaigns, there are details like Mobile App Cost per Install (CPI), App Cost Per Thousand (CPM), Smartphone App Cost per Acquisition (CPA), and more.
Pricing: All features of the tool can be be accessed for free.
2. Appsee: This tool to audit mobile app behaviour and user reaction provides visual and qualitative insights of an app. You can track touch heatmaps, user recordings, real time in-app analytics, user flow, navigation path etc.
Pricing: Free to an extent. You can contact team Appsee for some startup offers.
3. Mixpanel: This tool is a master solution to understand user behaviour on desktop, mobile apps, and mobile web. It examines every action by the user in an app like uploading/downloading of a picture, post shared by the user, usage of a feature etc. The event based analysis gives hints about app performance and its acceptance by the users.
Pricing: The freemium version offers limited core reports. You can upgrade to Startup, Business, or Enterprise version as per the features requirement.
4. Flurry Analytics: This app analytics tool was initially the part of Yahoo mobile developer suite. Meant for measuring conversion rates, ROI, audience reach, user engagement etc., Flurry lets you check the app stats on desktop and on mobile. The tool let's you track events, the churn within the app, user behaviour, demographics, and more.
Pricing: Flurry Analytics is available free of cost.
5. Countly: With Countly, you can access real-time data for user sessions, new users, time spent, average time spent etc. This all-in-one app analytics tool helps to monitor app performance, extract data from the database, check for ROI from marketing tactics etc.
Pricing: Available in two editions: Community (free) and Enterprise (Paid).
6. Facebook Analytics: Facebook app is a great example of how to understand the users and do the best for them. Following the same criteria for tracking other apps, Facebook Analytics helps to track in-app and marketing activities like app revenues, percentiles, segments, events, cohorts etc.
Pricing: All app analytics features are available free of cost.
7. Amplitude: Two of the products by amplitude, i.e. Product Analysis and Behaviour Cohorting can be of use for tracking what the app users are up to.
Pricing: There are Starter (Free), Elite and Enterprise (paid) editions available for app auditing with Amplitude.
8. Localytics: Understanding the reason for conversion and abandonment, user behaviour, navigation path, location reports, engagement time, trends monitoring and some of the highlights of Localytics. Along with this, the tool help developers to create personalized experience for the users with features like push notifications, messages, and more.
Pricing: A free version is available for tracking up-to 10,000 users. The subscription model is based on number of users.
9. Apple App Analytics: For measuring user engagement, monetization, and marketing campaigns for iOS and tvOS apps, this is the tool you can integrate with your app. This app analytics tool by Apple monitors user engagement, app referrers, App Store impressions, crashes, Apple TV data and much more.
Pricing: Available free of cost.
10. Firebase by Google: This tool to audit apps by Google checks for user actions, in-app purchase info, demographics etc. Also, you can have marketing analytics like traffic sources, real time reports, custom reports etc.
Pricing: All analytics features are available free of cost.


Which is your Favorite App Tracking Tool?
This list shared above are some of the popular tools in the market. There are many others that can help you to audit app performance and user behaviour with most effective stats. Let us know you favorite app analytics tool in the comments below.