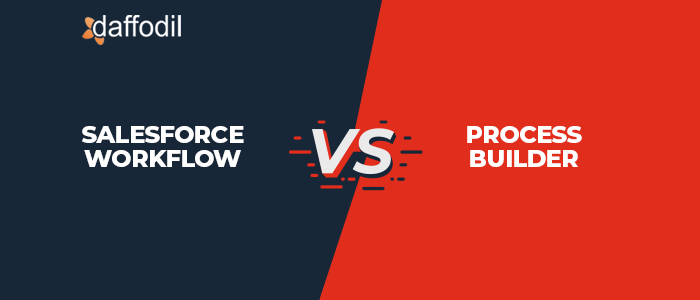 Workflow and Process Builder are Salesforce business process automation tools.
While Workflow has been there for a while, Process Builder is a newer and more powerful tool capable of more complex tasks.
With more and more admins switching to Process Builder from Workflow, it only makes sense to anyone which one is better. But that doesn't mean that Workflow can be ruled out.
It may seem that Process Builder is better but it essentially was launched to create complex Workflow rules only.
In this article, we explain the difference between the two and which tool should you use.
What is Salesforce Workflow?
In Salesforce, Workflow is where you automate or build 'rules' for all your actions. It converts your single action to a series of actions. Essentially it reduces the amount of time and effort of the sales reps enabling them with more bandwidth for other processes.
Next question is, how different is Workflow from Workflow Rules?
When a Salesforce user creates an order for an automated action – that is called a workflow rule. These individual or sets of actions can either take place instantly or be scheduled for later.
Workflow on the other hand is the complete list of tasks that you perform throughout the customer journey.
What is Salesforce Process Builder?
A point and click admin tool by Salesforce – Process Builder is used – for automation of sales processes. A successor to Workflow, Process Builder is the feature to swear by.
If your team is familiarized with Workflow the transition to Process Builder is only going to be smooth and you will notice the difference as well.
On the other hand, if you have been using Workflow for long and are content with its use why would you want to migrate to a much costlier Process Builder? Some organizations find Workflow better to manage large scale automation.
But the glitch here is that there are no more updates on Workflow. Process Builder gets updated by Salesforce regularly, so if there's an issue you know it will be fixed in no time.
Also Read: 7 Reasons Why You Should Switch to Salesforce Lightning right now
Difference between Salesforce Workflow and Process Builder
By now you are aware that both are automation interfaces that carry out similar functions. The features are different though. Here are some of those features.
Workflow can handle Task Management, Process Flow, automated approvals, and is used for sending messages, emails, or updating an existing field.
Process Builder on the other hand can be used to create records, trigger a flow, Apex codes, post to chatter, send email alerts, approval submissions, and taking quick actions.
Which one should you use?
As mentioned above Process Builder performs the same tasks as Workflow. The two things that set it apart from Workflow are calling Apex methods and business-oriented processes.
If you are a startup or a medium-sized business, it's futile to invest in a Process Builder.
Process Builder is meant for users who want to handle a specific task with a complex, bulk configuration.
Workflow comparatively is easier to use and implement for any business irrespective of size or scale. The readymade application can be used to create workflows with respective fields. All you need to do is fill up the forms and your data will be securely uploaded to a centralized location. Teams can use it to perform daily tasks with effective results.
Also Read: Salesforce Sales Cloud vs Service Cloud: All you need to know
Takeaway
Salesforce is developing Process Builder to be the main tool to build your automation and future updates will only make it more powerful. But when building complex automation, extra care needs to be taken to make sure errors are avoided. Errors in automation result in major consequences. If you are looking to transition your existing processes to Process Builder or looking to implement Salesforce from scratch our team can help you with the right solution. Book a free consultation.