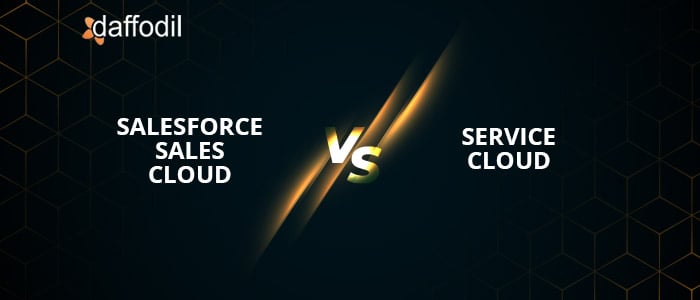 While it might seem difficult to decide between the Sales Cloud and Service cloud, taking a deeper look at the features offered by each of them will help you pick the product that best suits your needs.
Both clouds consist of leads, contacts, opportunities, cases but the basic difference lies in their functionality. Sales Cloud is meant for business development while service cloud is implemented at call centers, and for customer support integration.
The differences can also be found in the different editions namely: Professional, Enterprise, and Unlimited. The professional edition offers basic-level, standard automation. The Enterprise edition supports extra features comprising custom-automation while the Unlimited edition offers the maximum benefits such as increased API limits and storage.
Read on to know more about the two clouds, how they differ from each other and which one do you need for your business.
What is a Sales Cloud?
The Sales cloud automates the sales processes and management thereby increasing the team's efficiency. Sales cloud benefits sales reps by automating customer communication and several other tasks including call logging, record keeping, sending emails, and more. This gives them more time for lead nurturing and closing more deals.
It's not only reps that get benefitted out of the cloud, managers can equally gain from it. Apart from assessing sales reps and their performance, sales managers can create a strategy that aligns both sales and marketing teams' processes.
What is a Service Cloud?
For many customer service managers, a service cloud is a vital tool. Many claim that it helps in customer retention big time. Customer service agents can use the integrated channels of communication in the Service cloud which helps them in resolving customer queries more swiftly and efficiently. Besides this, a Service cloud also acts as a database for customer feedback and knowledge which is always useful. Through these knowledge bases, agents can be trained better to serve customers.
Customer service managers can easily access the reports on customer satisfaction and gauge the performance of service agents. This gives them a better understanding of the training they need to provide to the agents. They could also identify the possible pain points in the customer satisfaction journey.
Sales Cloud vs Service cloud: A glimpse at features
You know by now that there are many similarities between Sales and Service cloud but that doesn't necessarily make them interchangeable. A Sales cloud focuses on converting a prospect into a customer while a Service cloud offers efficient customer service management and works best for customer retention.
Here are the main features that make up Sales and Service Clouds respectively.
Also Read: Salesforce Marketing Cloud – Features, Benefits, Pricing
Sales Cloud features
•Contact & Lead Management: The cloud makes it easier for you to manage contacts and leads, communication, campaigns, and sales rate to close more deals.
•Mobile optimization: Integration with mobile means more flexibility to access workflow. You can manage leads, toggle dashboard, track reports, and more all at your fingertips.
•Reports & Dashboards: Manage your business well with regular reports and progress in detail. Identify inadequacies to ramp up processes that need your attention the most.
•File-Sharing: Sales cloud services offer file sharing and syncing which is fast, efficient, and safe. Need a file urgently? Simply, type it out in the search bar and there you have it.
•Work Process Approval: The interface of the Sales cloud makes it easier for you to plan your business better as you have sales, expenses, and discounts all in one place.
Service Cloud features
•Service Console: Here, your tasks are handled and organized by an expert to help your customers respond better to your services.
•Chat service: This automates the live chat assisting customers looking for solutions.
•Customer service: This processes customer queries through social media without the need for visiting other websites.
•Knowledge Base: As mentioned before in this post, a Service cloud creates knowledge bases which help the service agents. They can understand the customer better and resolve issues faster.
•Email to Case: This automates email responses to case submissions basis the attributes of the record. For instance, an auto-email sent to a customer on buying a product or service.
Also Read: How Salesforce Health Cloud can Improve Patient experience
Do you need a Sales Cloud or a Service Cloud?
As it's evident from above a customer-centric business should go for a Service cloud whereas a sales-centric should opt for a Sales cloud but that is not the be-all and end-all. As an organization, you know what your needs are and where you should put in your money. If you're looking for a value-for-money solution, then a Service cloud could turn out to be better for you as it has all the features of the Sales cloud in addition to more tools.
Enterprises that have sales and service requirements should go for the Sales + Service package which costs more than individually bought Sales or Service Cloud. But the main benefit of buying the package is that both departments can work on common customer data.
So, what's your pick?
Are you planning to implement Salesforce CRM?
And, you have decided to move from your existing software and try the Salesforce cloud solution. Great. But don't know which one to go for? Facing trouble with implementation? Have questions? Need help? Our Salesforce team is right here to solve all your queries. Get in touch now for a quick solution.