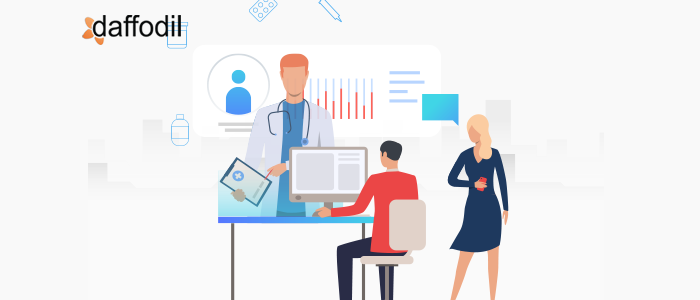 The health industry has benefitted exponentially since the introduction of Electronic Health Records (EHR). Of course, the actual boon was seen in the patient care and treatment but EHR use doesn't stop at just that.
The primary reason why every hospital or healthcare provider must adapt to EHR is the ease with which patient data can be accessed and shared by multiple sources at once.
Let's explore how exactly EHR has helped improve the patient experience.
But before that...what is EHR?
Electronic Health Record or EHR is a digital record of a patient which was until now maintained on paper charts. It comprises the medical history of a patient which can be shared across healthcare providers and practitioners to dispense the optimal care and treatment to the patient.
And before you get confused, EHR and EMR are two separate things.
In the healthcare world, the two terms are used interchangeably. But there is always a difference.
Also Read: What is FHIR and how can it benefit the Healthcare system
EHR vs EMR
While an Electronic Health Record (EHR) is a digital version of a patient chart, an Electronic Medical Record or EMR is where the health information of the said patient is stored digitally.
Now, how can the use of EHR boost the patient experience? Read on to know.
Improved patient care: Patient treatment becomes more effective with the use of EHRs. How? By improving the operational efficiency of the clinician or practitioner. EHRs provide healthcare practitioners with analytics that facilitate in identifying patterns, make the diagnosis, and suggest treatment accordingly. What's more? Integrated systems can schedule appointments better, cutting down on patient wait times. Patients can also benefit from e-prescription wherein they can order medication online without having to visit a pharmacy in person. EHRs also improve patient-physician communication by giving them access to instant messages to sharing notes and even video calling.
Streamlines workflow: EHRs streamline the processes from appointments, diagnosis, prescription, post-treatment care, and more. With all the information available at one swipe, it gets easier for both patient and the physician to smoothen out the flow. Besides, there are always a few patients with seemingly complicated medical history with multiple health conditions, or sometimes wrong diagnosis. In such situations, an EHR comes to the rescue.
Accurate patient data: This goes without any explanation. Compared to medical records on paper, digital patient records are more consistent, accurate and can be accessed by anyone, anytime, anywhere. Besides, the digital storage of medical records also makes patient information safe and secure. It reduces the risk of data theft, damage, duplication, or any other discrepancy. It eliminates any human error while also securing the data from any misuse. Physicians can upload information in real-time and share accurate data with other practitioners. And even when a patient changes their physician, the medical history remains unaltered without any inconsistencies in the data helping in the continuity of treatment in a seamless manner.
Patient engagement & compliance: EHRs not only help physician but also are a patient's best companion. Patients can keep track, view, and manage their records, appointments, prescriptions, doctor's notes all at one place. This puts a patient's trust in the healthcare system and improves doctor-patient engagement. It's only when patients know that they are a part of a transparent ecosystem where they have access to the information most important to them, will they engage more. In cases, where patients are not satisfied they can always contact the physician to resolve their issues – this leads to patient satisfaction which is the ultimate goal for the healthcare industry.
Reduces cost: EHRs come equipped with payment and billing features to help you manage your income and claims better. The tool increases the acceptance for insurance claims expediting reimbursements. Besides, with EHR, you as a clinician can track patient visits which acts as evidence for individual claims. Moreover, individual healthcare providers get monetary benefits from the government that implement EHR in their systems. All the more reasons to use EHR.
Also Read: How Salesforce Health Cloud can Improve Patient experience
Final Thoughts
Undoubtedly, Electronic Health Records or EHRs are changing the way patient history and clinical data is accessed and read. And this has resulted in better interpretation of data leading to better patient care and an overall improved healthcare system. Care providers can reduce their cost of paper billing and storing stacks of documents. If you're ready for a transition to an EHR think no more. Now, is the time. Stuck with limited software knowledge? No problem. Click here to get in touch with our experts who will guide you through your business needs.