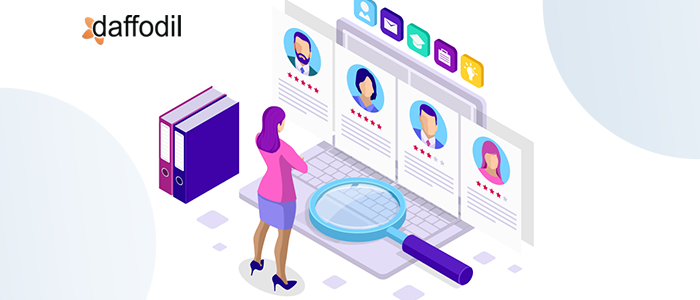 Before ATS and HRIS integration, let's look at what is what.
While HRIS is targeted towards current employees, ATS is meant for candidates who may become employees. So it might seem obvious that these two systems should exist independently from each other.
In this article, we will tell you why you should rather integrate the two and how to approach it.
What is an Applicant Tracking System (ATS)?
Applicant Tracking System is a software that is used to handle the recruitment needs of a company. It provides tools for posting jobs, collecting and screening candidates, scheduling interviews and finally making an offer.
What is a Human Resource Information System (HRIS)?
Human Resource Information system is a software that manages HR, accounting, payroll attendance, etc. It also provides a self-service portal to employees to check on their benefits and any other information.
Also Read: HCM: Complete Guide on Managing your Human Capital
Advantages of ATS and HRIS integration
Avoid data duplication: When you hire a new employee your HR would have to manually duplicate information from ATS to HRIS if both systems exist independently, that is. This not only results in waste of time but also data entry errors which in turn may lead to extra time and cost.
Better employee onboarding: After finding the right employee, onboarding is quite a time-consuming task for your HR team. They will have to provide the appropriate forms to different employees. For example, a software employee may have to sign a different NDA (Non-Disclosure Agreement) than a sales executive. Seamless integration between your HRIS and ATS helps you automate the process leaving your HR team to utilize their time on improving employee experience as well as leaving a lasting impression on your new hires.
Better analytics: Having an integrated system means that you can now process and analyze data from pre-hiring to employee information together. This helps you glean better insights about both your employees and your HR and hiring processes.
What type of an integrated solution to choose?
When choosing an integrated solution, you can take two approaches. A single system like an HCM with everything built-in or separate ATS and HRIS systems implemented with required integrations.
Human Capital Management (HCM)
An HCM Suite is a software product that is intended to be an end-to-end HR solution. It has features of HRIS and ATS along with a few other modules. Because the HR and recruiting modules are part of a single product they are tightly integrated and hence offer a seamless experience.
However, the potential downside is that the system might not offer all the necessary features or modules you need. Since HCM software often covers a huge breadth of modules it might not offer the depth of features you might need.
Separate ATS and HRIS integrated
This solution gives the freedom to choose the HRIS and ATS software that suits the exact workflow of the internal processes of your company. You have the freedom to integrate the flows of the two systems that would be most appropriate for your business.
This of course comes with its downsides. Licensing and implementing the integration of the two systems might be considerably more expensive than using an HCM solution. Integrating two systems requires careful planning implementation. Any errors in implementation could lead to erroneous data and incomplete workflows and you might end up using two systems independently.
Also Read: What to consider while choosing an Applicant Tracking System (ATS)
Conclusion
Integrating ATS and HRIS not only increases the productivity of your HR department but also includes a learning curve for your employees. Along with your current requirements, you should keep in mind your future needs when implementing it.
If you are looking to either upgrade your current system or trying to find a solution that works for you, we can guide you. Book a free consultation with our experts.