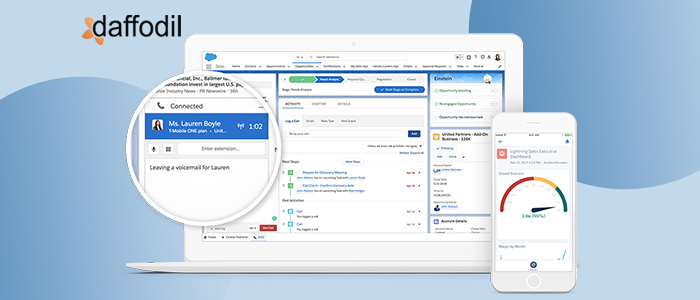 One of the smartest and most intelligent Customer Relationship Management (CRM) applications available right now is Salesforce Lightning. From enhancing the efficiency and productivity of sales reps to changing the way businesses sell – Lightning is the game-changer.
For the uninitiated, Salesforce Lightning is a framework for app development that simplifies app building for business users with little or no programming experience.
Lightning goes beyond the new look and feel. It's more powerful and robust packed with smarter sales features aimed at making the experience much, much breezy for sales teams. You can develop apps at a lightning speed, access insights, and sell at a faster rate.
Lightning is all about speed.
Needless to say that Lightning is better than the Classic in terms of speed, functionality, and features. If you're still a Salesforce Classic user, it is time you make a switch.
Listed below are reasons why you should move to Salesforce Lightning.
Fully-optimized mobile experience: Lightning gives you a well-rounded mobile-optimized upgraded interface. Initially created for Salesforce mobile app, it offers an exceptional experience in the dashboard. It's business on the go for mobile users – they can simply enter into the system and track the progress anywhere, anytime. From monitoring deals to handling field service everything can be worked on your mobile.
Also Read: Salesforce Sales Cloud vs Service Cloud: All you need to know
Lightning Voice feature: This distinct feature changes everything for sales executives. With Lightning Voice, sales reps can now connect to their prospects or customers in a jiffy through voice calls enabled within the Sales Cloud. Now, isn't that something? That means even when you're connected through your mobile device, you can make or receive calls. What's more? Sales reps can also take notes or log calls all at the same time.
Develop apps faster: With Lightning, anybody can build apps. Lightning App Builder lets you customize and take your Salesforce experience to the next level. You can create desktop and mobile app pages faster with the intuitive drag-and-drop tool from the components library which displays pre-built Salesforce components.
Customer Community: Yet another feature that makes Lightning unbeatable is the Lightning Customer Community. Perhaps the smartest feature in the Community Cloud – organizations can easily and swiftly engage with their customers through the Lightning Customer Community. Moreover, with the new customizable UX, you can personalize your experience to delight your customers all the more pushing for better relationships with them.
Lightning Service Snap-Ins: A feature in the Service Cloud, Snap-In offers you to integrate customer support directly into the web pages or apps. This proves to be very effective as teams can reach the customers exactly when and where they're available.
Lead & Opportunity Management: Lightning provides added enhancements for Leads and Opportunity such as the option to create paths. A visual path indicating the lead status or opportunity stage – you can easily maneuver it to gauge the record. Add to that, progress in each stage can be further measured which makes it super convenient for the sales team to analyze where they stand. Instead of viewing Lead or Opportunity in a list, users can switch to the Kanban view which breaks down the list into stages/status. That's not all. You can also search for multiple Opportunity products with more ease than the Classic version.
AppExchange Apps: So how many third-party apps are available in AppExchange? You can find over 157 Lightning ready, pre-integrated, and pre-reviewed apps to work on. Providing a consistent experience, these apps come in handy as you make the transition to Salesforce Lightning. All you have to do is to look for the Lightning Ready symbol and you're all set.
Also Read: Salesforce Marketing Cloud – Features, Benefits, Pricing
Conclusion
Your Sales team can always do better with a powerful tool that streamlines and automates much of its tasks. Salesforce Lightning brings a helluva difference in how you sell. Want to try it but don't know where to start? Or are you tired of Salesforce Classic and looking for a better sales solution? How to know if it is time for your organization to make a move to Salesforce Lightning? For all these queries and more contact our team here.