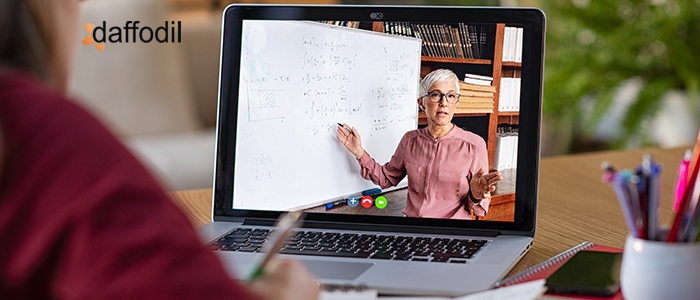 COVID-19 has introduced us to what was known as the 'Virtual World' and now is the reality we live in. The at-home workout sessions inspired virtual fitness studios, on-demand streaming apps encouraged virtual movie theatres, team collaboration tools created virtual workspace. Similarly, the eLearning platforms have created virtual classrooms that have been strongly backing the education system during the COVID-19 outbreak.
The global pandemic has affected over 1 billion learners due to schools, colleges, and universities being shut down, according to UNESCO.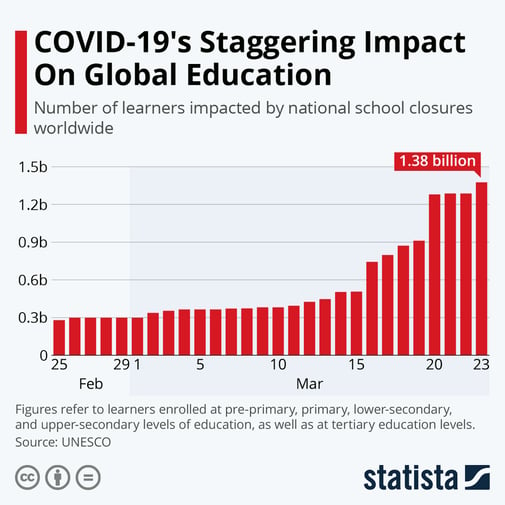 In order to avoid the loss, educational institutions are shifting to eLearning platforms at all levels. While the concept of eLearning has been existing for long, it has experienced an astronomical rise during the coronavirus pandemic.
The global edtech market is expected to reach $341 billion by 2025, which covers everything right from language apps, visual tutoring, online learning software, video conferencing tools, etc. Schools, colleges, universities, and other educational institutions are adopting eLearning programs to ensure that the pandemic does not create a gap in new session learnings.
There are different ways these institutions can adopt eLearning. Video-on-Demand, video conferencing, live video streaming are some of them. Let us understand how these options can help in improving the edtech system.
Video-on-Demand: In the past decade, we have experienced immense growth in platforms that offer online tutoring through videos-on-demand. These platforms (such as Coursera, Udemy, Edx) offer courses in different domains, wherein, video tutorials by the subject matter experts enable the learners to gain know-how, certification, and opportunities for the practical implementation of their knowledge. These video-on-demand programs are available at a certain cost, which can be accessed anytime (as per the learner's convenience).
Live Video Streaming: The web, mobile, or TV apps that enable students and tutors to interact like they are in a classroom are live video streaming apps. Here, the content is streamed live and the tutors can connect to as many students as they want.
During the COVID-19 outbreak, eLearning platforms with live video streaming have become a necessity. Educational institutions, especially schools are making the most of live streaming sessions where the students are regularly attending classes with their tutors. Real-time communication enables students to have learning & doubt clarification sessions at once.
Video Conferencing: This can be one of the options that schools or educational institutions adopt for one-on-one classes. Video conferencing can be done for mentoring an individual or a limited number of students.
These three are the video options that can be integrated into a comprehensive eLearning tool so that students and teachers can communicate in real-time. Giving students the convenience to learn at their own pace is important. Thus, introducing a video-on-demand facility is an indispensable part of an eLearning solution.
Apart from this, various add-on features can be introduced in a proprietary solution so that guardians or other supporters in education can also participate with the students.
Building an eLearning App: How to Get Started?
eLearning platforms, at its core, are the video streaming services. The would utilize internet services to deliver the video content to the students, either live or on-demand.
Until now, web apps are the preferred option for building eLearning apps. These days, when mobile screens are bigger and convenient, education platforms are choosing mobile and tablets for eLearning application development. These days, with tech-advancement, eLearning apps are developed with the streaming ability of devices such as SmartTVs.
Apps that work on multiple devices, such as mobile, tablet, web, SmartTVs are called Over-the-Top (OTT) apps. OTT apps are gaining ground in different industries for opportunities such as live streaming of content, bringing content on varied platforms through the internet.
Let's go through some of the examples of OTT eLearning apps to understand how they work:
BYJU'S is an edtech platform that offers online tutorials to school students and for various high-level competitive exams. Founded in the year 2011, it is the world's most valuable edtech company valued at $5.4 billion. It provides on-demand and live learning classes which can be accessed free or through a paid subscription. During the COVID-19 crisis, BYJU's announced free live classes on its Think and Learn app and the platform experienced a 200% increase in the number of students using its product.


Lark is a Singapore-based remote learning solution that addresses to various school collaboration needs. The app is used for streaming lessons, forming group discussions, manage class schedules, co-edit project work, assignments, etc.
Likewise, there are different software solutions that can help in creating virtual classrooms. So, if you are an education institution, you can either lookout for an off-the-shelf solution or create a proprietary eLearning platform that matches the requirements of your institution (be it in terms of features, security, or any other factor).
On the other hand, if you're a business, willing to create an eLearning platform for an education institution, then it is important to do a market analysis and create a standard solution.
In both cases, connect with our OTT app development team who will guide you to build an app with precision. You can connect with our team through our no-obligation consultation program where you will be helped in materializing the unique concept of building virtual classrooms.