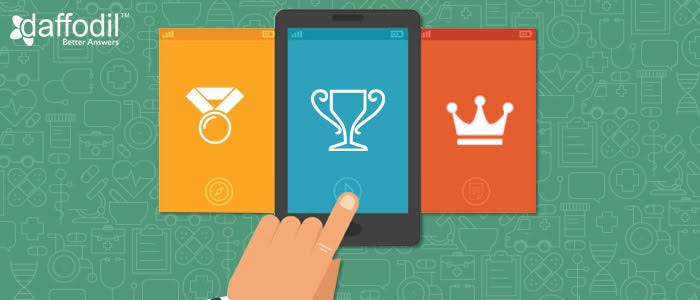 From helping healthcare professionals in diagnosis to encouraging patients to adopt life-saving behaviour, gamification is changing the healthcare landscape in many fronts. This user engagement approach, which uses game elements and digital game design to deal with everyday problems is gaining grounds in health and fitness app industry.
Gamification in healthcare uses challenges, rewards, achievement badge, mastery levels, competitions to keep the users engaged and motivated in achieving their goals, which may range anywhere from chronic disease management to tracking the fitness regime.
While the idea might seem straightforward, it requires research, assessment, and analysis though to create a perfect game design for the targeted user base. Before we move on to the ways gamification can be integrated in mHealth apps, let's understand the reasons that are triggering the growth of this user engagement technique in digital healthcare domain.
Drivers of Gamification in Healthcare Apps
Consumer based Business Model

: There is a gradual shift to a business-to-consumer (B2C) model in healthcare market. To overcome the challenges that this change brings along, providers are adopting technologies and engagement models that originate and develop in consumer space. This impact, called

healthcare consumerization

has a major role in ensuring that care services reach the consumers through interactive, easy to use tools and tactics. Gamification in mHealth apps ensures just that- motivating users to commit and follow a healthy regime.


Outcomes Based Medicine: The healthcare industry has been dominated by the fee-to-service reimbursement model for decades. With a shift to value-over-volume model, the providers are incentivized for focusing on outcomes, rather than profits.

According to Center for Chronic Disease Control (CDC), 75 percent of nation's aggregate healthcare spending is done for chronic diseases, which is estimated to be 5,300 USD/person in the US. Such a situation need solutions that focus more on preventive wellness rather than treating the symptoms with medical care. Integrating gaming techniques in apps that help in weight management, controlling glucose levels, tracking heartbeat etc. can go a long way in treating chronic conditions that are customized for an individual.
ALSO READ: How mHealth Apps Aid in Chronic Disease Management
Growth of Millennials (Gen Y):

In 2017, 72 million millennials were living in the United States (according to Statista) and this is expected to grow by 88 million by 2020. Since the Gen Y grew up playing games and is well accustomed with mobile apps, the care providers consider gamification as a creative tactic to involve the millennials in their health and fitness programs.
How to Introduce Gamification in Healthcare Apps?
Over 3.7 billion mobile health app downloads were recorded in 2017, globally (according to Statista). With such popularity and acceptance, mHealth apps are certainly the most relevant space to engage users and encourage them take accountability for their health. From tracking nutritional value in their diet to calories burned on the treadmill, these apps when connected with smart devices like Smartwatch keeps the users up-to-date with their health and fitness regime. Some of the key problems that mHealth apps are successfully addressing includes:
Medicine Adherence and Chronic Disease Management: Medication non-adherence causes 30-50% of chronic disease treatment failures.- estimates Centers for Disease Control and Prevention (CDC)
Medication adherence also holds importance in clinical trials, retail pharmacies, and medical research programs. Introducing gamification to medicine adherence systems ensure that patient are reminded about their medication on time.
Managing Weight and Nutritional Value in Diet: Obesity and weight issues are common health problems worldwide. However, in the United States, it's severe, with an extremely high prevalence of obesity and overweight people. This is basically related to the American lifestyle, which usually involves fast food and large serving sizes. Obesity is a chronic condition and is the cause for other health problems like diabetes, heart disease etc. Thus keeping a track of health metrics through challenges, rewards, and achievement badges can prove helpful.
Telemedicine Apps: Technologies for telecommunication has been a great support for the healthcare industry to offer long-distance clinical care, education, and administration. Telehealth service enable care providers to reach out to underserved groups, especially the rural populations. With mediums such as video conferencing, streaming media (for education), telemedicine apps is another mode where gamification can be used to engage and motivate users to have healthy outcomes.
Integrating Gamification in Healthcare Apps
To gain a competitive edge in the uber-competitive, commercial healthcare market, providers ensure that they nail the game of user experience.
Gamification to improve user experience in healthcare apps have proven benefits. To practically understand how introducing game mechanics to healthcare app can add value to it, read this though study on how iSikCure (a leading health exchange app in South Africa) is doing it.