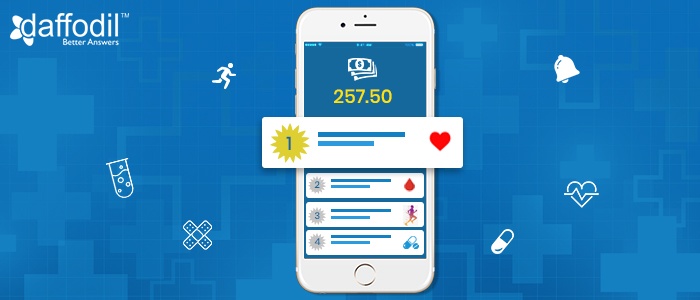 For engaging user with an app, it is imperative to capture their attention and give them a medium and motivation to take an action. To foster this kind of engagement within mobile apps, gamification helps.
The idea of using game mechanics and experience design to digitally engage and motivate users to achieve their goals has been gaining grounds in the app industry. This trend, called Gamification is followed to engage, acquire, and retain users by the app owners, irrespective of the industry they belong to.
Core Elements of Gamification:
Gamification is a technique to

digitally engage

the users, i.e. the users interact with smartphones, tablets, computers, or other digital mediums, rather than in-person engagement.



Game mechanics

include the use of elements such as badges, reward points, leaderboards etc. to motivate users to take an action and engage them.



Experience design

is the journey that users have with the app elements like playing a game, booking an appointment, adding a story etc.


The goal of gamification is to enable users

achieve a goal

. At an enterprise level, the goals are generally aligned with those of the users. If a user successfully achieves a goal, the enterprise will automatically reap the benefit.
Introducing Gamification in Healthcare Apps:
Over 3.7 billion mobile health app downloads were recorded in 2017, globally. With such deluge of apps in the marketplace, users are likely to dump an app to download its alternative, if the latter comes along an added advantage.
This continuous switching between the apps is the real pain of the app owners, which demands creative and psychologically connecting solutions to engage and retain users, which gamification successfully offers. Gamification in mobile apps appeals to human desires for reward, self-expression, achievement, competition, and status.
Other than that, some of the factors that are driving the adoption of gamification techniques into mobile apps include:
Value-based reimbursements under Affordable Care Act

Gradual shift of digital health market to business-to-consumer model

Growth of the millennial generation that grew up playing video games
Implementing Gamification to a Healthcare App: Success Story
There are a number of ways gamification can be integrated into mhealth app. Medicine adherence, motivation to stay fit or manage chronic disease health are to name a few. However, for an added value in the app and improved user engagement, reward points is a game mechanic that can make the experience design of the app more powerful.
Such an engagement strategy is adopted by iSikcure, a healthcare marketplace app (by Sagitarix) that offers care services in the rural areas of Africa. For user engagement, the app uses MedPoints (reward points) that can be redeemed to avail better care opportunities like relaxation on next purchase of medicine through the app.
Gamification Elements in iSikCure App:
The digital engagement platform for iSikCure is a mobile based Health Information Exchange (HIE) platform. The healthcare stakeholders (doctors, labs, pharmacies, wellness providers, counselors) and the users communicate through Android and iOS compatible mobile apps.
The experience design is offered through an appointment booking system that connects the end-users in rural areas of Africa to various healthcare stakeholders in the app.
The game mechanics are the MedPoints, the reward points earned on booking appointment through iSikCure app can be encashed as attractive discounts, when medicines are purchased from the platform.
With gamification introduced in iSikCure, Sagitarix and app users were able to achieve following goals:
1. For iSikcure users, MedPoints is a value adding feature in the app, an element that gives a reason to book appointments with the app that further unlocks the discount window for them, when they order the medicines through the platform.
2. The idea of MedPoints allow Sagitarix to motivate users to use their pharmacy offering services. With more people buying medicinal aid from iSikCure, there would be a hike in engagement (among users) and improve revenue rate with the app as well.
Impact:

Within a short span of its launch, iSikCure managed to acquire a significant number of users, to which gamification had a major role to play.
In less than 6 months of its launch, iSikcure acquired 18,000 users, registered 500 doctors, and 50 pharmacies across Kenya.

With its progressive performance, iSikcure bagged the prestigious Medica App award 2017.
This is just an example of how you can make the most of gamification in a healthcare app. If you have an app that's lagging in engaging user, upgrading it with gamification tactics can certainly help it to take a leap towards an improved acquisition and retention rate.