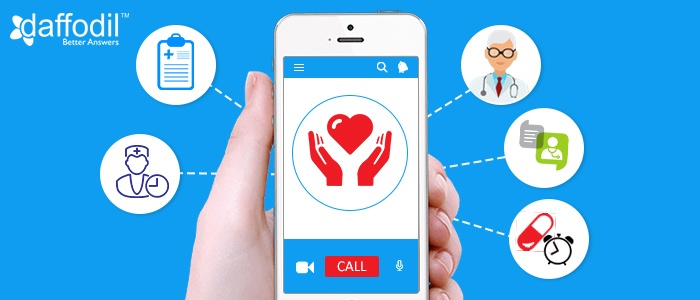 The multi-trillion dollar healthcare industry is adapting to modern ways of delivering care, amongst which telehealth is the one. The idea of distributing health-related services and information through telecommunication technologies is diminishing the gap between patients and providers. By allowing both ends to make a contact, share advice, monitor health; telehealth services bring a paradigm shift in how care is delivered and received.
Further, it's contributing to bring long-term economic stability to the healthcare sector. It is expected that every patient concerned in the U.S. would save some 5,700 U.S. dollars in travel expenses annually, if telehealth would be used. -According to Statista | Click to Tweet
Telehealth Services: What's triggering its growth?
1. Digitization
The advances in technology is making it possible to monitor and manage health. From mHealth apps to wearables, digitized solutions are there to offer easy-to-access and affordable care, anytime.
"The digital healthcare market is projected to have a value worth $206 billion by 2020, wherein mobile and wireless solutions will have major contribution." Statista | Click to Tweet
2. Consumerization
Consumerization is an effect, wherein providers make the most of technologies and models that originate and emerge in consumer space. One of the pronounced technologies that's impacting the healthcare system is mobile devices.
According to a survey by Statista, the top reasons for U.S. adults for adopting mHealth devices and applications include better control over health, reduce healthcare cost, convenient access to healthcare providers, health/fitness transparency.





Along with consumers, care providers are making the most of consumer centric technology for their regular practices. In a survey conducted by HIMSS Analytics in U.S., 79.8% of healthcare providers said that they use tablets, while 42.6% use smartphones to coordinate and provide patient care.
Consumerization of healthcare is benefiting both patients and providers, by enabling them to receive and render care, which is cost-effective, on-time, and value-based.
3. On-Demand Economy
In the rapidly growing on-demand economy, where consumers expect their products and services delivered at doorstep, healthcare has found a productive space to grow. The convenience of booking appointments, connecting to doctors via different communication channels (chat, audio/video calls) for chronic disease management, acute care, prescription refilling etc. has been made possible, without having to visit the care center.
ALSO READ: On-Demand Healthcare is Reviving the Old-School Care Delivery Models
Telehealth solutions: Delivering healthcare on-demand
The triggers of telehealth services aims to make care accessible and affordable through mobile channels that makes communication seamless. With consumers taking accountability for their health, more than ever, investors are taking interest to invest in telehealth solutions that connects them with right provider.
Telehealth solutions like iSikCure are enabling consumers to connect with doctors and book them as per their convenience, allow patients to adhere their medicine schedules, communicate with doctors through multiple channels, and maintain a medical record for consultation.
If you have an idea that can change the conventional way of delivering care? Share it with our health-tech experts through 30-minute free consultation, where you can have valuable recommendations to transform your idea into full-fledged solution.