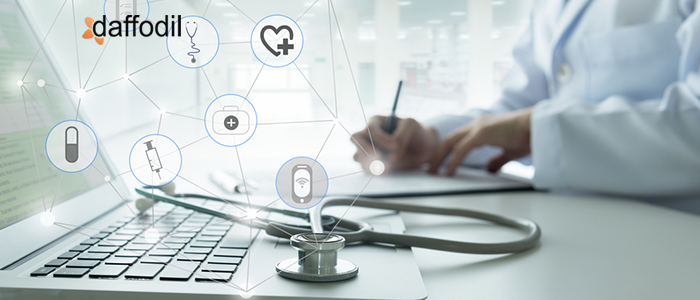 The incorporation of information technology since the mid-90s increased productivity among different sectors around the world. There's no two ways about it. Healthcare on the other hand was one industry that took its own course to transition from a largely paper-based process to digitization.
Better efficiency and data management could only be possible with the introduction of Electronic Health Records (EHR) with Informatics in place.
So what is Informatics?
Informatics is the utilization of Information technologies and information management to improve the efficiency of the process. In a hospital alone, there are multiple processes where informatics is applied for instance workflow, lab, radiology. With the technology taking over the operations, the very basic but significant process of ER is more streamlined than ever. Checking in patients and directing them to the concerned departments is easier, faster and smoother.
Another major aspect of applied Informatics in healthcare is the reduced costs. And the most crucial of them all is the analysis of data generated by health resources. The potential of which knows no limits. It not only helps provide better clinical care but also find support groups for medical conditions with the help of an app, or to build communities for a healthier living.
All this done with an ever-improving healthcare information system.
How the Healthcare Information system has evolved?
Let's take a look at how things have shaped up over the years in the healthcare industry and how analytics influenced the health information system with new trends.
1960-70s: The key drivers during this time were the storage of data and cross-departmental communication.
1980-90s: This was the age when financial and medical systems overlapped with the focus on reimbursements. As the new technology seeped in the system, hospitals started the use of applications integrating the stakeholders.
2000s: Integration further grew by leaps and bounds. With cloud based analytics it was easier to implement real-time medical management.
2010-20: The medical industry in the US saw a major boost to Clinical informatics. It was made necessary for all medical providers to convert their records on paper to electronic data. And soon, Clinical Informatics was recognized as a subspeciality by the American Board of Medical Specialities. Many colleges in the US today are offering courses in Clinical Informatics.
The result of Healthcare Information Technology
Of course, the increased automated transactions gave access to more digitized data. So what happened to this much data? It was used for studies and is still being used to improve the healthcare systems and make them more robust by the day.
Another area that saw great improvement was reporting systems across hospitals. Reporting systems, earlier, were only limited to the daily activities. But now it's all about performance. To meet the demand, the need arises for better analytics giving insights into clinical care, financial systems and patient review.
Healthcare systems today need an integrated data that enables the CIOs to analyze and review performance at a daily operational level.
Also read: 10 Top Technologies For A Seamless EHR Integration
What is needed?
A personal care system based on accountability, quality control, cost-effective purchases is what patients need and healthcare providers are rigorously working on providing the same. With this comes pervasive technology and data proliferation. The implementation of Electronic Medical Records (EMR) will continue to be instrumental in making primary and ancillary clinical decisions.
The operational systems will only get better as this data gets interpreted more efficiently. Not only this leads to a greater knowledge pool and understanding but a refined cycle for a sophisticated clinical decision support.
For this, what CIOs need to go for is strategic innovation. They need analytics that support and improve the efficiency of operational systems. And, offer information through enterprise data warehousing (EDW) and analytics.
Which Healthcare Data Warehouse Model to choose?
The first step to build an enterprise data warehouse is to model the data. The adaptability as well as time-to-value depends on this model.
Enterprise Data Model Approach
The most accepted data warehousing approach for the healthcare sector today is this one. The key element here is to plan beforehand all the factors one would want to improve on for better patient satisfaction, overall experience and safety. Once all of the said is decided upon, then comes the structuring of the database.
This model is also the best if you're trying to build up something from the scratch. You decide what to factor in, performance areas and more. What you need to remember here is that though you have a better control on the model but only in theory. In actuality, you're simply creating a secondary system procuring information from already established systems. And it also consumes more bandwidth and cost.
Independent Data Mart Approach
This model basically means you start building small clusters – separate data marts as and when required. Say, you want to assess neurosurgery's operational system – you start by building an individual mart pulling in data from the available sources. The biggest advantage to this model is that you can analyze data much sooner compared to the Enterprise Data Model (EWD) which requires about 2-5 years to measure.
The downside is that because of these single data marts, it becomes a challenge to build an atomic-level DW wherein supporting data marts could be built. Another disadvantage to this approach is that it exhausts the source systems because of redundant feeds.
Also Read: How Patient Wellness Programs can Improve Health Outcomes?
What is expected out of EHRs
Swift interpretation of data, quick actions, decision-making and intelligent communication is what is expected out of the applications. The future is in the component-based architecture that adapts itself to the workflow of a healthcare system and is able to work smoothly.
Implementation and integration of EHR in the new-patient encounters with lesser instances of non-intuitive and multi-data searches will result in better efficiency.

Clinician approved, better graphics and friendly interfaces.

Gives access via handy, easy-to-carry, smart devices from phones to tablets.

Should include voice recognition, and better data entry applications.

Better intuitive built-in infrastructure to act promptly in adverse events.

API based patient oriented clinical decisions support independent of EHR updates.
As can be understood from above there is no single action plan for clinicians around the world looking for EHR services. It's advisable to go for a free assessment to know your needs better and what exactly you need in your custom designed EHR service.