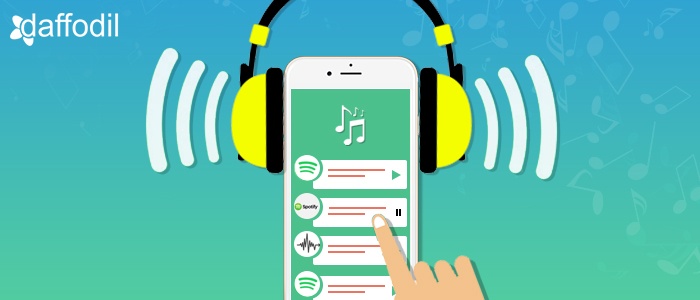 How much does it cost to build a music streaming app like Spotify? What are the must-have features and functionalities in an audio streaming app? Which technology is best suited for developing an audio and video streaming app like Spotify?


Recognized for the expertise in building apps for the music and entertainment industry like 106.2 Big FM (radio station streaming app), Right's Up (neighbouring rights management app), We often come across aforesaid interrogations from our prospects.
Spotify is an on-demand music streaming service that allows users to browse through a catalogue of music, licensed through multiple record labels, and create/share playlists with other users. This internet radio service that provides access to over 35 million songs is available for most modern devices, including Windows, MacOS, Linux computers, Playstation, Xbox One home consoles, along with mobile devices- iOS, Windows, and Android smartphones.
36 percent of subscribers to music streaming services worldwide in 2017 had a subscription with Spotify.


Spotify is a leading music streaming service in the United States as of March 2018, by sessions per user per month (61 sessions per user per month).


Its annual revenue (for 2017 FY) was $4.78 billion, which marked a growth of 40%, with 170 million Monthly Active Users and 75 million Premium Subscribers worldwide.
Impressive, right? But, how does Spotify manage to hold all the aces, despite facing the functional and economic disbalance? Let's dissect this music streaming service for its business model, revenue streams, and technology to know how it works.
Spotify: Success Timeline
Founded: Jul 14, 2006

Founder (s) : Daniel Ek, Martin Lorentzon
Revenue: €7.88 Billion (FY 2020)

Number of Users: 356M, including 158M paying subscribers worldwide (Q1 2021)
Competitors: Noteflight, Soundcloud, Pandora Radio, Deezer, TIDAL
Technology Stack: Primarily Python, with some Java, C, and C++ components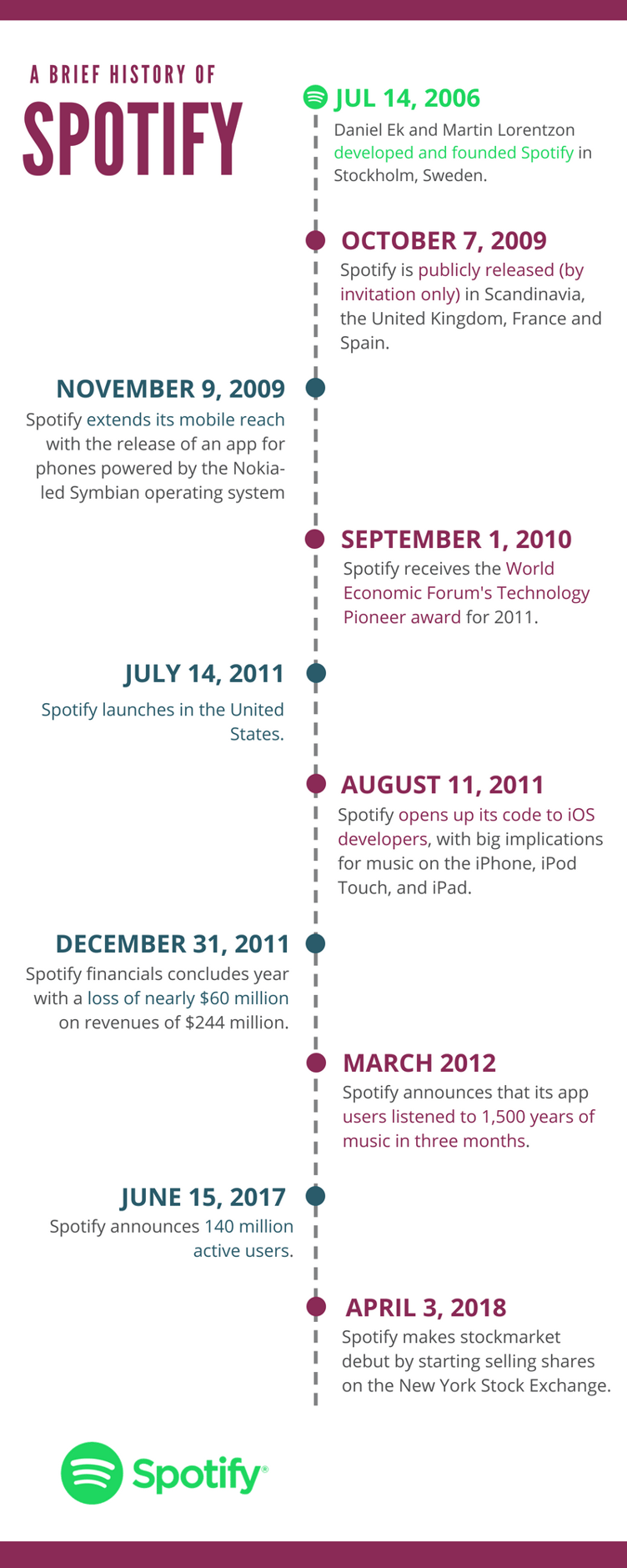 What makes Spotify Sell?
Spotify is currently available in over 80 countries and everywhere, there are unique dynamics affecting acceptance of streaming on-demand services. Some of the prominent factors triggering the rise of music-on-demand services include:
1. Popularity of Music Streaming Services amongst Millennial

s
According to data, 65.85 million Americans used music streaming services monthly in 2017, on average tuning in for 14 hours 39 minutes every week. Forecasts suggest that 55.8 percent of the entire U.S. population and as much as 68.4 percent of the U.S. internet users will have become online radio users by 2018.
In the United States, it's more about a shift to music streaming being driven by millennials.
On average, users under 25 years of age consume 15% more data than those aged between 25 to 45.
Millennials in North America spent an average of 140 minutes (2 hours and 33 minutes) using music streaming services daily. (GlobalWebIndex)
According to the source, 40 percent of Millenials who subscribe to service subscriptions had a music service subscription as of January 2017.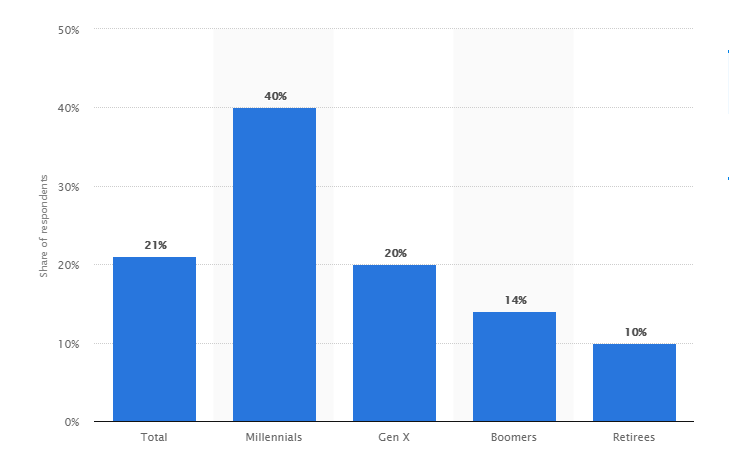 2. Regulating Music Distribution for Artists
The music on Spotify and other streaming services is properly licensed, i.e. it is delivered by labels and distributors only. For every stream by the user, online radio services pay a royalty to respective artists. Since on-demand music streaming services control internet piracy issue, offering credit and neighbouring rights to the artists, they are turning out to be a legal hub for music lovers to tune in to their favorites.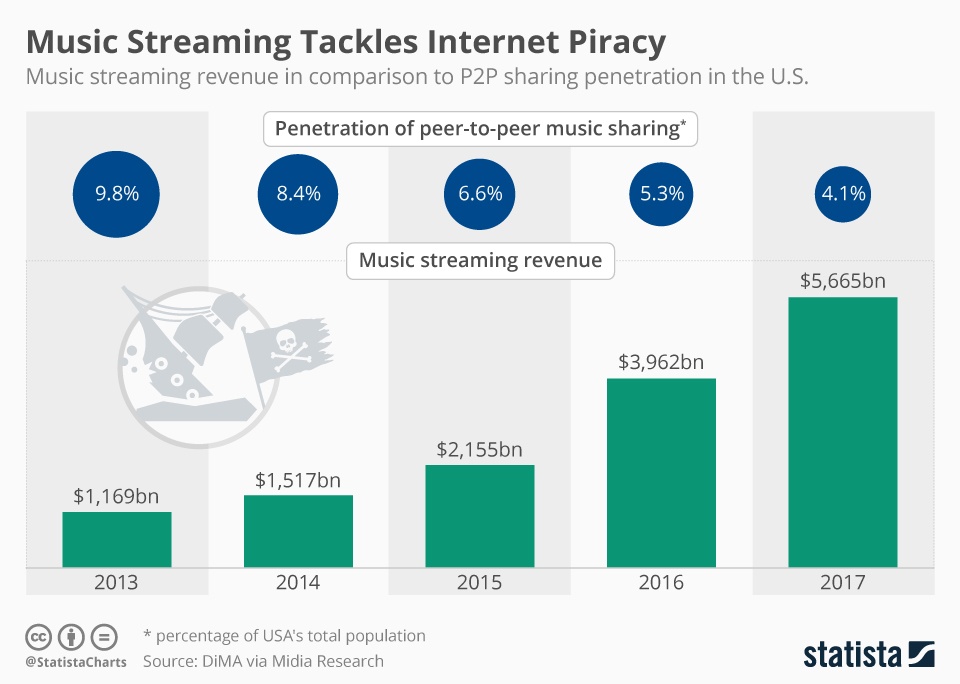 3. Improved Internet Connectivity for Uninterrupted Streaming
Internet is the prerequisite for accessing any digital services. With mobile network operators making a big investment in infrastructure and facilitating high-speed internet services, accessing seamless music online is a possibility for millions of users. According to Statista, over 4 billion people are active internet users. This hike in the number of internet users is giving rise to music-on demand services like Spotify.
How Spotify Works: Business Model
Spotify is house to 70 million songs, all of which gets stored on its own servers. Instead of bogging down its servers, internal computers, and internet bandwidth to stream audios for millions of end-users, Spotify relies upon a P2P network.
Spotify uses social networking and searches for nearby users using the service to see if check if their caches have the song requested by user. If the cache contains the requested song, spotify enable those computers to play the music. That way, Spotify's servers are never overloaded.
To keep the playback speedy, Spotify uses Cached files. Tracks that users play get saved temporarily in their device in a file, called cache. Whenever users want to replay a song, instead of downloading the song again, it is played locally from that file. Also, Spotify preloads subsequent tracks of an album to avoid playback delays.
All Spotify songs are saved in Vorbis format, which makes the audio file size smaller and easily transferable. Most of the songs on the platform stream at 160 KBPS, while for Premium users, the songs are mostly streamed at 320 KBPS (for higher-quality).
On the business front, Spotify purchases a license from labels, artists, publishers, and other right holders for streaming their music on its platform. For paying royalty to the artists, the platform uses complex algorithms that finalize the royalty per stream for every artist or label. The platform uses factors like country (in which the song gets played), the currency value of the country, contracts, artist value etc. to calculate royalty per stream. Sources reveal that the average per-stream payout to the rights holder at Spotify lands somewhere between $0.003 and $0.005.
How Spotify Makes Money: Revenue Streams
Spotify makes money from two sources:

1. A free tier supported by advertising
2. A premium tier with paid subscription

The freemium version of the Spotify app allows users to browse through the catalogue of songs and play them. However, this music on-demand service comes with advertisements that may interrupt a user's entertainment. The mobile apps of Spotify have more restrictions in freemium version than the desktop or web apps. Advertisers who pay Spotify for their bending turns out to be a fundraising mode for the streaming platform.

The premium version of Spotify offers uninterrupted access to music across all devices, including smartphones, tablets, and televisions. Along with a seamless user experience, the premium version facilitates downloading songs to their devices for offline listening and high-quality audio. The subscription offers are available at varying rates- $9.99 a month for students, $12.99 per month for a couple's plan and $14.99 a month for a family account.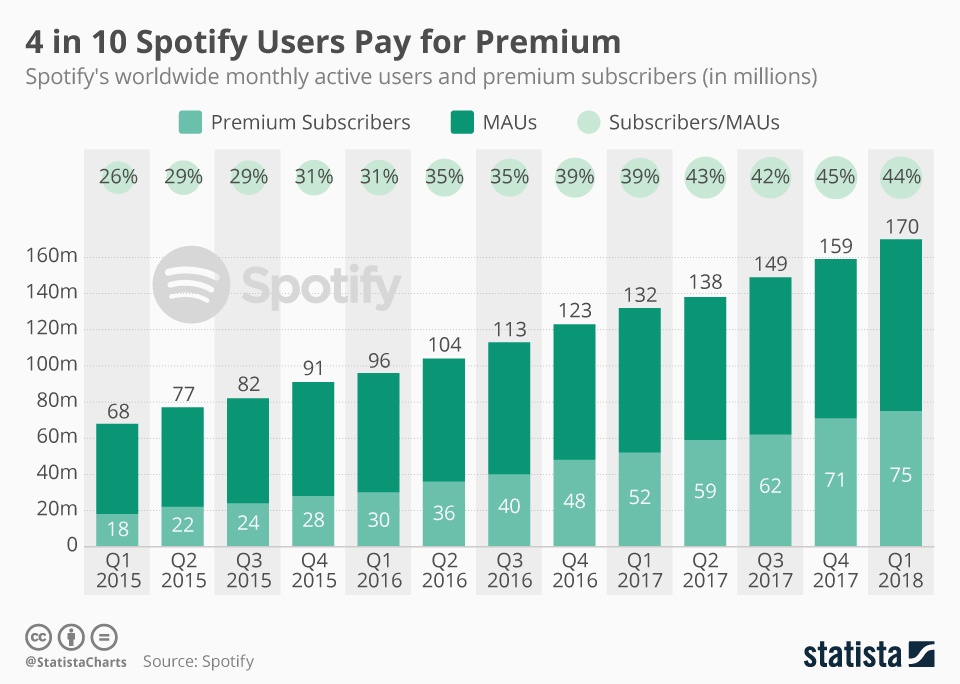 By the end of Q1 2018, the company had 170 million monthly active users, of which 75 million were premium subscribers worldwide
Along with displaying native banner ads, Spotify makes the best of its technology to target its users with audio ads. For that, it supports a number of advertisement models- Sponsored Playlists, Branded Moments, Sponsored Sessions, Audio, Video Takeovers, Display, Homepage Takeovers, Overlay, Advertiser Pages and Branded Playlists. These ads vary in type, size and user engagement.

Branded Moments: This advertising model ensures that marketers are able to tell a story to the right kind of user, at the right time. For example, A sportswear brand can target its audience when they hit the gym and tune in to the workout playlist in the app.
Sponsored Sessions: These ads offer an uninterrupted listening experience to users in exchange for a video. However, they are meant for selected countries and for mobile and computer users only.
Audio Ads: These ads are played at an interval of 15 minutes and gave a maximum duration of 30 seconds.
Video Takeover: Available for computer devices only, these ads are commercial breaks that are shown to users between the songs.
Display Ads: These ads are displayed at the bottom of spotify app and are clickable images shown for 30 seconds.
Welcome Back Ads: These ads are shown to the users when they return back to the app (on mobile or computer). These ads are overlay and hard to be missed out by users.
Homepage Takeovers: These ads have an interactive area on homepage, meant for showing advertisements.
Advertiser Pages: These pages are a microsite, which is seamlessly integrated into the Spotify player. They contain almost every type of content that's found on a webpage, right from clickable images, links, blogs, to news and comments.
With its premium version and over 10 advertising models, Spotify managed to have a revenue of 4.9 billion EUR (2017 FY). However, to build up a better balance sheet and work on shifting its business model to improve its margins, Spotify launched its IPO in 2018.
Building an App like Spotify
Spotify's success can be accounted to the smart use of technology and creative functionalities that keep the users engaged on the platform. By using advertising as a source of monetization, the leading music streaming platform has been able to build economic stability, despite paying 70% of its total revenue to right holders.
If building an app like the Spotify is on your mind, register yourself for our Discover and Frame Workshop that will guide you with the right features, technology, revenue sources, development cost etc. to get started with your idea.
Get the Business Models Ebook For Free!