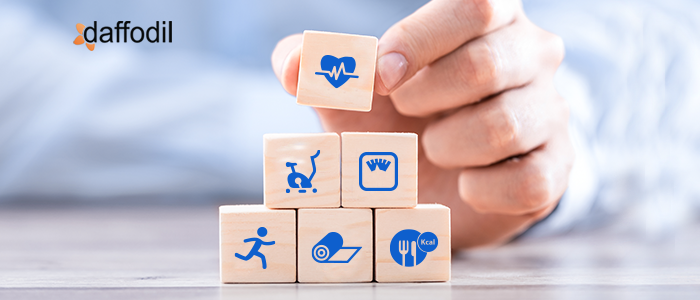 These days, patient care and healthcare outcomes go beyond outpatient treatment and medication. A nutritious diet plan, exercise, regular health vitals tracking, psychotherapies, etc. have become an essential part of the treatment plan. That is why healthcare providers are focusing on wellness programs that offer personalized care options to the patients.
But, healthcare providers are already burdened by the rising cost involved in providing an efficient care system to the patients. According to "National Health Expenditure", spending growth of hospitals is projected to accelerate to 5.7% per year on average over 2020-27 due to an increase in spending growth of all payers (and medicare in particular).
Amid this, providers lookout for cost-effective options for keeping the patients engaged, expand their patient base, and at the same time deliver value-based care to them. Launching patient wellness programs can be one way for providers to achieve these goals.
A wellness program includes activities that help patients to attain well-being. This may include weight loss programs, exercises, stress management techniques, wellness assessments, smoking cessation programs, diet plans, ways to track health vitals, etc.
How to Launch a Wellness Program?
Keeping consumerism in mind, healthcare providers can adopt technologies that originate and develop in consumer space. Mobile apps are one such technology that has massive adoption amongst the consumer space and has some amazing use cases in the healthcare industry. Telemedicine, for example, is one of the finest applications of mobile apps in the healthcare sector.
If your healthcare organization already uses a telemedicine app to connect patients and physicians virtually, it can be extended to provide wellness programs to the patients.
1. Yoga On-Demand
Yoga is a watchword amongst people of different age groups to maintain physical and mental health. This discipline is accepted by the World Health Organization (WHO) and the United Nations as a way to improve well-being.
For introducing this practice into the wellness program, healthcare organizations can create a module in their telemedicine software that shares the following type of information with the patients.
Informational content about various asanas and what is the best time to perform them
Videos that offer step by step guidance on how to perform asanas (way to perform them and mistakes to avoid)
Patients should be able to book a personal trainer for virtual or in-person training
There should be social groups & networking, reward & challenges to keep the yoga peers connected and to motivate them
The yoga services can be kept subscription-based and patients can avail them to work around various physical and mental ailments. Healthcare organizations can either provide these services or tie-up with third party agencies that master the art of yoga and counsel the patients right.
2. Diet Plans
A balanced diet is a mantra for a balanced life. However, in busy day-schedules, it is not possible for individuals and patients to follow a diet that has all nutritions in it. A workaround to this problem is a perfect diet plan, which is prepared by a certified nutritionist.
When diet plans are added as a part of the wellness program in the telemedicine app, a number of health benefits can be availed. Diet plans suggested by nutritionist include:
Patients can know about different diet plans such as Keto, Paleo, Vegan, Ultra-Low-Fat, etc. and consult their nutritionist about the best plan according to a health condition


The app can have options for tracking the nutritional value gained in a day, have water intake trackers, alarms & reminders for food & medication, etc.


There can be motivational and informational content in the form of articles, videos, blogs, Q&As, testimonials, etc.


Integration of wearables or other health vitals tracker to keep a watch on body vitals and update the diet plan accordingly
3. Psychotherapy
Psychotherapy, also known as talk therapy helps people with a broad variety of mental illness or emotional weakness to gain stability again. Including psychotherapy in wellness programs can ensure that patients are free from issues such as stress & anxiety, concentrate better, and have improved mental health. For this, the psychotherapy module in the patient wellness software can focus on:
Personalization so that the best practices are shared with an individual in accordance with their problem or ailment history


Different techniques to meditate- music, exercise, reading materials can be shared with the patients to engage them and have better mental health
Different Types of Wellness Programs:
There are two types of wellness programs that can be launched for the patients:
Participatory
Health contingent
In the participatory program, the patient is not rewarded or benefited on the basis of their ability to meet a certain health metric. It simply motivates them to engage in healthy behavior. In the health-contingent program, the patients are rewarded for their ability to meet a certain health metric or their healthy behavior.
Depending upon what type of wellness program a healthcare organization wishes to introduce, app design and architecture is created. Our healthcare experts have been working for several HDOs, enabling them to engage patients and increase patient base with optimized investments. For your healthcare organization, you can schedule a 30-minute free consultation with our health-tech experts.