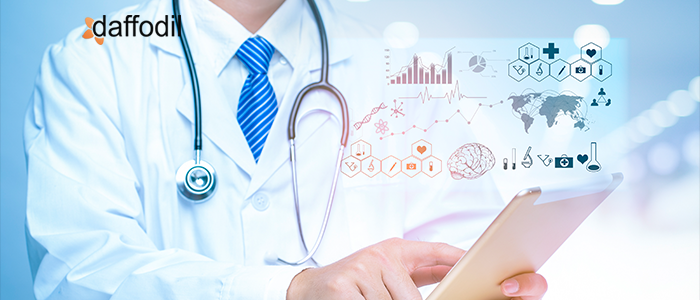 The trend of digital health technology is on an upward curve presently and will remain so in the decade to come. It is estimated to exceed over $379 billion by 2024. This colossal growth will fuel the need to integrate these latest technologies into the EHR (Electronic Health Record) for any health system. EHR integration enables us to leverage data and insights from digital health tools providing important information, alerts and opportunities including the financial and operational guidance at the point of care.
Even today most of the clinicians use encounter-based EHR as their principal electronic interface. An Encounter-Based Imaging Workflow (EBIW) captures images acquired in the context of an encounter between a patient and a healthcare provider, links them with critical metadata, and notifies the EMR (Electronic Medical Record). The route to improved data-driven results is likely to be, at least for the foreseeable future, through the EHR.
To achieve real-time support, health systems must integrate the EHR with various other digital resources. Given the limitations of traditional EHRs, interoperability is top of mind for both health system executives and policymakers.
Here is the list of 10 top technologies for a seamless EHR integration.
REDOX
Redox, the foremost interoperability platform for healthcare data transfer. Connection with Redox allows members to have extensive access to exchange with any Carequality Connection and the capability to integrate data using deeper direct connections with more than 900 healthcare organizations within the Redox network.
The Redox API can currently be applied to help Basic Carequality capabilities, and Redox has two other programs in development, Gateway, and Responder, each of which will lessen an organization's technical overhead. The Gateway program will intercept queries and pass along only those suitable for that organization. In the Responder program, Redox will not only intercept queries but will reply to the organization's behalf.
ELIGIBLE
Eligible, a medical billing platform designed with revenue cycle experts, patients, and developers in mind. Eligible is accredited with both the Healthcare Network Accreditation Program (HNAP) and the Cloud-Enabled Accreditation Program (CEAP) from the Electronic Healthcare Network Accreditation Commission (EHNAC). Together, the CEAP requirements, Eligible's operating practices, and the extensive EHNAC auditing process establish a framework for trust between all stakeholders exchanging healthcare information with Eligible. These accreditations assure both patients and providers that Eligible has accomplished the strictest compliance with privacy and security best practices while processing millions of healthcare cases each month.
Also Read: How Daffodil helped UK's largest clinic chain implement a customized PMS to improve patient engagement and efficiency by 47%
SCRIPTSURE- DAW SYSTEMS
ScriptSure, is an E-Prescribing, EMR & Scheduler are apps that give you access to affordable clinical office tools. ScriptSure is designed for simple use and swift customization so you can work the way you need to while providing all the features you need to meet industry standards and practise efficiently.
From reception to check out, ScriptSure allows users to customize the application throughout. You can store your favourite medications, create custom triage fields and screens, tailor note templates and quick text selection lists to reflect how you document. Choose from hundreds of templates in general format or specific to diseases or create your own. Simple SOAP notes and dictation recording areas are included as well.
NEXTGEN
Nextgen's integrated solutions help enhance clinical productivity, enrich the patient experience, and ensure healthy financial outcomes. Their comprehensive, integrated technology and services platform supports ambulatory and speciality practices of all sizes.
Get high-quality, personalized care with their comprehensive clinical solutions that you can customize to suit your practice. Automate patient intake, streamline clinical workflows, and leverage vendor-agnostic interoperability that support you in achieving quality measures and qualifying for incentives.
EPIC
Epic is employee-owned and developer-led, with software that's easy to use and implement into your organization's healthcare system. Epic's EHR has been ranked by KLAS as the best in KLAS for the last 5 years. Epic's applications also support duties related to clinical systems for doctors, patient care, scheduling and registration; nurses, emergency personnel and other care providers; systems for lab technologists, radiologists, and pharmacists; and billing systems for insurers. Epic's software is mainly used in large health systems, community hospitals and academic medical centres.
CERNER
With software like Mellenium+, a cloud-hosted EHR, Cerner FirstNet - emergency department system, Cerner RadNet Radiology Information System (RIS) and Cerner Learning Framework, Cerner is currently the leading supplier of Health IT solutions and is the largest provider of systems for in-patient care. They support around 55+ specialities along with the clinical, financial and operational needs of medium and large organizations.
CARECLOUD
KLAS has rated CareCloud as a foremost provider of cloud-based revenue cycle management services for ambulatory care practices. CareCloud gives award-winning Electronic Health Record (EHR), Practice Management, Revenue Cycle Management (RCM), and Patient Experience Management software. CareCloud offers software-as-a-service and revenue cycle management (RCM) services to physicians in more than 50 specialities across 48 states in the US.
ATHENAHEALTH
AthenaHealth was awarded best in KLAS 2020 for Small Practice Ambulatory EMR. AthenaHealth provides network-enabled services for healthcare and point-of-care mobile apps in the United States. Their offering also includes practice management and EHR solution under the RCM offering, also cloud-based revenue cycle solution geared towards large, multi-physician groups and hospitals. Other suites of services aid to manage medical records, revenue cycle, patient engagement, care coordination, and population health.
GE CENTRICITY
GE Centricity is a brand under the umbrella of GE Healthcare. It provides software for academic medical centres, hospitals, independent physician practices and large integrated delivery networks. They have a variety of modules that perform revenue cycle management, practice management, medical imaging, electronic medical records and such other functions.
ECLINICALWORKS
eClinicalWorks specializes in electronic health records (EHR), patient engagement, practise management software, ACOs & PCMH tools, care coordination, and population health management. eClinicalWorks V11 is a state of the art evolution of healthcare IT, a cloud-based EHR and Revenue Cycle Management solution designed to meet the challenges and opportunities of value-based care.
Also Read: An Introduction to EHR & EMR/EHR integration
To reach the desired goal of full integration the healthcare industry must steer through the contemporary technical and administrative challenges. Evidently, the industry is making notable progress as it unites around regulatory principles, standards and administrative processes. Health system can guarantee continued progress with optimal industry coordinations around standards, functional integration, administrative processes and the development of compelling integration to propel demand. As healthcare promises new success and the digital trajectory is always on the rise, complete EHR integration that will bring real-time, data-driven insights to the point of care, is inevitable.
There are a number of solutions that make EHR integration a seamless process for HCOs. However, to use them, you need the right technology partner that provides professional EHR integration services.
These services help in seamless healthcare data exchange between multiple health records systems (EHRs), clinical systems, and third-party applications. To know how they can be a help to your HCO in EHR integration, connect with health-tech experts via a 30-minutes FREE consultation session.