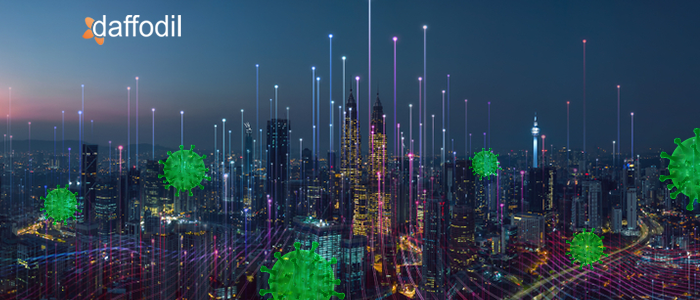 Almost every industry experienced a downfall during the COVID-19 pandemic. At worse, some businesses were even shut down. However, some thrived during the tough times and kept booming to date.
For example, in the effect of the restaurant shut down, online food delivery caught the pace. Despite the sit-and-dine option being unavailable, the kitchens remained operable and kept serving the customers. Some of the F&B businesses experienced growth like never before.
In this blog post, we will discuss 7 industries where the pandemic times turned out to be profitable. Let's get started.
1. Fitness
The COVID lockdown resulted in a sedentary lifestyle. No commuting to work, no workouts at the gym, no hangouts to relax. This gave rise to online yoga and fitness studios. These online platforms help in building a community and eliminate location dependency so that people can engage themselves in different activities. The benefit of these fitness apps (for mobile and tablet) is they render you content on-demand or stream the content live.
The fitness apps gave a way to have stronger physical & mental health, enable people to release tension, feel happy and less lonely, and most importantly, allow them to unplug from tech. That is why, during the lockdown, downloads of health and fitness apps grew by 46%.
2. HealthIT
The demand for healthcare services skyrocketed during the pandemic times. While the healthcare organizations had to ensure the best inpatient care for COVID patients, they had to ensure that outpatient and ambulatory care is not compromised. That is where telehealth services took over.
Almost every healthcare organization, provider, and physician took the digital route to reach out to the patients. Virtual visits with physicians are still at their peak. Despite people not being able to make to the clinics or hospitals, they are connecting with physicians, pharmacists, care experts through audio/video call.
Telehealth apps that allow virtual consultations were the most downloaded apps from the app stores under the healthcare category. According to Forrester, around 1 billion virtual care visits were logged in 2020. Moreover, there is an increase in telehealth claims from private insurance as well.
ALSO READ: What is Hybrid Telehealth and Why is it the Future of Healthcare?
Besides this, HeathIT has grown in terms of research, has found new, innovative ways to disease management using modern technologies such as Artificial Intelligence, IoT, Automation, etc.
3. eCommerce
As lockdown became normal, several businesses went digital to reach out to their customers. Also, since people could not step out of their house and shop, they tend to order the essentials and non-essentials online. The products could range anywhere from grocery, medicines, electronics to apparel shopping.
In fact, during the pandemic times, the customers got access to a significant variety of products at the convenience and safety of their homes. Apart from this, free delivery discounts & coupons, next-day delivery, easy returns, loyalty points, reviews from other customers are other factors that contribute to the growth of eCommerce platforms.
The rise in demand for online delivery of products enabled businesses to continue operations, despite contact restrictions and other confinement measures. The global eCommerce market is expected to total $4.89 trillion in 2021.
4. Tech
The tech sector has boomed during the COVID pandemic. With businesses leveraging digital transformation, there is high demand in building new and modernizing software solutions. The software development industry saw phenomenal growth as both, small businesses and large enterprises sought technology partners who would help them in revamping their business strategy with digital solutions and modern technologies.
Apart from this, workplace management solutions saw a skyrocketing rise. Software and tools that supported team management, conversations, meetings, etc. were demanded by organizations like never before.
Another area of tech that saw a steep growth was game development. Gaming apps and software were the sought-after ways to kill boredom during the pandemic and that is the reason why Games are the most popular category of apps on the app store. (Source: Statista)
The tech industry remained functional. The employees could manage work from home, coordinate with teams virtually, and deliver the required solutions on time. With rising demand for tech solutions, the industry kept booming during the COVID times.
5. Food Delivery
People couldn't be more thankful to the online food aggregators and cloud kitchen apps than during the pandemic. With restaurants, bars, cafes, and other eateries being shut down to stop the spread of infection, the only option people were left to satisfy their palate was by ordering the food online. As a result, the food industry kept on thriving
Apart from the online ordering and delivery concept, ideas such as contactless dining, cloud kitchen enabled the F&B industry to survive the pandemic storm and recover from losses. For example, contactless dining ensures that people are unafraid of infection spread and enjoy dining out at their favorite restaurants.
6. Online Entertainment
Over-the-Top (OTT) apps were a synonym of entertainment during the COVID crisis. People have found a great alternative to movie theaters in OTT apps. These apps are a go-to option to binge-watch TV series, movies, gaming videos, and are proven to be a great source of entertainment for viewers of almost every age group.
During the pandemic times, OTT apps such as Hulu, Netflix, Amazon prime were highly demanded. According to Technavio, online streaming services are poised to grow by $149.96 billion during 2020-2024. With such a high growth rate, VoD platforms like Netflix, Hulu, Amazon Prime are going to thrive in the online entertainment industry.
Not just this, but online entertainment platforms are enabling the film industry to cope with the effect of the COVID 19 pandemic. You can check out this detailed article on why OTT apps are the next logical step for movie theaters.
7. EdTech
Schools and universities have been updating their infrastructure to incorporate digital alternatives to their classrooms for a long time. However, the pandemic forced a faster adoption. As the pandemic resulted in remote classroom sessions, edtech companies experienced an unprecedented demand for their virtual classroom products. Although, the learning in physical classrooms will resume with time but the technology will drastically change the way how students are being taught in classrooms.
Along with this, Massive Open Online Course (MOOC) providers have been in great demand during the COVID crisis. Udemy, one of the most popular MOOC providers experienced a 423% increase in enrollments from February to March 2020.
ALSO READ: Live Video Streaming Apps: How they are Changing the eLearning Game?
Conclusion:
The COVID-19 pandemic had a mixed impact on businesses. While some businesses abolished, some of them thrived like never before. However, there are a few that are stuck and need a digital strategy to give momentum to their business again.
For digital transformation, Daffodil software has been a technology partner for various innovative businesses that made their business survive the pandemic waves.
Let your business get through the pandemic by connecting with our digitization experts. You can connect with them through our free consultation service which is a two-way communication to understand a business, its current state, and the solution that will help it to gain normalcy again.