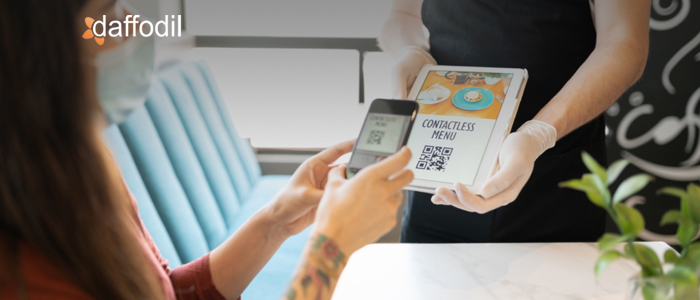 The COVID-19 pandemic has taught us to deal with uncertainties. It made us realize the power of digitization and unveiled ways for sustainable recovery from the losses.
Almost every industry is embracing the road to digital transformation and the Food & Beverages (F&B) sector is no exception. Despite F&B being classified as an 'essential business' and continued to reach out to its customers in one way or the other, it incurred heavy losses. The worldwide lockdown and then the second wave of pandemic incapacitated restaurants and other dining spaces.
Hygiene and safety is the prime concern of consumers when they think of moving out to sit and dine. People are afraid of catching the virus infection in public places and thus, order everything online. This has drastically affected the footfall that a restaurant receives and ultimately their revenue.
With no certainty about how long this is going to last, restaurants have started to think of innovative ideas to overcome the consequences of the coronavirus pandemic. One such solution is Contactless Dining and F&B experts believe that this is going to turn things around for the restaurant entrepreneurs.
What is contactless dining and how it is going to benefit the restaurant industry? What does it take to run a restaurant with a contactless dining experience? Let's try to understand this in the later segment of this article.
What is Contactless Dining?
Contactless dining is a restaurant dine-in experience that allows people to view the menu, place orders, and make payments without touching public surfaces or by avoiding unnecessary interaction with the restaurant staff.
This form of dining minimizes the chances of contact with anything that somebody else might have touched. There are three key components of contactless dining:
Contactless Menu: The customers can scan a QR code on the table and explore the menu with recommendations for the most loved dish, pairing of dishes, combos, etc.
Contactless Ordering: Instead of calling restaurant staff to take the order, waiting for them to place the order or modify it, the customers can directly order through the app.
Contactless Payment: e-payment can be done through the app to avoid touching currencies that could be the carrier of the virus.
These components eliminate the need for menu cards or bill books which are often touched by others, are usually unsanitized, and could carry the source of infection. The restaurant staff will be bringing food to the table but as long as they are wearing masks and following hygiene standards, it should not concern the customers.
Contactless Dining: What are the Benefits?
Creating a contactless dining experience for customers will offer a plethora of benefits to the restaurants. For example,
Restaurants can now Create a Dynamic Menu: Contactless dining has an e-menu instead of paper-based menu cards. This is not only beneficial for diners but also for the restaurants. With an e-menu, changing the menu items, prices, combos is easier than ever. Such management of menu helps in modifying the offers (according to occasions), introduce new items (just for trials), and then keep/delete them, highlight special discounts and items, etc.
It Helps to Maintain Safety Standards: With no-contact interaction and personal hygiene, restaurants can assure that they are limiting virus transmission. Maintaining safety standards will encourage customers to dine in a restaurant and share their experiences with others.
Moreover, diners satisfied with hygiene and safety standards are more likely to become repeat diners. Such diners promote restaurants for their customer value which ultimately improves the goodwill of the restaurant.
Create Enhanced Experience for Diners: With a contactless dining experience in a restaurant, the diners don't have to wait for placing their order, getting their bills, and making payments. Similarly, with all procedures speeding up for the diners, it will reduce the overall table turnaround time. This means restaurants can welcome more diners and reduce their wait time for seats
Beyond these prime benefits of contactless dining, it helps in maintaining order accuracy, avoids any chances of miscommunication between the staff and diners. Since the diners are equipped with the ability to choose, review, and then place an order, accuracy in order placement can be assured. This brings the diners to focus on food, ambiance, and service.
What does it take to run a Restaurant with a Contactless Dining Experience?
A contactless dining experience comprises several key components. For example, enabling a diner to reserve a seat, innovative options to access the digital menu and place an order, diverse payment options, feedback form, etc.
For restaurants, a Point of Sale (POS) is a crucial component. It automates the order placement and management cycle. For example, it receives the order, print orders to kitchen for preparation, process digital payments, collect feedback, etc. Moreover, it will manage the availability of food items, discounts & combos, helps to personalize recommendations for diners based on their profiles, etc. So basically, your contactless dining app development can't do without a POS.
Well, there is more to it. A lot of functionalities, technicalities go into building a contactless dining platform. And don't worry if you're new to it.
We have a team of experienced people who have been helping restaurants to plan a post-lockdown or post-COVID roadmap. They can even help you in drafting the digitization roadmap, free of cost. All that you need to do is connect with them through a free consultation session. They will get back to you, understand the scale of your business, its current position, requirement, and would recommend a solution that works best for the business.
RECOMMENDED READ: Benefits of Building a Smart POS System for your Restaurant