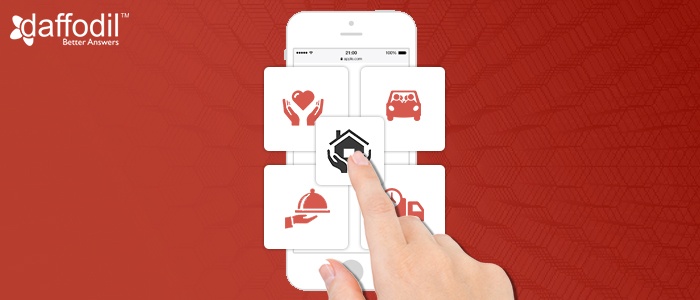 Consumerization is shaping the business landscape, making enterprises take advantage of new technologies and models that originate and evolve in the consumer space. With mobile devices and apps becoming an inevitable part of consumers' routine, they are transforming the way businesses reach out to their prospects.
The consumerization wave and digitization is responsible for the rise of on-demand economy, which promises to offer convenient and instant access to necessary goods and services in online marketplace.
In the on-demand commerce, convenience is the new currency and businesses are cashing up on it. In this process of delivering services on-demand, mobile apps have a pronounced role to play. There is a credibility that app-based delivery services offer, which gives app-based services an edge over those based on phone or web. For example: With apps, businesses can:
Keep an account for the demand:

With mobile apps, it is possible to keep a record of the demand made by consumer. This includes product or service selection, customization, acceptance to exceptions (price surge, delay in delivery due to weather, demand cancellation etc.).
Define pickup or delivery location

: Unstructured addresses is the biggest challenge in last mile delivery of on-demand services. With mobile apps, consumers can

precisely define their location on map

to avoid delays.
Track service delivery status, live

: Speed and convenience is what on-demand economy is about. Having the ability to track order or service delivery in real time is possible only through mobile apps.
Integrated payment options

: App-based on-demand services offer different modes to make payments. Having the opportunity to make payments through a channel of choice is an advantage tagged with mobile apps.
The best of on-demand service sectors
Hundreds of on-demand ideas are introduced and implemented every year. However, only a few of them holds the potential to get through in terms of funding, acceptance, and user-base. Amongst the various on-demand models launched so far (in different sectors), there are a few that have managed to leave an impact on day-to-day lives of consumers. The list includes:
1. Transportation:
Changing the way how taxis are hailed, the transportation on-demand services are introducing affordable, efficient, and on-time mode to daily commutes and long distance journeys. With models like e-hailing, car rental, car sharing, and station-based mobility, this on-demand sector is coming up with innovative ideas that makes travelling convenient and easy on pocket.
2. Logistics
Transport and logistics is the backbone of businesses that involve constant movement of goods from one location to another. Connecting transporters to consignors at different locations, collaborating with them in real time, scheduling dispatch, optimizing cost are the advantages that on-demand fleet management solutions bring along.
3. Healthcare
While they cannot replace the specialized care rendered at health centers, on-demand apps are enabling consumers to book an appointment, have virtual consultation, get acute care, right from the comfort of few smartphone taps. On-demand healthcare services are acclaimed to revive the old-school ways of delivering care, supported by technology and patients' accountability for their health.
4. Food
Booking table in advance, getting grocery and meals delivered at doorsteps is an evergreen business model, which is going to stay (considering how seamlessly the services are delivered). Backed with technology, logistics, and a huge network of restaurants, food delivery services like Zomato, Postmates are delivering sumptuous meals at amazing discounts.
5. Home Services
Responding to the urban lifestyle requirement of consumers, services like laundering, lawn mowing, and even beauty treatments are booked on-demand. Offering the ability to book appointments or schedule them, as preferred is what making on-demand home services have acceptance in consumer space.
A number of startups and established on-demand players have been experimenting with innovative ideas that emerge from above sectors. If you too have an idea that can bring a change at consumers' end, Daffodil can help you in successful implementation, as it has done to various startups like MatchRider, WaPanda, iSikCure etc.