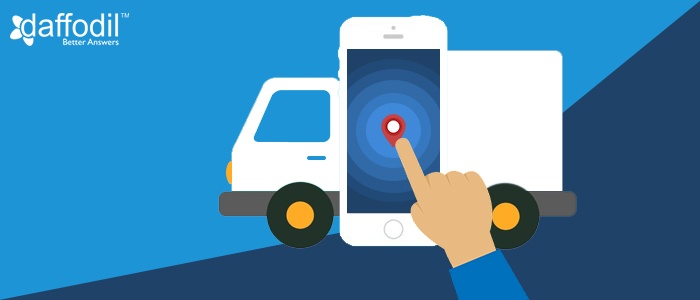 The idea of matching consumer demand with relevant services, which started back in 2009 with a taxi-booking app called Uber is creating a ripple-effect now. The trend of creating an Uber for X is taking (almost) every industry by storm, and logistics is not behind.
Transport and logistics is the major driver of businesses that deals with the constant movement of goods from one place to another, such as eCommerce, pharmaceuticals, construction, and manufacturing. However, managing logistics is one of the complex and most demanding part of the business. With N number of trucks, vehicles, and carriers involved in the process, managing and optimizing them for most productive outturn is one of the biggest challenges of the industry.
Fleet Management Solutions: The Uber for Logistics
Fleet management is an inevitable part of logistics, which involves planning and managing their dispatch schedule, optimizing the cost, tracking them in real-time to ensure successful last-mile delivery. While the old-school approach for fleet management employs a manager to take care of all fleet related activities (from managing the workforce to optimizing cost), it fails to keep a track of how goods are moved between the origin and destination.
Metrics like route followed for delivery, their real-time whereabouts, the pace of fleet movement etc. plays an important role in optimizing the trips and estimating the time of delivery. For this, an advanced technological approach for fleet management comes in picture.
Fleet management solutions introduce extensive flexibility in the logistics cycle. They are not just meant for supervising last-mile delivery but also help in on-demand availability of carriers, whenever businesses need them. Just like Uber allow its users to locate the driver that best suits their riding needs, fleet management solutions enable businesses to find and connect with drivers/truckers as the demand strikes.
Technological Advances and the Rise of Logistics Management
Technology is backing almost every industry and logistics is no exception. With real-time tracking devices, rise of smartphones and mobile apps, ensuring consignment delivery is a sure possibility. Thanks to technological advances, fleet management solutions nowadays enable businesses to:
Track vehicle in real-time to know its whereabouts: With progressive improvements in how GPS devices track the geographical location of vehicles, they prove to be a great asset in fleet management. The data received from GPS devices can be translated and presented on mobile or web portals so that the real-time location of the fleet can be tracked.
By tracking the carriers live, logistics managers can keep a tab on current location of the fleet, the route followed by the driver to deliver a consignment, at what pace he is driving, the expected time for delivery of the consignment, etc.
Trip management by aligning new carriers for delivery: Organizing and aligning new carriers according to their current location is a significant part of fleet management. Tech solutions allow for keeping a record of all the trips (with details), looking out for available carriers, and then aligning for the most suitable trip. Managing idle resources or utilizing them as per their potential and location is a way to ensure productivity in logistics.


Enabling cost efficiency with routes and fuel optimization: The cost of a trip is dependent upon a number of factors. From driver's availability, and routes followed, to fuel utilized, everything accounts for the overall cost of a trip. By tracking fleet management in real-time and managing an inventory of the available fleets, the most efficient and feasible trip can be designed by the logistics team.
Fleet Management Solution for your Logistics Department: Getting Started
Uberification of logistics can reinvent the conventional way how trips are planned, managed, and completed. For simplifying last-mile delivery of consignments, fleet management solutions can go a long way.
We, at Daffodil, have, helped businesses make logistics more efficient than ever with solutions like Autoload and Yellow.Live, a real time school bus tracking system. If you too have an idea that can ameliorate last-mile delivery and manage a fleet, we can help you get started with it.