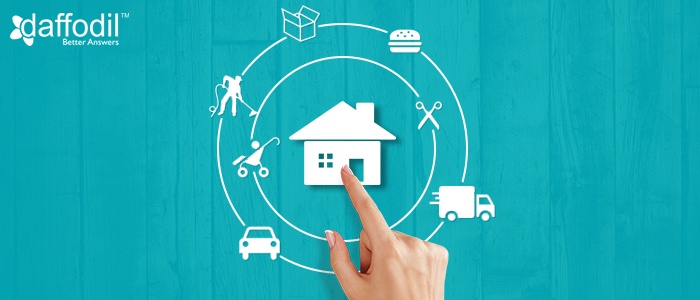 Entrepreneurs are vigorously capitalizing on the 'Uber for X' model. They are covering almost every vertical that holds the potential to reinvent the conventional way of doing things or simplify consumers lives.
From a long time, startups, entrepreneurs and investors were doing well out of some major on-demand domains, including healthcare, transportation, and food delivery. However, the reason why the on-demand economy is making headlines nowadays is for the simplifying the way day-to-day household tasks are managed.
From lawn mowing to laundering, plumbing, and even electrical wiring, there is convenience to book the services, at the ease of few smartphone taps. And what's triggering the progressive growth of this sector is the level playing field, which is offered to both the ends-consumers and service providers. For example:
These services responds to the urban lifestyle requirements of the consumers. What was termed as a luxury few years back is a necessity today. Services such as beauty treatments, fitness training, babysitting, event management are an inevitable part of urban lifestyles. Having the ability to schedule or book these services, as per preferences is what's making the on-demand services sector a hit amongst the consumers.
On demand home services creates job opportunity for skilled individuals. Since they are highly reliant upon individual contractors than employees, they are a great source of employment to those, who don't have professional degrees for their mastery skills. Painters, plumbers, cleaners, beauticians, cooks, furniture assemblers and other skilled services can reach out to the consumers, without having to wait for them, welcome them at unproposed time, or price negotiation.
Along with this, the technological advances in mobile app development is enabling consumers connect with right service provider.
On-Demand Home Services: Established Players and Startups
This division of on-demand economy has proven a great success rate, given the idea is implemented well and reaches the mass, as per the plan. There are a number of established players that manifests the power in the concept. Some of the popular names include:
Task Rabbit, a US based platform that matches users with help on furniture assembly, moving, and other handyman services.
UrbanClap, is an India based on-demand home service provider that offer a range of local services like carpenters, movers and packers, wedding planners, dieticians etc.
Some of the on-demand home service providers with potential:
Considering the scalability and complexity involved in developing platform for on-demand home services, startups are focusing on delivering one or two services at a time. The following startups proves how targeting a major problem of the consumers and ensuring an efficient solution for the same (keeping delivery, cost, and effectiveness in mind) can make investors believe in your idea and the consumers as well.
Paintzen combine online booking, color inspiration tools, & top-rated painters to offer on-demand house painting services. The startup so far has raised a funding of $12M.
Serviz offer on-demand repair for large appliances, such as ovens and refrigerators and has secured funds worth $31M.
Rinse is San Francisco based dry-cleaning and laundry service provider. With successful execution of the idea, the company has raised a funding of $10M.
Do you have an idea to deliver convenience at doorstep?
A disruptive idea holds all potential to get acceptance of the masses and investors as well. If you have an idea that you think can help to deliver convenience at consumers' doorstep, we can help you get started with it, just like we did for various on-demand startups like Match Rider, Autoload, iSikCure.