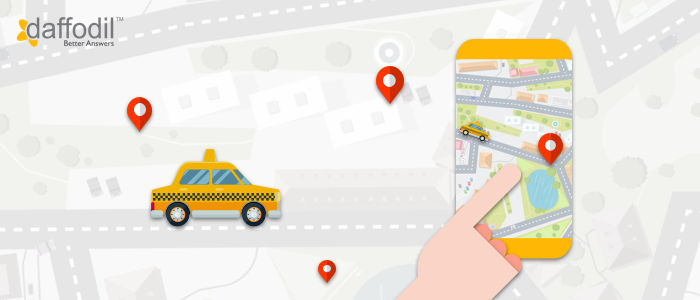 The global on-demand transportation market is expected to reach $290.3 billion by 2025. -Grand View Research, Inc.
Thanks to the proliferation of mobile devices and applications, there has been rising adoption of on-demand transportation, globally. Services such as e-hailing, car sharing, car rental, station-based mobility are offering a productive space for the transport industry to thrive.
E-hailing: This enables a user to request a ride from their exact location. Generally, a car or any other service is booked through an app to take a ride from one location to another.
Car Rental: Car rental services are generally offered by agencies, who rent a car or any other automobile for a short period of time. The time span ranges somewhere between a few hours to a few weeks.
Car Sharing: Car sharing is a model of car rental where individuals rent their car for a short time span, typically for a few hours.
Station-Based Mobility: Also known as carpool service, this allows an individual or a driver to share a car journey to use up the full seating capacity of the car when heading to the same location.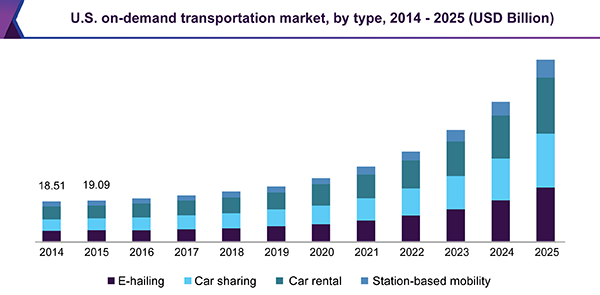 Advances in IT infrastructure, growing adoption of car-sharing modesl by the millennials, escalating traffic, rising fuel prices, and high cost of a new automobile are some of the prominent reasons that are driving the on-demand transportation economy.
Technology Engagement in On-Demand Transport Services
Technology is the core element of the on-demand economy. Solutions that deliver to the users on-demand are rendered in the form of a software application (especially mobile app that supports mobility). When developing a mobile app for transportation on-demand, make sure that you analyze and implement the following modules for sure.
Accurately locate the customer

: For an on-demand transaction to initiate, locating the customer is first and foremost step. Possibly, the customer is available with a complete address of his location or has a mobile with no known point of reference. In either of the situations, it is important that the exact location is added to the app.



Matching demand with available supply:

Once the customer is located, the next step is to match their demand with the availability of supply (which in this case would be any transport).



Optimizing fulfillment

: When a vehicle is scheduled for multiple pickups and deliveries, route guidance is an important thing. On-demand transportation apps should have waypoints sequencing algorithms that account for the real-time and historical status of traffic conditions so that the driver is able to do pickup and delivery on time.



Advancing performance and safety:

Along with a seamless riding experience, customers want to stay engaged with the app and receive updates. Added functionalities like notifying passengers one minute before the driver reaches destination add value to the product.
Some of the Disruptive On-Demand Transportation Models
Uber is one of the most popular, peer-to-peer ride sharing models that connect riders to drivers through a mobile app. The U.S. based company, which has a value of over $62.5 billion and has pioneered the concept of on-demand transportation is creating a ripple effect. The concept is picked up and localized right across the globe, with some custom, innovative ideas to simplify the transport services.
Lyft, Gett, Ola are some of the other names in the genre that disrupting the way conventional ways of booking a taxi service, real-time ridesharing, and carpooling.
Considering the success rate of on-demand transportation models, investors are showing their interest in them by making some jaw-dropping investments. Some of the entrants in industry that have made it to great funding rounds include:
Gett is a New York based, global on-demand transportation company has raised $613M in its 8 funding rounds.
Hailo, a London based company enable its users to get a taxi or licensed car, quicker. This company secured a whopping fund of $100.6M in 4 funding rounds.
Getaround, a San Francisco based peer-to-peer car sharing marketplace that allows its car owners to rent out their cars. Total funding raised till dare is $103M.
Challenges Involved and Solution:
Amongst the various on-demand transport services, e-hailing is one of the fastest-growing segments, wherein users are allowed to reserve a taxi for them through an application (according to survey results by Grand View Research). Other on-demand transportation models when implemented with innovation and convince users for bringing a change in a way they travel holds positive opportunities and chances for acceptance.
If you too have an idea that you think can disrupt the on-demand industry for transportation, share it with us to know best development practices.