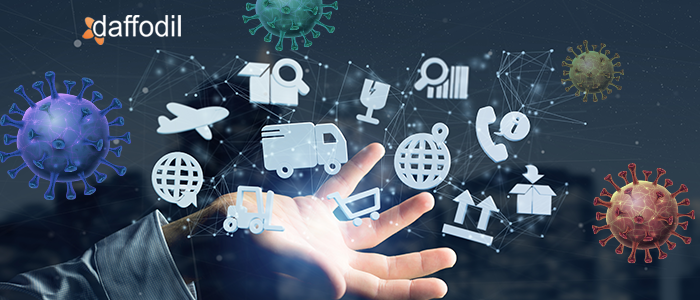 COVID-19 pandemic has marked a downfall for several businesses and individual lives globally. Finance, retail, hospitality, travel are some of the industries that have been drastically impacted by the coronavirus outbreak. Moreover, the measures taken to prevent the spread of infection- lockdown and social distancing put the primary livelihood at a halt.

There was no transportation system like it used to be before. The movies at theater became a major missing. Restaurants, bars, cafes, and other eateries got shut down. Hospitals and care centers gave priority to the emergency or COVID-19 cases.

Amid all this, what has helped the individuals to keep their lives on track is the on-demand services. The on-demand entertainment services are enabling them to watch the latest movies without having to visit theaters. The on-demand food delivery services are giving the taste of restaurant food with contactless delivery. Likewise, on-demand transportation services are helping to curb the effect of limited public transportation.

Indeed, the on-demand services have been a great savior in the pandemic times. Here is a list of top 5 services that are on the rise during the coronavirus outbreak.

1. Food & Grocery On-Demand

With so many people stuck at home following the social distancing and lockdown protocol, there was a surge in food and grocery delivery services. With restaurants being shut-down, there was no option for people to dine-in. Thus, consumers chose to treat themselves with their favorite food through online delivery services.

Several on-demand delivery services such as Deliveroo, UberEats, Zomato, Postmates followed the concept of contactless delivery that was expected to eliminate the risk of spreading infection between the customer and the driver.

Also, many delivery services announced their partnership with supermarkets and convenience stores that allowed the customers to order their necessities, including cleaning & hygiene products, essential food items, and get them delivered to the doorstep.

2. Entertainment-On-Demand

COVID-19 has created a big void in the film industry. With a delay in the release of significant blockbusters, the streaming platforms took over the theaters. Video-on-Demand platforms such as Netflix, Hulu, Amazon Prime became the go-to-option for entertainment.

With this, there was a rise in Over-the-Top apps that allowed releasing the creative work online and reach out to millions of people worldwide. Considering the popularity that these platforms have gained, the OTT apps for releasing movies is considered as a long-term and a logical step for movie theaters.

ALSO READ: Why is OTT the Next Logical Step for Movie Theaters?

3. Healthcare & Fitness On-Demand

In effect to the coronavirus pandemic, virtual visits to the physicians and at-home fitness regime became the go-to option for individuals. With so many people staying at home following the emergency protocol and social distancing measures to prevent COVID-19 spread, they are avoiding visits to clinics or in-person consultation to physicians for acute illness. This has given rise to telemedicine solutions that provide healthcare services on-demand.

Telemedicine solutions are enabling patients to book appointments with physicians, consult them virtually, get online prescription & advice, and avail other benefits that a telemedicine solution can offer. Moreover, varied telemedicine models such as store-&-forward telemedicine, remote patient monitoring, real-time medicine are allowing patients to avail high-end healthcare services virtually.

Along with this, people are more cautious about taking care of their health by adopting the right measures to stay fit. Be it through an exercise regime, diet plan, or tracking health vitals to manage chronic problems.

This has given rise to online fitness studios that introduce unique ways to stay fit through on-demand or live video tutorials. That means the users have the option to manage their fitness routine according to the time available to them and that too, without stepping out of their house.

ALSO READ: How to Launch a Fitness Studio Online?

4. Mobility On-Demand

COVID-19 pandemic drastically affected the public transportation network. Today, despite a number of countries have resumed their services to diminish the impact of the pandemic on the economy, they are still resistant to operate public transport to its full potential.

Amid this limitation, what has helped people to move from one place to another is the on-demand mobility services. Services like Uber, Ola, and other taxi on-demand providers have paved the way for easier mobility access.

These mobility services have been trusted for sanitization facilities before every trip and other measures that were taken to restrict infection spread. That is why during the COVID times, mobility-on-demand services experienced a steep rise in demand.

5. Education On-Demand

While online courses and teaching marketplaces have been there for a long time to support education on-demand, these services saw a rise as most of the educational institutions such as schools, colleges, and universities remain shut down in effect to the COVID-19 pandemic.
On-demand education apps that enable educational institutions to connect with the students and share study materials so that students can learn at their own pace gained ground during the pandemic times.

Planning to Build or Update an On-Demand App?

The On-demand market is booming and for businesses, it is indeed the best time to cash in the opportunity. If you already have an on-demand service providing an app that you think needs an update or you have an idea to disrupt the way services can be delivered during COVID times, then connect with us. For your on-demand app development needs, our team with functional and technical expertise is there to help you out.