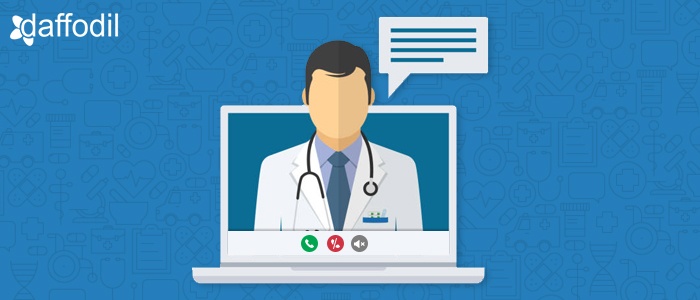 The healthcare industry is leaverging digitization and consumerization for connecting patients with relevant providers. Remote consultations, patient portals, appointment booking platforms, online pharmacy are some of the prominent modes for patients and providers to access and deliver care, respectively.
With this, the telehealth options continue to diminish the gap between care stakeholders, reduce cost, shift the focus towards value-based care. It is expected that every patient concerned in the U.S. would save some 5,700 U.S. dollars in travel expenses annually, if telehealth would be used (according to Statista). In fact, considering the cost-efficiency involved, insurers will soon start to reimburse virtual care options.
However, for patients to embrace the virtual care programs, the providers have to come up with creative, consumer-centric, and cost-effective ideas to promote telehealth. One of the ways that's marking a difference in telehealth sector is on-demand virtual visits.
An on-demand virtual visit system helps to establish a remote care connection, usually initiated by the patients with a network of clinicians. Herein, the care providers are available 24/7 for acute care by the means of communication channels like video chat, telephone, audio conference, secure messaging or texting. Unlike other forms of virtual care, the clinicians in this mode not have a formal or pre-established relationship with the patient.
On-Demand Virtual Visits: Justification for Adoption and Benefits
The idea of on-demand virtual visits has emerged as an opportunity for providers to offer a convenient access to care and overcome the problem of uneven distribution of clinicians. Leveraging technology, patients can initiate an immediate visit or schedule it with a physician or clinician of their choice. In addition, individuals can set their preference for gender, language spoken, speciality, and choose a clinician who has the most satisfying ratings or reviews.

Options like these are appealing with time-pressed individuals (like working parents with young children) or those having mobility challenges. Moreover, for immediate, convenient, and non-emergency scenarios, virtual visits can substitute F2F meetings. For example:
Acute Care: Acute care is the branch of secondary health care, wherein a patient receives active but short term treatment for an injury, episode of illness, an urgent medical condition, or during recovery from surgery. On-demand virtual visits prove to be an idea care accessibility model in such scenarios (where the reason for reference is minor and consultation with any clinician will work to get primary care).
Chronic Disease Management: According to Center for Chronic Disease Control (CDC), 75 percent of nation's aggregate healthcare spending is done for chronic diseases, which is estimated to be 5,300 USD/person in the United States. Chronic health issues like diabetes, asthma, alzheimer's disease, cancer etc. requires connecting with physicians regularly, and sometimes on immediate basis for a quick opinion. That's where on-demand virtual visits can actually help.
Follow-Ups: Medication or recovery follow-ups cannot be skipped. However, in situations where the patient has mobility issues, virtually connecting to a doctor over video call can a low-cost and convenient follow-up session.
Along with the patients, virtual visits has got a number of advantages for providers as well. When providers are able to reduce the number of F2F visits, they can offer their service to more number of patients and manage their time for emergency cases. Telehealth options like this saves time, effort, and inconvenience caused due to patient's no show up.
The Future of On-Demand Virtual Visits
By the end of 2018, the number of telehealth patients are projected to grow around seven million, according to Statista. Certainly, the demand and acceptance of telehealth services is growing and is projected as the future of virtual healthcare system.
With a virtual care delivery model like on-demand visit through tech-supported communication channel, there are a number of opportunities involved. However, the model brings in challenges like maintaining health history of patient, security and legal compliance etc., which needs to be addressed efficiently.
Over the time, investors have been making investments in tech-supported healthcare portals that facilitates accessing and delivering care. With virtual care and telehealth being a thing these days, on-demand virtual care platforms can certainly bring a disruption change in the system, for the good. All that's needed is thorough planning to execute the idea and bring valuable features within the portal that adds value to the care cycle in long term and is profitable to both patient and provider end.