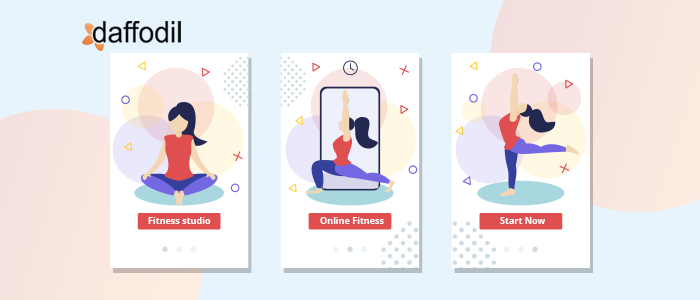 About a decade ago, we have seen the big-box gyms dominating the fitness industry. In about $50/month, people used to get everything they needed to break the sweat. Today, the boutique studios have changed the face of fitness by bringing in unique ways of staying fit, such as Yoga, indoor cycling, boxing, Zumba, etc.
These fitness programs have become the go-to option for a healthy routine and the reason is, they help in adopting "At-Home", "Anytime" exercising regime as the trainers move the fitness studios online.
There are several reasons why fitness boutiques and personal trainers support the idea of setting up their business online. One, online training sessions help them to reach a wider range of fitness enthusiasts (even those who are out of the local scope). Second, the busy lifestyle does not allow clients to be available for training sessions. Third, the anytime accessibility of new exercises, challenges, or fitness programs keeps the clients/enthusiasts energetic and interested in the services.
But, how to set up a fitness studio online? What are the key requirements to reach out to a massive clientele and engage them? Check out the latter segment of the blog to know how to set up an online platform to offer fitness training to your routine customers and elite clients.
How to Move a Fitness Studio Online?
For setting up an online fitness studio, you need to build a Video-on-Demand platform. To understand what a Video-on-Demand platform is, let's consider Netflix.
Netflix a Video-on-Demand platform that streams movies and TV shows, i.e. its a collection of videos that can be availed anytime, anywhere. All you need to access the videos is a stable internet connection and a subscription to get started. The best part of Netflix is its videos can be accessed on various platforms, including smartphones, smart TVs, game consoles, PC, etc.
If you want to create a fitness studio online, you basically have to create a Netflix like platform that has fitness videos and tutorials. The subscribed users can access these videos on supported devices. Now, it is up to your business requirements as to which device platform do you choose for fitness on-demand app development.
You can take these services a step ahead and add live streaming services to it (which is not a part of Netflix). Live streaming can be considered as premium services, wherein the subscribers can interact with trainers/personal trainers, live. It is completely up to a business to choose between Video-on-Demand or Live Streaming services.
Now that you know how to get started with a fitness studio online, let's understand how to execute the idea of launching it. Here are some tips that will surely help you succeed with the app idea.
1: Test your Idea with an MVP
One of the best ways to get into the market is in stages, i.e, you launch a solution, check the user response, collect the feedback, and launch the next level of the app. When you choose a technology partner, you can share your requirement of creating a Minimum Viable Product of your app.
A Minimum Viable Product (MVP) is the version of your app with the least (yet sufficient) number of features. It lets you test the product-market fit so that you can confidently launch a scalable product in the market.
ALSO READ: What's the Best Approach to Measure Product/Market Fit?
At Daffodil, we usually help our clients test the product/market fit with our Discover & Frame (D&F) workshop. D&F is the leanest approach to materialize an app idea. This program is orchestrated to gather the potential in an idea, identify target users, competitors, and analyze revenue streams.
2: Gamification can Improve Engagement
The idea of using game mechanics and experience design to digitally engage and motivate users to achieve their goals has been gaining ground in the app industry.
A fitness app can have challenges, rewards, achievement badges, mastery levels, competitions to keep the users engaged and motivated in achieving their goals, which may range anywhere from losing weight to muscle toning. Your technology partner can guide you to add the right gamification technique in your app. Remember, that gamification is completely different from the revenue streams.
3: App Development for Bigger Screens
When creating health and fitness apps, it is important to ensure that these apps are built for bigger screens for better content clarity. For example, creating TV apps (Android TV, Smart TV, Apple TV) and other platforms can give the users a better exposure and understanding of the content. However, it is still recommended to start building the app for smartphones or tablets first and later switch to bigger screens.
Launch your Fitness Studio Online:
Now that you know the basics of getting started with a fitness studio online, its the time to work on its implementation. To share your business requirements, connect with our health and fitness experts through a 30-minute free consultation program. Our team will help you out with the right technology stack, platform, and scope of development, etc.