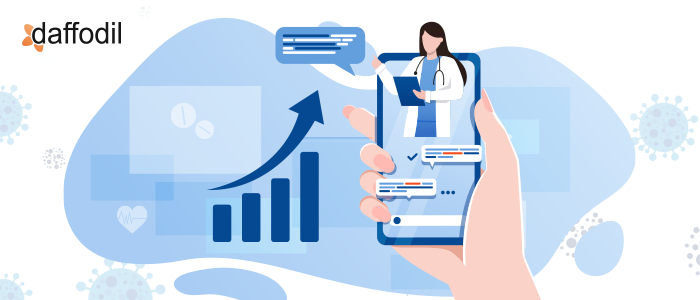 As the number of confirmed COVID-19 cases spikes, several countries have found lockdown as a solution to control this pandemic. As hundreds and thousands of people stay at home following this emergency protocol to prevent COVID-19 spread, they are avoiding visits to medical clinics or in-person physician consultation for acute illness.
Meanwhile, medical services in the respective countries are more focused on treating those suffering from coronavirus disease. Also, considering the contagiousness of the virus, healthcare centres have advised people to avoid visiting the care centres until the effect of this pandemic diminishes or eliminates.
But, medical services are an unavoidable part of our lives and thus an alternative to it must be adopted to ensure that the health of individuals does not impact amid the COVID-19 outbreak. Follow-ups, consultation for chronic or acute disease, awareness information, updating medical prescription, etc. are some of the services that can be availed using the telemedicine system.
Telemedicine is the practice of offering care to the patients when the patient and the provider are not physically present with each other. Here, the care can be offered through audio/video calls or platforms that enable the patient/physician to coordinate with each other.
Digitization, consumerization, and on-demand economy are some of the factors that have been contributing to the idea of providing care remotely. Today, amid the coronavirus effect, telemedicine services are on the rise and countries impacted by COVID-19 are making the most of it. Here is an example of how China and the United States are making practical and effective use of telemedicine services.
China: When China faced the coronavirus outbreak, the Chinese telemedicine services, such as Ali Health, WeDoctor, JD Health quickly launched online coronavirus clinics to triage and treat patients suffering from COVID-19. JD Health is conducting around 2 million online consultations per month, which is tenfold since the outbreak. With telehealth platforms, China has assured that people get much needed medical aid, without having to travel, which reduces the risk of exposure and spread.
The United States: U.S. based telemedicine services such as Teadoc, Buoy, Amwell etc. have been doing their best to provide medical consultation to the patients amid COVID-19 outbreak. In fact, President Trump has announced the expansion of Medicare telehealth coverage to allow providers to virtually visit with Medicare beneficiaries amid the COVID-19 pandemic.
The way countries affected by COVID-19 are leveraging telemedicine services, remote care services can be a supplement to the already burdened healthcare system. By isolating patients at home, they can be prevented from further infection spread, while basic healthcare services like monitoring, follow-up, consultation, prescription renewal, etc. can be done virtually.
ALSO READ: 7 Industries most Affected by Coronavirus (COVID-19)
Three Types of Telemedicine Services that can be Leveraged during COVID-19
Store-and-Forward Telemedicine: Also known as asynchronous telemedicine, its a method of care delivery that enables the healthcare providers to share patient's medical information like imaging studies, videos, lab reports, or other records with physicians, radiologists, or specialists remotely. For this, specialized solutions are being used that ensures the confidentiality of the patient's data. This is an efficient way for care providers and specialists to collaborate, despite being available at different geolocations. This way, patients can have care delivered to them through a care team that's not bound geographically.
Remote Patient Monitoring: Also known as telemonitoring, it allows a healthcare professional to track a patient's vital signs and health status, remotely. This type of monitoring can be done for patients with chronic conditions such as diabetes, heart-related issues. Doctors can regularly check the patients' vitals and suggest medication, living habits accordingly.
Real-Time Telemedicine: Virtual care through communication channels such as audio/video calls exemplifies real-time telemedicine. This is one of the efficient ways to overcome the problem of uneven distribution of clinicians. Virtual visits leverage technology to book appointments, manage them, connect patient-doctor, enables long-term communication between them etc.
ALSO READ: The Rise of On-Demand Virtual Visits in Healthcare
Telemedicine Software Development: Getting Started
We discussed the advantages of telemedicine and the different ways this service can be executed. Certainly, telemedicine can give the much-needed boost to the healthcare system of any country during this COVID-19 spread situation.
If you think a telemedicine solution can be a help to your healthcare system, then get a quick solution developed as per the requirement of your care system. To know how to get started and discuss timeline, connect with our health tech experts through our 30-minute free consultation program.
We have suggested areas where medical practice owners can maximize their existing investments to expand their patient base. Click Here to download the eBook for FREE.