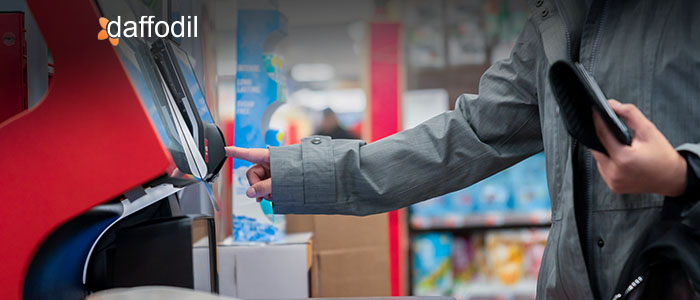 Post-pandemic, the retail sector has witnessed several transformations in the way it works, but the biggest paradigm shift has been the increased adoption of self-checkout systems. These systems give retailers the option of saving costs while enhancing the customer experience so that in-store resources can be better allocated.
The previous two years witnessed an unprecedented acceleration in the retail sector shifting to contactless Point of Sale (POS) solutions. As any business dealing with the sale of consumer goods and durables gets bigger, it must invest in expansion measures such as more checkout counters and employing more cashiers.
That is exactly where self-checkout comes in providing storefront establishments with a cost-effective technological integration alternative. Further ahead, we will discuss the various areas of the retail experience that improve with self-service checkout systems, the core elements of such a system, and how POS systems can enable self-checkout with low-code upgrades.
What Is A Self-Checkout System?
Self-checkouts or self-service checkouts are systems that enable retail customers to autonomously complete payments for the products that they purchase at storefront establishments.
These days, the self-checkout feature is retrofitted into the existing POS mechanism of retail outlets and supermarkets through a low-code OS integration. The customers can then use the machine with the self-checkout feature to scan a barcode on the product they've purchased and complete the payment with a credit or debit card or a payment app.
Customer Success Story: How Daffodil enabled a POS solutions provider improve their customer experience with a state-of-the-art mobile application
What Are The Types Of Self-Checkout Systems?
Based on the technology and particular hardware used, the self-checkout approach can be one of the following:
1)Self-Checkout Hardware Units: Standalone self-checkout units have been a mainstay of several leading retail giants such as Walmart, Target, and so on for years. While the initial years of this machine's introduction were met with discontent from their customers, lately the sentiment has been changing. A SOTI customer survey revealed in 2019 that 73 percent of participants were in favor of self-service technologies that could improve their overall retail experience.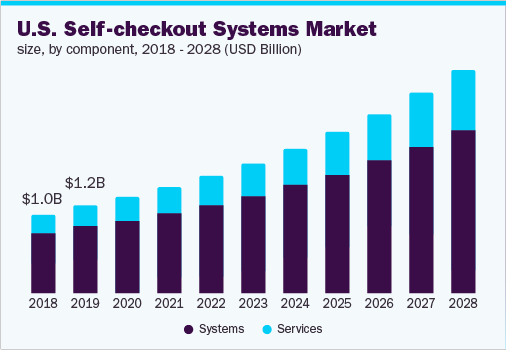 Source: GrandView Research
2)RFID-based Checkout Machine: RFID, or radio frequency identification-based checkout systems need the retailer to first label all their products with RFID tags. This allows customers to get the bill for the products created just by placing all of them together under the scanner at the same time. Then it's a simple process of checking the price on the display and paying it out, all done within 30 seconds.
3)Wireless Barcode Scanner: A 2D barcode scanner gun is a wireless device that can be carried out across the store and aimed at the barcode on the product to instantly get a tallied bill produced. Due to the security risks involved with an unattached device, the retailers who adopt this technology are few and far between.
Benefits Of Self-Checkout Systems
There are a variety of reasons why the retail sector is advancing towards a trend that favors dedicated self-checkout systems. Moreover, the customer experience is also enhanced in most cases, as long as the customer is at least savvy with basic mobile applications. The many time, cost, and workflow-related benefits of self-checkout systems are as follows:
1)Increased Store Capacity: Far different from a traditional till a self-checkout system takes up far less space while being able to service a larger number of customers. With more space for display, the retail chains have the luxury of presenting their best products for targeted marketing of the products they want in the forefront, further boosting their bottom line.
2)Enhanced Customer Experience: Self-checkout systems give customers more control of their buying experience so that they are empowered to buy more in the future. This spells good news for both retail outlets as well innovators in the business of developing self-checkout low-code integrations.
3)Staff Productivity: It does not require a lot of manpower to manage self-checkout machines, as one employee can be assigned several such machines to oversee simultaneously. Meanwhile, the rest of the staff can be focused on providing personalized experiences to customers, curation, and inventory.
4)Expedited Billing And Checkout: Self-checkout systems facilitate faster checkouts with barcode and RFID-based expedited processing. Retailers can facilitate lower delay times and a better time-to-resolution for customer queries related to the payment process.
The Self-Checkout Lifecycle
With a low code integration, a self-checkout system can be built into an enterprise's existing payment processing infrastructure. There are a number of tech startups that specialize in building hosted payment pages that accept one-time payments and subscriptions. The lifecycle of such a self-checkout software has the following steps:
At the time that a customer is directed to the purchase page or is at a payment gateway, a new checkout session is created. A checkout session is basically a representation of the underlying programming of a payment page. While programming the payments page, the option to add ancillary enablements such as discounts, shipping costs, and making adjustable line quantities.
Once the overall billing inclusions are factored in, the checkout sessions page takes the user to a hosted payment page where a link is provided for this purpose. The payment page collects all the necessary details such as tax IDs, pricing table dynamics, subscription upsells, and all other necessary additives.
The customer then enters the card or whichever payment details there are to finally complete the transaction. There are built-in features in this module for the

CAPTCHAs

, PCI compliance, card validation, and also various other customizable features to modularize this stage.
At the end of the transaction a webhook, a lightweight API that facilitates unidirectional data sharing, fulfills the order using the specific checkout event link.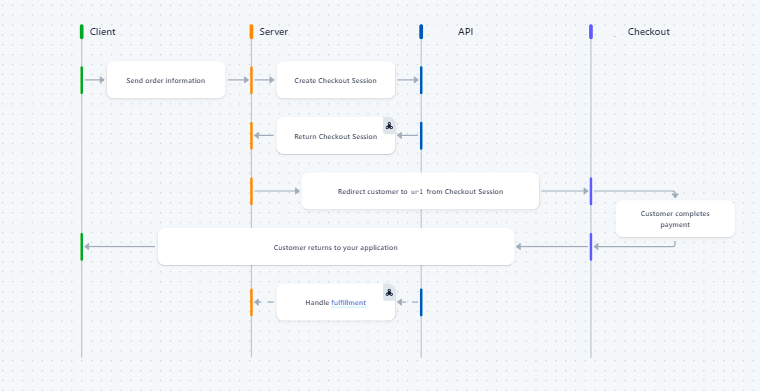 ALSO READ: Benefits of Building a Smart POS System for your Restaurant
Expedite Payments With Self-Checkout In Your Merchant Systems
Enabling self-checkout in retail merchant systems opens up a wide range of methods to expedite the payment process and improve the in-store customer experience. There are fewer losses, in-store productivity quadruples with every self-checkout machine installed, and more productive delegation of staff members.
With an efficient self-checkout solution with accurate product recognition and fast billing and discount inclusion features, retailers can facilitate a faster checkout process and consequently higher footfalls. If you are on the lookout for payment processing solutions for your digital merchant systems, you can discover Daffodil's FinTech Solutions. To know more about how you can maximize ROI with affordable technology solutions in finance, book a free consultation with us today.