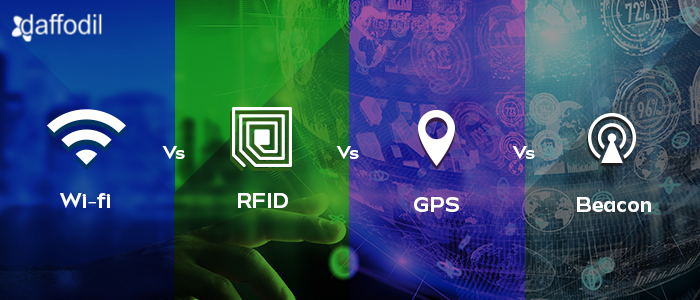 Virtual reality devices, AI assistants, multi-lingual translators, wearables, location-based services. A decade back, these technologies were something out of a sci-fi movie. But today, they are a reality and businesses are making the most of it to offer exceptional experiences to customers.
Location-based services (LBS) that utilizes the nearby or precise location of the users is one of the most widely accepted ways to offer a personalized experience, for real-time tracking and management. For this, a variety of technologies are being utilized that helps in identifying and tracking locations. Here, we are enlisting four of those popular technologies, their use cases, and major differences between them.
Wi-Fi:
Wi-Fi network is one of the sought-after choices of marketers to catch up with the prospects and convert them into their regular customers. Think of it- you own a restaurant. One of your customers visits you for the second time in a month. Your WiFi network detects his presence (as he connected with your Wi-Fi network on his first visit to the restaurant). Your network automatically sends an alert to the customers' phone, offering him a 30% discount for dinner. This not only makes him happy but increases the likelihood of him returning back to the restaurant. Some of the interesting ways marketers can utilize Wi-Fi networks include:
Helps to send automated emails and text messages to the customers
Send Facebook or Google Ads to users who connected to the WiFi
Send them a message, asking them to share feedback, once they leave the network
Send push notifications when they are nearby the network or competitor's store
Benefits:
Businesses can use Wifi in their brick-and-mortar stores to keep their customers engaged and reconnect with them whenever they are around.


Connecting within the network does not require any mobile app which makes it one of the cost-effective options to connect with the customers.


Area Coverage: Within a Wi-Fi network. The range of network can vary.
Industry Use Cases: Brick and Mortar Stores (any industry)
RFID:
Radio Frequency Identification (RFID) is a notification based tracking system. It utilizes RFID tags or smart labels to store digital data that can be read through RFID readers. RDFID belongs to the group of technologies called Automatic Identification and Data Capture (AIDC), which is one of the popular methods for automatic identification of objects and then collects data about them to enter it directly to the systems, without any human intervention. Just consider this. You have a huge inventory with thousands of products in it. All of these items have an RFID tag on it. As you need to update the inventory items, you use the RFID scanner to check the location of items, their numbers, availability, and all of this gets automatically updated in your system.
Benefits:
Inventory management
Asset tracking
Personnel tracking
Controlling access to restricted areas
ID Badging
Supply chain management
Counterfeit prevention
Area Coverage: Near to the RFID tags (or smart labels)
Industry Use Cases: Retail, Healthcare, Education, Security
GPS:
Global Positioning System (GPS) is used for location surveillance to track the location of an entity or an object, remotely. It pinpoints longitude, latitude, ground speed, and course of direction for real-time tracking. Think of it- You have a transport business. The drivers travel miles for consignment delivery and with a GPS system installed within their vehicle, you are able to track the real-time location of them, ensuring on-time delivery of consignment.
Benefits:
Helps to ensure security and on-time movement of vehicles
Tracks vehicles in real-time with an unlimited range
Area Coverage: Macro-location tracking. Suitable for real-time tracking.
Industry Use Cases: Logistics, Security
Beacon:
Beacons utilize the Bluetooth technology to set a connection between the businesses are users. The use cases of beacons would be similar to that of a WiFi network with the difference in how the mobile devices connect. Beacons are small hardware that connects with Bluetooth of mobile phones. By placing beacons around the stores, businesses can gather detailed information about customers' movement, in order to optimize the in-store experience and create personalized marketing campaigns for them.
Benefits:
Most of the modern smartphones support beacon technology. Therefore, setting a connection with users within a store's vicinity is possible.


Beacons can also be used for inventory management and asset tracking in retail
Area Coverage: Beacons are accurate up to 450 meters
Industry Use Cases: Brick and Mortar Stores (any industry)
Wi-Fi vs RFID vs GPS vs Beacon: Which one Works Best for your Business?
All four technologies- WiFi, RFID, GPS, and beacons have their own set of advantages for businesses as long as location-based services are concerned. However, depending upon business requirements, any of them can be deployed to connect with the customers, track assets, manage entities, and more. To know which one would be more suitable for your business, share your requirements with our business experts through a 30-minute free consultation session. Our team will understand your business goals and suggest you the best technology, accordingly.