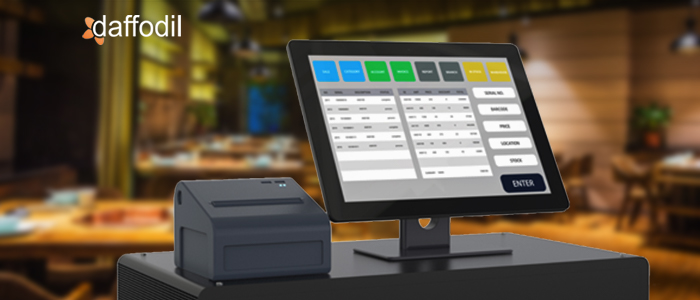 Where there is a necessity, there is an invention. When the F&B (food and beverages) industry saw a downfall, it looked out for ways to rise above the COVID-19 pandemic. Some of the innovative concepts such as contactless dining, DIY meal kits, cloud kitchen, etc. have been enabling F&B players to sustain their business & recover losses.
Amid the tough times, businesses realized the importance of digitization and the use of modern technologies to keep going. Offline F&B businesses such as restaurants adopted digital platforms to keep serving their customers and automate their operations.
If you run a restaurant or a chain of restaurants, then end-to-end management of restaurant (s) digitally cannot be executed without a smart Point of Sale (POS) system. In this article, we will discuss the benefits of a restaurant POS and how to build one for your business.
What is a Restaurant Point of Sale (POS)?
A restaurant POS (Point of Sale) is a software application that processes transactions happening at a restaurant. In a traditional POS system, the restaurants were only able to process bills and generate receipts. However, with the advent of modern technologies and restaurants scaling at a large level, POS are modernized to do more than just payment processing.
The POS became a restaurant management system and it helped in stock & inventory management, customer relationship management, smart reporting & analytics, and more. The automation that POS brought to the restaurants reduced manual labor and simplified the operations cycle. Moreover, with third-party integrations, POS could do various customer-centric jobs such as table reservations, online ordering, adding e-wallets for payments, loyalty programs, etc.
This is a quick view of what potential does a restaurant POS holds. Now, let's try to understand the benefits of it in detail.
Stock and Inventory Management


For a restaurant kitchen to work seamlessly, it is important to maintain the inventory and its stock. A restaurant POS ensures that the stock in the inventory is not over-loaded nor it goes out-of-stock. When developing a custom Point of Sale system for your restaurant, make it a point to see if it allows you to manage the inventory.
A smart POS, having an inventory management system sends an alert whenever an item needs to be reordered. This maintains a track that an item never goes out of stock in the kitchen, which saves a restaurant from committing various inventory management mistakes, unknowingly. For example, when humans are aligned to manage a restaurant inventory, there are chances of error in tracking the essentials, which could ultimately cost the bad reputation of the restaurant or dissatisfaction of a diner.
Such tracking helps to avoid wastage of raw material and food items on a daily basis. Since there are numbers to keep the restaurants informed about availability or shortage of stock, it is possible to limit stocking of items that are least utilized (according to the recipes ordered) or increase the items that are high in demand.
In fact, if there are multiple outlets but there is a single base kitchen, then a POS allows to manage the circulation of both semi-processed items and raw materials through a central kitchen module.
Improved Customer Relationship Management


For any business to grow, maintaining a strong customer relationship is a necessity. A smart restaurant POS will help you stay connected with your customers and build a relationship with them in a number of ways. For example,
A restaurant POS is a space where you can centrally manage the customer database. It lets you know about your customers on the basis of geography, ordering behavior, age, etc. so that you can create offers, discounts, custom menus to serve them better. This customer database can further be used for running loyalty programs, marketing emails, and messages to inform them about new time launches in the menu, deals for the day, opening & closure updates, etc.
Improved Billing Operations


Billing is one of the key components of a POS. With a smart POS, there is an option to improve the billing process. For example, if there is a contactless dining experience, multiple payment gateways can be included in an app to ensure customers have a seamless payment experience. Then, you can include the option to split the bills, if that's demanded by the diners.
Restaurant Chain Management


There are different ways in which a restaurant can expand its business. Maybe, they used to operate offline and now have started taking online orders (in situations like COVID pandemic). Or probably, it became so popular that they opened new restaurants at different locations.
In scenarios like this, a restaurant POS can be a help. It helps to keep all the restaurants in sync, enabling owners to check the sales account of all the outlets, get real-time reports of all the outlets, etc.
Moreover, the orders that come from delivery platforms can be added directly to the POS. This eliminates the need to sync the online and offline orders manually.
Safeguard System from Internal Thefts


With POS, every piece of information is present with data. There is data for stock availability, the number of bills or sales generated, etc. This gives the business owners a birds-eye view of what's happening in the restaurant, thereby reducing the chances of internal theft by the staff.
Restaurant Point of Sale (POS): Build or Buy?
Now that you know the benefits of a restaurant POS, the next step is to get started with it. There are two options to have a POS for your restaurant- either build it or buy it.
There is one simple rule to the selection of a POS system- If you have specific requirements and can't compromise with usability and feature set, then go for a custom restaurant POS. On the contrary, buying from a third party is a convenient decision.
We have this article for you that discusses the scenarios when a business should build a software solution and when they should buy it. You might find this helpful. Check out if you should build or buy a software solution.
However, if you're in doubt about what to do and how to do it, then expert help is available to you. Our free consultation service is made to guide you through the choice of development and feature set for your restaurant POS.