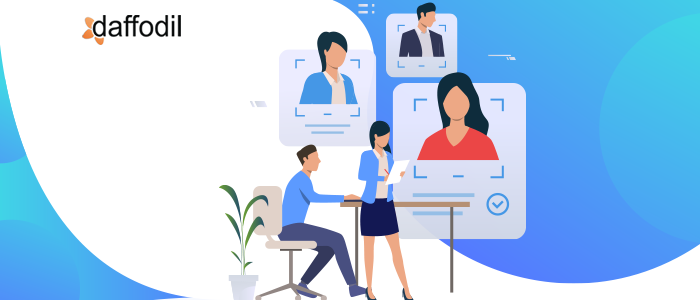 When you encounter the term Human Capital Management (HCM) you probably think it is just another offshoot of HR software but HCM has a gamut of advantages that makes it a must for your organization.
So, what is HCM exactly?
According to Gartner, Human Capital Management (HCM) is the implementation of people resource management practices for efficient workforce acquisition, management, and optimization.
Simply put, an HCM helps you manage the human capital of your organization with effective employment. How though? By providing tools for applicant tracking, hiring, running background verification, employee development – leading to an optimal recruiting process – making the HR department more productive.
Why is Human Capital Management important?
So, you have a fair idea of what Human Capital Management is. But why do you need it? What does it do for your organization? How can you reap the most out of HCM?
Here are a few common benefits of HCM
Recruitment & Onboarding: The foremost feature of Human Capital Management software, this one makes hunting for talent easier. You or your team can use auto-generated job descriptions, and smoothly shortlist candidates for further rounds. Post the hiring, the employee onboarding is a breeze too.
Compensation Planning: Another key HCM component: compensation management displays salary breakup, benefits, and more to all employees. This feature can help you strategize the incentives for future compensation.
Workforce Management: Manage and plan your workforce so that it aligns with your business goals. Head of departments can realign their workforce requirement to suit the changing business needs.
Performance Management: Automating feedback, analysis of employee performance, storing reviews and ratings, Performance Management simplifies the tasks of both the HR team and department managers.
Skills & Development: A well-rounded HCM software offers learning and development for your employees. Your employees can either choose the training themselves or ask their managers to guide them into picking a course to improve their performance.
Also Read: How a cloud-based HCM software can boost the operational efficiency of your HR department
So, is there a difference between HCM & HRM?
Yes, there is. While the two acronyms may sound similar, there's a clear distinction between them. Let's clarify the same for you. Both Human Resource Management (HRM) and Human Capital Management (HCM) are used for the same task – simplifying Human Resource operations.
While HRM takes care of fundamental HR processes, the HCM combines strategic business goals of your organization through workforce activity.
Human Capital Management Vs Human Resource Management
Human Capital Management: A HCM includes all the functionalities of a Human Resource Information System (HRIS) such as recruiting, training, workflow, reporting. Apart from these, HCM has additional features namely: onboarding, performance management, salary, talent management, analytics, and more.
Human Resource Management: An HRM usually consists of functional elements and capabilities of both HRIS and HCM. Since the HRM system caters to a large employee size, and scale, it's not common for many HRMS to provide talent management.
How can organizations get the most out of an HCM solution?
For an enhanced HCM, companies can organize more training sessions for employees, and have set roles for each employee to track the performance better. Regular analysis of employee performance is important to encourage them to dispense their duties better. A few more tips and strategies for an optimal HCM solution:
-Invest more time in Talent Management to retain your best employees.
-Emphasize on skill development. Arrange for regular employee training sessions.
-Use analytics and automation to increase productivity.
Also Read: Why do you need cloud-based HRIS for your organization?
Future of Human Capital Management
HCM aided by Machine Learning (ML) will help HR practices to be more efficient and effective.
Ever-evolving ML algorithms help find better talent by targeted advertisement and social media. These tools can also help automate preliminary screening to spend more time with promising candidates. AI tools can also be used for analyzing potential hires' online presence to make informed hiring decisions.
Natural Language Processing (NLP) will help gain better insights from employee feedback and surveys resulting in better policies.
Like in every industry that is being disrupted by AI, concerns arise about losing human touch in HR. But this is unfounded because AI would not only assist HR professionals to make better decisions, it would also free up their time so that they can utilize their bandwidth optimally.
Takeaway
We know as an organization, it might be sometimes daunting to settle for the right HR software. Ultimately you need a solution that focuses on your people. We are here to help you achieve your vision, whether it is streamlining day-to-day HR processes or something bigger. Whatever the scope or size of your requirement might be, our development team is right here to make it happen for you! Contact our experts today for the right solution for your business.