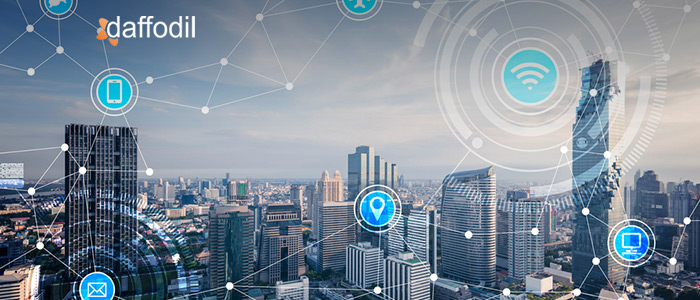 Smart homes, wearables, automated cars are some of the popular concepts that introduced the world with the IoT technology and its potential applications. The continued growth of this technology and its use case realization has created a global IoT market of $389 billion, which is forecasted to reach $1 trillion in 2030 (according to Statista).
Edewede Oriwoh, an IoT researcher defines IoT technology and says: "The Internet of Things is not a concept; it is a network, the true technology-enabled Network of all networks." It's the inter-networking of physical devices, connected devices, smart devices, and devices that are embedded with software sensors, electronics, actuators, etc. This network connectivity allows the devices to communicate with each other, collect and exchange data.
IoT allows the physical world to be integrated into computer-based systems, which, in turn, helps to improve the efficiency of the systems and reduces human intervention.
What's more special about this modern technology is its collaboration with Artificial Intelligence (AI). The IoT data when combined with AI models, outcome is an automated system that is equally efficient to humans. The power that IoT delivers individually and in collaboration with other broadly applicable advances is helping to shape the future of several businesses.
IoT technology is ubiquitous. Almost every industry is making the most of it for one reason or the other. Healthcare (health & wellness monitoring), Transportation (shipment & logistics tracking), Hospitality (voice assistants) (human-machine communication), Retail (inventory management) are some of the industries that are utilizing IoT to improve their operations, automate processes, augment customer experience, and improve efficiency.
In the upcoming segment, we will discuss the state of IoT (with examples) and how industries are adopting it. From businesses to daily routines, let's find out how this technology is bringing change for the good.
The State of IoT in Retail
The global market size for the Internet of Things is expected to reach $182.04 billion by 2028 (according to a report by Grand View Research). Some of the reasons that contribute to this growth include the customer demand for a seamless shopping experience and reduced cost for IoT hardware and sensors, etc.
The retail sector is utilizing IoT for personalized marketing & content delivery, warehouse & inventory management, in-store buyer behavior tracking, shipment tracking devices, etc. Let's talk about them in detail.
Customer Experience Personalization
The IoT technology promotes a connection between the brand and its customers. For example, retailers can improve customer experience and conversion using beacons. Brands or retail stores can attract passersby to visit their stores by sending IoT-enabled notifications to their smartphones.
Also, the data received from IoT devices can lay down the basis for microtargeting. This helps marketers to make informed and cost-effective decisions about advertising.
Supply Chain Optimization
IoT sensors help in monitoring goods throughout the supply chain. Location, humidity, tilt & shock, temperature, speed, driving behaviors, etc. are some of the factors that IoT sensors help to track. These factors help the supply chain team determine if the materials are safe, timely delivered, and are transported to the destination in ideal conditions. The insights generated from this data help to make transport logistics more efficient, reduce product damage and avoid loss.
Warehouse and Inventory Management
For warehouses, IoT devices can help to increase order processing speed, reduce manual labor & errors, and improve the overall efficiency of operations. IoT sensors can be installed to monitor goods movement, transmit real-time inventory information from shelves, assess employee efficiency, and more.
The State of IoT in Healthcare
During the COVID-19 pandemic, the global healthcare IoT market experienced a significant growth of 24% in 2020, which is projected to grow to $89 billion in 2021 and $446 billion in 2028.
In the healthcare industry, IoT is advantageous for patients, physicians, healthcare organizations, and insurance companies. Some of the beneficial opportunities that IoT brings for the healthcare sector include building IoT-enabled virtual wards/hospitals, early detection of disease, adherence to the treatment plans, geriatric care, etc.
READ MORE: The Role of IoT in Healthcare (With Examples)
The State of IoT in hospitality
IoT in hospitality means creating a network of digital devices connected through the internet. Such a system helps in augmenting the guest experience and optimizing expenses.
Hotels are following the 'connected room' concept where the guests can control the features of their rooms from mobile phones or provided tablets. This allows the guests to control the room's air conditioning system, ventilation, help guests to connect for room service, etc. One of the sought-after examples of IoT for hospitality is the use of Alexa skills for enhancing the guest experience.
Alexa skill development (for Alexa App Development) helps to automate several operations in the hospitality industry that would otherwise require repetitive human effort. You can check out this blog post below to figure out how this voice assistant technology is innovating the way hoteliers improve the guest experience.
ALSO READ: Amazon Alexa: The New Game Changer in Hospitality Industry
Maintenance is where the hotels spend a lot. IoT sensors can help to reduce this expenditure in numerous ways. Sensors can detect problem areas in the hotels and notify them about it. For example, there can be faulty lights in the room. The sensors can notify the responsible team for fixes so that the guests never have inconvenient experiences.
The State of IoT in Finance
The global IoT in the BFSI market is expected to grow from USD 249.4 million in 2018 to USD 2,030 million by 2023 (according to markets & markets).
Personalized Customer Experience
IoT devices are a great source to gather data about clients and customers. The same can be utilized to make predictions about their investment potential, their needs & requirements. These real-time insights then help financial organizations such as banks, insurance, brokerage firms to understand their customers and share personalized deals and solutions.
Enhanced Security of Transactions
The data collected from IoT devices can be utilized by Artificial Intelligence systems to improve the security of transactions. By creating AI models with IoT data, a predictive solution can be created that helps to avoid unauthorized transactions.
IoT can Revolutionize your Business too!
The Internet of Things brings numerous opportunities for businesses. If you are keen to know how this technology can be advantageous to your business, our IoT experts can help you. All you need to do is schedule a free consultation with them that allows you to get all your queries answered (related to your business and technology).
Also, if you're already aware of the potential use cases of IoT for your business, then you must check out our IoT development services.