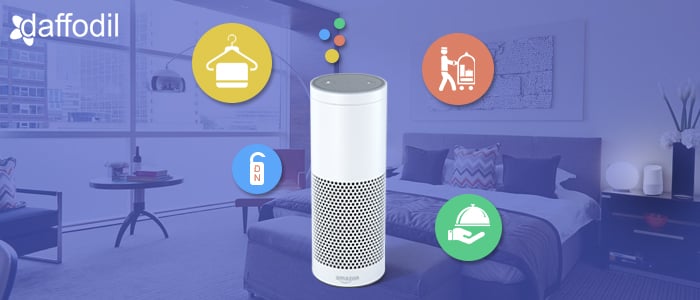 In this digital age, businesses cannot do without technology. Almost every industry, including hospitality, is leveraging the best of technology to attract, engage, and retain customers.
With escalating expectations of guests, it is imperative for hoteliers to invest in a wide range of solutions that can offer an enhanced experience to their guests. The introduction of voice user interface technologies, such as Alexa, Siri, Cortana is transforming the way the hospitality industry make the stay convenient and delighted for guests.
Considering the impact that technology, especially voice UI can have on the hotels, hospitality locations, Amazon has introduced Alexa for Hospitality. It's a special version of Alexa, which integrates with popular hotel software systems for guest. Alexa connects with hardware and software to perform certain tasks through apps, called the Alexa Skills.
Alexa for hospitality works with Amazon Echo, Echo dot, and Echo Plus devices that are installed in hotel rooms. Guests can use this to request housekeeping or room service or play music on iHeartRadio, control devices the room-lights, TV, thermostat etc.
Not just the guests, but Alexa for hospitality can improve efficiency in operations for the staff. The upcoming segment discusses the possible use cases of Alexa for guests and hotel staff.
Alexa for Hospitality to Improve Hotel Services
With Alexa skills, hoteliers can refine operations and services, making it easier for guests to access the facilities available. For example:
Alexa can help the hotel staff communicate with the guests. It allows transferring the requests from guests to the staff, making them more responsive towards the service. Also, as the routine tasks are routed properly, the staff can focus on in-person interaction with the guests that matter the most.

Alexa for hospitality can enable guests to control room environment with speech. Adjusting room temperature, contacting staff, requesting room service etc. can be done, without getting out of the bed.
Alexa for Hospitality to Enhance Guest Experience
By building Alexa skills for guests, hoteliers can offer unique experiences, services, and convenience. Here are a few examples, how.
Alexa Echo devices can welcome guests, hen the staff members fail to do so, personally. As the guests enter the room, Echo can welcome guests with a personalized message.

Alexa skill development allows hoteliers to update guests about offers and services in real-time. Alexa powered voice services can provide offers and suggestions to the guests, making their stay more delightful. This, in a way, encourages guests to revisit the hotel for their warm ambiance and services.
Considering the benefits that Alexa for hospitality brings in, a number of resorts, hotels, and hospitality locations are investing in this voice-powered technology to wow their guests. Some of the popular names include:
Marriott Hotels, world's largest hotel chain has integrated Alexa skills with Amazon Echo devices Aloft hotels. Guests are therefore allowed to turn off/on the lights, control room temperature, close drapes etc.
Wynn Resorts in Las Vegas has empowered its 4700 rooms with Amazon Alexa that facilitates guests to control room temperature, TVs, lights etc.
Want Alexa-Powered Rooms in your Hotel?
Alexa for hospitality brings in a lot of opportunities for hotels. Depending on the services to be rendered to the guests, Alexa Skills can be developed. If you are planning to empower your hotel rooms with Alexa, download this eBook now to explore the Alexa skills development capabilities.