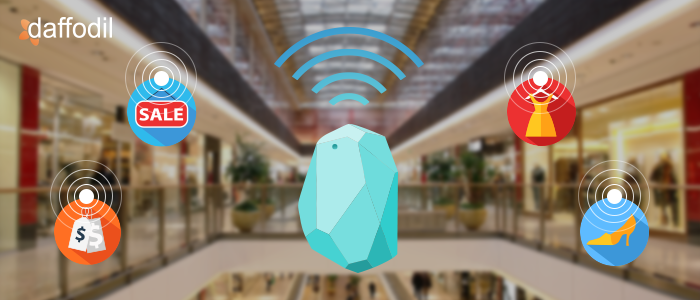 Location is the next big thing on mobile. Walmart, McDonald's, Macy, Red Bull, Eat, Urban Outfitters, and many other successful brands are realizing the opportunities that location-based marketing brings in and are cash in on it.
One of the most sought after technologies that is gaining grounds for proximity marketing these days is Bluetooth beacon.
A beacon is a small hardware device that transmits Bluetooth Low Energy (BLE) signals. Digital devices that are enabled with Bluetooth, such as smartphones scan these signals and display them in the form of a message. This technology is thus used for sending discounts, promotions, reminders, upcoming events, and more to the customers when they are in-store.
In this post, we will take a view on proximity marketing using beacons and different ways retail businesses are making the most of this technology to enhance customer experience and improve conversions. So, let's get started.
Innovative Use Cases of Beacon in Retail
Track In-Store Movement of Customer
Imagine this. You went to a hypermarket. As you move from the grocery section to apparel, you received a discount coupon for winter wear. While you just came with the objective to buy groceries, a 50% discount on winter wear was irresistible. This is the power that a beacon can bring to a brick and mortar store.
Macy, America's leading department chain for fashion clothing and accessories uses the beacon to recognize the area of the store that a customer is in. If the customer is in the plus-size section, the app reminds the customers of all plus-sized clothing that they liked online. This can help customers persuade the purchase.
Navigate Customers to the Store
One of the major challenges that customers confront with large stores is navigation. With beacon technology, customers can be provided indoor mapping aid, which ultimately allows customers to find what they are looking for.
Target, one of the biggest retailers in the United States enables its customers to create a list of items that they want to shop and then help them navigate to the specific product by using beacon technology in the backend. Thus, as the customers move, they can identify if they are moving closer or farther from the product that they want.
Send Coupons and Discounts to Customers
The most common and popular use case of beacons is pushing notifications in real-time. Notifying customers about best deals, discounts, or coupons ensures a better conversion rate.
Walmart partnered with GE to place beacons inside LED light bulbs in stores and parking lots. By tracking customers, Walmart can send personalized push notifications and discounts to in-store customers. Such use-cases of beacons are not limited to hypermarkets various restaurants, bars, cafes, and event-based businesses utilize this technology to improve their conversion rate.
Engage Customers with Loyalty Programs
Not just direct marketing tactics with discount coupons, beacons help brands to keep the shoppers engaged with loyalty programs.
Urban Outfitters, a multinational fashion retail brand is using beacons for customer engagement. Shoppers that have the retailer's app on their smartphone get a push notification that prompts them to check-in via social media to unlock an offer. Also, shoppers in the fitting rooms are shown user-generated content about products. They are prompted to take selfies and post them on Instagram with hashtags for a chance to be featured on Urban Outfitters' website. The shopper's data collected can further be used in social media marketing campaigns.
Proximity Marketing with Beacon: Benefits to Retail
Beacons have a number of benefits over other technologies used for proximity marketing. For example, Beacons support quick conversions by connecting with them when they are in-store or near to the product for which some amazing discount or coupon is sent. Moreover, beacons encourage personalized marketing- offering benefits according to shopper's interests at a point in time.
In the segment above, we had a look at some of the interesting ways retailers are utilizing beacons. If you're planning to get started with proximity marketing using beacons, then one of the basic requisites for it to have an app that acts as an interface for interaction between the beacon and the shopper.
Beacon app development is what your business needs to get started with proximity marketing.
Need help to create a beacon compatible app from the scratch or to upgrade it? Schedule a free consultation session with our experts now.