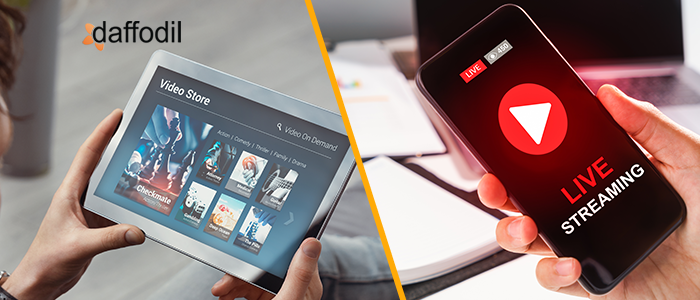 Online videos are a go-to source for entertainment, inspiration, education, information, and a lot more. With videos gaining ground, different platforms to stream videos are brought to market to reach the viewers. Video-on-Demand (VoD) and Live Streaming apps are two of them.
While both platforms are responsible for streaming video content, there is a thin line between the two. In our previous article, we discussed the differences between VOD and Live streaming platforms. Depending on the type of business you have and customer demographics, any of the platforms can be chosen to engage them.
But, how to make a choice between the two. The later segment might help you out in making that decision.
VoD or Live Streaming: What works best for your Business?
Let's consider some of the businesses that cannot go with videos at this time and try to understand what works best for them.
NEWS Media: The NEWS industry is utilizing over-the-top (OTT) mediums to reach out to their audiences. To ensure their omnichannel presence, they have their dedicated mobile apps, TV apps, and web apps so that the viewers do not miss out on any current affairs.
In such industries, videos are usually streamed live, i.e. News that's broadcasted through cables/satellite is also available on OTT platforms at the same time.
Then there are NEWS recaps, special coverages, and discussions on social/political topics that viewers want to watch on-demand. In that case, the videos need to be available on the platforms so that viewers can watch them at their own convenience.
Considering both the situations, the NEWS media definitely needs an amalgamation of VoD and live streaming services when the requirement is to broadcast their video content through the internet.
Sports: Similar to the NEWS media, the sports industry has a high reliance on video content. When broadcasting content through the internet, the sports industry needs both live streaming and VoD platform for the viewers.
Live streaming so that they can broadcast the matches/games/events live on mobile/web/TV apps and VoD so that the viewers can watch the same content at their own time and convenience.
Let's take the example of the ESPN+ app here. The app streams live sports and offer game replays, video highlights, news, expert analysis, and other shows from the ESPN network. So the ESPN+ app is an ideal example of VoD and live streaming services working in collaboration.
Conferences: In this case, the platform, VoD, or live streaming depends upon the type of business. Consider a platform like TED. It shares influential videos from expert speakers in different domains and the viewers can access them on-demand. For a solution like TED, a VoD platform is enough as viewers watch the videos at their own convenience. There is no live streaming involved in TED.
On the other hand, consider tech conferences. They are organized to share updates, new technologies, and business plans for the well-being of the customer. When these conferences take place, the companies go live to make announcements and ensure that their message reaches out to the masses. Once the conference is held, the video excerpts of the conferences are available for the viewers to access the content on-demand. For businesses like these, live streaming and VoD platforms work hand in hand.
eLearning: Amid the COVID-19 outbreak, eLearning is one area that has gained huge importance. Schools ensure that students and teachers connect through webinars so that there is no gap in the annual syllabi. At a time, a teacher is able to address a group of students and that's possible because of the live streaming facilities. Apart from this, the teachers can record webinars so that the students can access them, whenever required. Both VoD and live streaming are playing an important role here.
The above four are the examples of industries/businesses that need both Video-on-Demand and Live Streaming apps to reach out to their targeted viewers. Now, let's talk about businesses that cannot go without VoD (and where live streaming is optional).
TV Shows and Movies: A number of OTT platforms that stream TV shows and movies are counted amongst VoD apps. The video content on these apps does not require live streaming and thus a VoD platform is enough. Some of the popular examples of such platforms are NetFlix and Hulu.
Similarly, other businesses, those based on tutorials such as cooking tutorials, fitness tutorials, dance tutorials, etc. can survive on VoD, on the note that the hosts don't want to have a one-o-one connection with the viewers' and respond to them live.
ALSO READ: The Rise of Over-the-Top (OTT) Apps during COVID-19 Outbreak
VoD or Live Streaming: Deciding Factors
A Video-on-Demand service lays down the basis for video content streaming for any business. A live streaming service usually helps to augment the experience.
Another factor that contributes to decision making includes the monetization model. If your video streaming services plan to monetize through videos, then a VoD platform is ideal in that situation.
Deciding between the streaming platform needs a thorough analysis of a business and its requirements. Our business analysts at Daffodil has helped hundreds of businesses to realize their requirements and proceed with over-the-top app development.
To know what works best for your business and how to proceed with business idea execution, schedule a 30-minute free consultation with our experts through a no-obligation 30-minute free consultation. By the end of this consultation, you will be able to:
Choose between the video streaming platforms
Get a ballpark estimate and timeframe for time-to-market
Validation and scope of the product idea