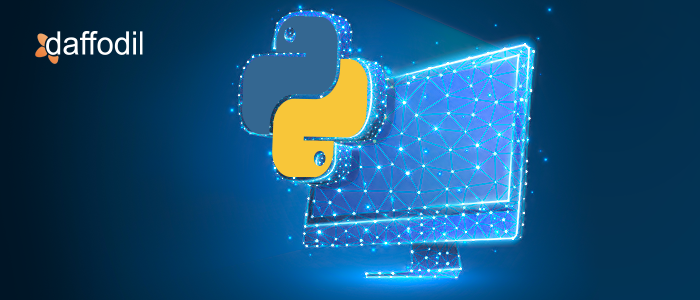 Python has evolved as one of the most versatile programming languages. Introduced in the year 1991, it has become one of the favourite programming languages for developers, startups, and some of the giant tech brands for several reasons. There are thousands of applications built using this server-side programming language.
What makes this programming language so efficient and adaptable? Well, Python is more than just a server-side programming language. Along with web development, there are several areas where Python is being used. Game development, desktop GUI, audio & video applications, machine learning, artificial intelligence, data science & data visualization are some of the areas where Python is being used as a core programming language.
In this article, we have mentioned the top 10 tech companies that are using Python and how they are making the most of it.
1. Netflix
Netflix is one of the biggest video streaming services across the globe. The popularity of the platform can be estimated from the fact that 37% of internet users worldwide use Netflix. It has 167.09 million paid subscribers with a revenue of $20 billion.
On its technology blog, Netflix confirms that it uses Python and says:
"Developers at Netflix have the freedom to choose the technologies best suited for the job. More and more, developers turn to Python due to its rich batteries-included standard library, succinct and clean yet expressive syntax, large developer community, and the wealth of third party libraries one can tap into to solve a given problem."
To know how Netflix uses Python, visit the Netflix Tech Blog.
2. Uber
Uber is a global car hail and ride-sharing service provider. It's one of the best examples of a shared economy. By the fourth quarter of 2019, Uber had 1907 million rides worldwide and has a revenue of 316.6 crore USD.
In the Uber engineering blog, the company shares its prime tech-stack and says:
"At the lower levels, Uber's engineers primarily write in Python, Node.js, Go, and Java. We started with two main languages: Node.js for the Marketplace team, and Python for everyone else." (Source)
3. Pinterest
Pinterest is an image-based social media network that enables its users to discover and save information on the World Wide Web in the form of images, GIFs, and short videos. With an active user base of 335 million, Pinterest has a strong presence and user engagement for topics such as fashion, technology, science, DIY, food, and more.
On its technology blog, Pinterest's engineers confirms using Python as the underlying technology and say:
"When we first started building Pinterest, we used Python as our development language, which helped us build quickly and reliably. Over the years we built many tools around Python, including Pinball, MySQL_utils, and pymemcache, as well as a set of libraries used daily for service communication and configuration management." (Source)
4. Instagram
Instagram is a social networking platform that allows its users to take photos and videos, edit them digital filters, and share them with the followers. The platform has 1 billion monthly active users with 500 million daily active users on the platform.
On how Instagram's web service efficiency is improved with Python, Instagram engineering team says:
"Instagram currently features the world's largest deployment of the Django web framework, which is written entirely in Python." (Source)
5. Quora
Quora is a question-and-answer platform that allows internet users to ask questions, answer & edit them, either factually or in the form of opinions. There are 300+ million monthly active users on quora with approximately 15,000 answers written on the platform daily.
In a Quora post, the CEO/Co-founder of this Q&A website unveils the reason behind choosing Python over PHP and says:
"We decided that Python was fast enough for most of what we need to do. We had a lot of confidence that Python would continue to evolve in a direction that would be good for the life of our codebase, having watched it evolve over the last 5 years." (Source)
6. Spotify
Spotify is a music streaming service that gives access to millions of songs to the listeners, globally. The platform had 124 million paid subscribers in the fourth quarter of 2019. 36% of subscribers to music streaming services worldwide in 2017 had a subscription with Spotify.
In one of its technology article, Spotify talks about why it uses Python for development and says:
"Speed is a big focus for Spotify. Python fits well into this mindset, as it gets us big wins in the speed of development. We also make heavy use of Python async frameworks to help services that are IO-bound." (Source)
ALSO READ: How Spotify Works: Business Model and Revenue Streams
7. Dropbox
Dropbox is a file hosting service that offers the option of cloud storage, file synchronization, personal cloud, and client software. Dropbox has 190+ downloads, 14+ million paying customers and is available for Android, iOS, Windows, Mac, and Linux OS. According to Stackshare, Python is one of the prime languages that Dropbox uses.
8. BitBucket
BitBucket is a web-based hosting service for source code and development projects. It has a user base of 10 million registered users and over 28 million repositories. According to builtwith, 1,816 live websites are using Atlassian Bitbucket. BitBucket is written in Python using the Django web framework. (Source)
ALSO READ: 7 Application Areas of Python Programming Language
9. Reddit
Reddit is a social news aggregator, web content rating and discussion platform. It enables the registered members to submit content in the form of links, text posts, images, which can further be upvoted or downvoted by other members. The platform has over 330 million monthly users and is popular as the front page of the internet.
In a PyCon keynote, Steve Huffman and Alexis Ohanian share the reasons behind choosing Python for Reddit and says:
"The biggest thing that has kept us on Python is there is a library for everything. Another reason is, Python is extremely expressive, readable, and writable." (Read more)
10. Instacart
Instacart operates as a same-day grocery delivery and pick-up service in the United States and Canada. Valued at $8 billion, the company serves more than 25,000 different grocery stores across more than 5,500 cities in North America.
In one of the blogs on StackShare, Instacart shares why Python is their choice for building this grocery delivery system:
"We have a data science team that works in both Python and R. in the case of demand forecasting, we have Python or R code that does the estimates, that reads all the data, comes up with how many shoppers we're going to need for the next week or two, and then writes those values." (Source)
Planning to develop an application with Python?
With these examples and statements, Python is clearly empowering top tech companies to build efficient, scalable, and complex business applications. Wondering which technology to choose for your next app development project? Request a free consultation with our experts to unveil how Python can add value to your business when you hire python developers.