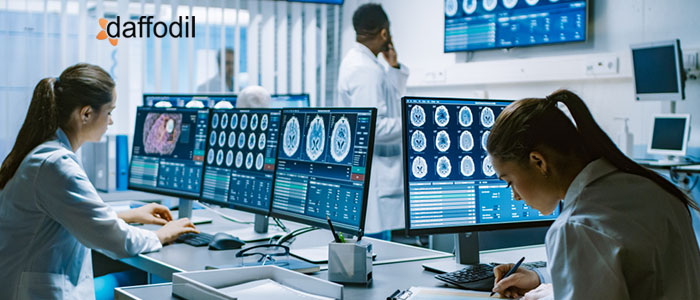 The healthcare industry is on a constant lookout for digital solutions to conduct the financial, administrative, and clinical operations of a hospital. These days, these are largely carried out by means of a set of informatics tools, collectively known as Hospital Information Systems (HIS). In addition to a patient's health information, inventory and personnel data are also stored, managed, and transmitted across a HIS.
Electronic Medical Records (EMR), and Electronic Health Records (EHR), nurses reports, diagnostics, doctor's prescriptions, equipment, emergency transportation allocation - the end-to-end management of all these functions of a healthcare organization can be carried out over a reliable and high-fidelity HIS.
In this article, we will first dissect how HIS software works, and define the various components of such a software system. We will go on to further discuss the various types of HIS implemented in hospital systems today.
What Is A Hospital Information System And How Does It Work?
Everyone involved in a healthcare organizational setup from patients, to clinicians to public health officials interacts with a HIS. The HIS involves a bunch of subsystems handling data related to the activities of providers and healthcare organizations. In addition to a hospital's operational management, HIS also takes care of other aspects such as supporting healthcare policy decisions.
Through a secure and high-fidelity hospital intranet, a HIS operates online and lives on top of the already existing hospital network. Based on diagnoses for various illnesses, physician recommendations, past patient history, and trends, the database servers of the HIS store relevant health information.
A HIS is used for setting up online appointments with doctors, passing on nurse reports from one shift to the next, as well as other activities. It streamlines the storing and retrieval of all healthcare data and also manages payment invoices and billing cycles for patients.
Components Of Hospital Information Systems
A hospital's HIS is a conglomeration of several specialized sub-systems that manage different functions of a healthcare organization's functioning. The main components that a HIS can be divided into are the following:
1)Core Management: The core system of the hospital or the hospital management system is an independent or cloud-based medical management framework. This system captures and integrates the day-to-day activities of each department of the hospital system.
2)Financial Software: Chief financial officers and those responsible for the revenue cycle management carry out their management and strategic planning through this software component. SaaS accounting and financial management plug-ins often interlink to form the overall financial management system. With proper monitoring of the healthcare organization's revenue cycle, the bottom line can be enhanced and resources can be freed up to spend on value-enhancing operations.
3)Personnel/ERP: Patient and employee management tools are together taken care of the personnel management capabilities of HIS. These systems facilitate transparent communication, resource allocation, and scheduling between patients and medical staff across multiple facilities and departments. The major suppliers of ERP systems, in general, are strategically considering the potential of healthcare to be a relatively new and fast-growing market.
4)Medical Documentation: While EHR and EMR systems track patient appointments, care notes, and financial information, a dedicated documentation framework must be in place in the overall HIS. This helps ensure that all high-priority documents, from patient records, personnel details, inventory, hospital finances, etc. are maintained across secure encrypted portals with proper access control.
5)Asset Tracking: Asset tracking or medical inventory management systems enable hospital staff to monitor inventory across the inventory lifecycle right from purchase to compensation. When an item in the inventory, be it pharmaceuticals or surgical tools, is on the brink of expiry, it can be replenished or stocked back up. It is a means to ensure that the best practices are followed in terms of inventory maintenance.
6)Medical Transportation Management: It is required by US federal law that the least costly type of transportation takes patients to their relevant medical appointments. This is true for both emergency and non-emergency medical transportation and the tracking, maintenance, and allocation of these vehicles is an essential functional component of HIS.
Customer Success Story: How Daffodil developed a custom hospital information system (HIS) to reduce manual administration for Maharaja Agrasen Medical College by 50%
Types Of Hospital Information Systems
Any Hospital Information System, or HIS, is crucial in improving the healthcare organization's bottom line as well as providing more holistic and reliable patient care. A National Library Of Medicine report revealed that US healthcare organizations were able to save about $ 50,000 per every general physician employed on operating expenses. In general, there are several iterations of the traditional digital HIS, but the following are some of the most popular ones:
1)EHR and EMR: EHR and EMR can also exist independently and as components of a large-scale HIS. They maintain systemized collections of patient and health information in a digital format. Regardless of the type of healthcare setup, care setting, and capacity of a healthcare organization, these systems are implemented for patient information sharing. Additionally, they also help with easier consolidation of patient information to prepare charts and reports about general trends and patient statistics.
2)Clinical Information Systems: Clinical Information Systems (CIS) are digital solutions meant for automating the electronic data collection from monitors, ventilators, infusion pumps, filtration equipment, cardiac assist devices, and so on that comprise the everyday modern clinic of today. These types of systems can import or export data between medical instruments and also allow the free flow of information across systems.
3)Practice Management Software: A practice management system is a type of software that enhances practice efficiency, professional satisfaction for doctors, and streamlined delivery of patient care. These types of software systems usually manage the registration, scheduling, patient tracking, accounting, and reporting across a single managed workflow for all departments. A single platform is then enabled to collect payments on all patient accounts.
4)Clinical Decision Support Systems: Clinical decision support tools are developed to assimilate large volumes of patient and treatment-related data. These systems then process this data, categorize them and automate the suggestion of the next possible course of action for patients' treatment and diagnosis. They provide prompts and reminders to assist the implementation of evidence-based clinical guidelines at care delivery.
ALSO READ: 3 Key Areas Where IoMT (Internet of Medical Things) can Augment Healthcare Services
Hospital Information Systems Are Enhancing Medical Care Delivery
HIS solutions are helping hospitals in providing timely information to both patients and care providers and in sifting through an enormous amount of digital data. These systems streamline the processing and maintenance of large volumes of sensitive medical information while maintaining proper access control and end-to-end security protocols.
Daily operations such as patient appointment scheduling and billing are becoming automated and more reliable. If you are a healthcare provider looking for robust digital solutions to enhance care delivery, you can utilize Daffodil's expertise in this area by first booking a free consultation with us.